What Is a Personal Check — and Is It Still Useful?
A personal check is drawn from your personal checking account. Checks are still required for some payments.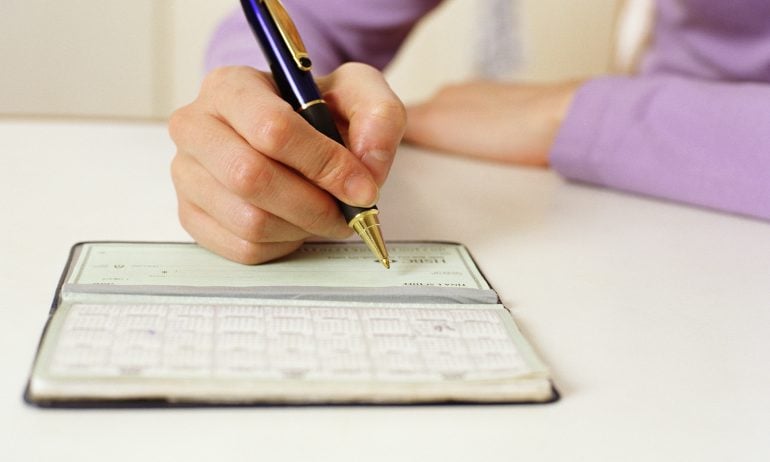 Many or all of the products featured here are from our partners who compensate us. This influences which products we write about and where and how the product appears on a page. However, this does not influence our evaluations. Our opinions are our own. Here is a list of our partners and here's how we make money.
What is a personal check?
A personal check is a slip of paper that's processed from your checking account. On the check, you write an amount of money and the name of the recipient who will receive that money. The check also contains information like the writer's checking account number, the bank's routing number and the name of the bank. The check is a promise that the money will be available when the recipient redeems it — whether hours, days or weeks later.
Checks are like slow-motion debit cards, which is why they can seem like an outdated way to send money. But that doesn't mean you should throw away your checkbook; you might need to write a check occasionally, and doing so has its pros and cons. (Read up on how to choose a checking or savings account.)
When do you need a personal check?
Personal checks can be useful because some transactions still require or are best suited for checks. Landlords, for example, may insist that tenants pay their rent with a check. You may also choose to use checks if you're mailing money to someone since there's less risk of the funds being stolen than if you send cash.
Alternatives to personal checks
Writing checks isn't your only option. If you're looking to send money or make payments, you could:
You avoid convenience fees. Some businesses, including some property managers, charge convenience fees for electronic payments. When you pay with a personal check, it's usually free.
They have old-school security. If your wallet or purse is lost or stolen, you can kiss your cash goodbye. But banks and merchants still require a signature on every check, and cashiers are typically required to check customers' IDs to verify that signatures are legitimate.
It's an offline option. According to the Pew Research Center, 7% of all U.S. adults don't use the internet. Paying bills with a check might be easier for these consumers than paying in person with cash.
You can use your smartphone to deposit checks. If you receive a check and use a mobile banking app, you can skip the ATM or bank branch and deposit your funds at home with a mobile check deposit.
You can sign checks over to another person. To sign over a check, you can write "Pay to the order of" and the person's name under your endorsement signature on the back of the check.
Checks cost money. Paying with a check can help you avoid convenience fees, but you usually have to pay for your actual checks. Plus, you might have to shell out a few bucks each month for envelopes and stamps if you use checks to pay bills by mail. Try finding a checking account that offers a free first box of checks, as some of the best checking accounts do.
Processing takes longer. Cash, credit, debit and electronic transactions usually process fairly quickly, and you can check your accounts immediately to see your real-time account balance. But check payments aren't posted to your account until the recipient cashes the check, so if you forget to log a payment or miscalculate your remaining balance, you could overdraw your account. If you're the recipient, you might have a long processing time as well, which means you might not be able to immediately spend a check that you've deposited.
Checks can be convenient for certain circumstances. If your checking account offers free checks, you might as well order a batch. And even if it doesn't, it might be handy to have some available, but don't overpay for them. That may mean ordering checks from somewhere other than your bank or credit union.
APY
0.50%
With $0 min. balance for APY
Bonus
$250
Earn up to $250 with direct deposit. Terms apply.
Get more smart money moves – straight to your inbox
Sign up and we'll send you Nerdy articles about the money topics that matter most to you along with other ways to help you get more from your money.