What Is Venmo?
Venmo is a mobile app that lets you send money to friends and family.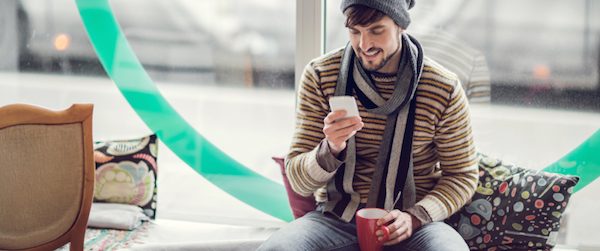 Many or all of the products featured here are from our partners who compensate us. This may influence which products we write about and where and how the product appears on a page. However, this does not influence our evaluations. Our opinions are our own. Here is a list of our partners and here's how we make money.
Venmo is a peer-to-peer (P2P) money transfer mobile app, similar to Square Cash, that has a social media twist: You can send or request money via emoji-studded text messages, which show up in a Facebook-style feed. Don't worry, though — dollar amounts always remain private.
Transfers and purchases. Venmo lets you send and request money to and from anyone who has a Venmo account. The app can help with the awkward chore of reimbursing family or friends for dinner or other outings, but it's not made for buying or selling goods with strangers. Venmo can also be used for web purchases with certain merchants, usually on websites with a payment button similar to PayPal's.
Mobile only. Venmo payments are made on its highly rated Android and iOS smartphone apps as well as via iMessage or with Siri voice command. You can sign in at Venmo's website on a desktop or mobile device to view transactions, but not to pay or request money.
U.S. customers only. Venmo, which is operated by PayPal, requires both sender and recipient to be in the United States.
It's possible to avoid fees altogether when using Venmo, but if you prefer certain services, there are two charges:
3% per transaction for payments funded by credit card.

1% per transaction, or a minimum of 25 cents, for instant transfers; this is when you cash out from a Venmo balance to your debit card. These transfers are delivered within half an hour.
Venmo is free for payments funded by bank account, debit card or prepaid debit card. Using a credit card to send money has a fee, but making purchases at merchants that have a Venmo payment option, even with a credit card, is free. And there's no fee if you use the standard "cash-out" transfer to a bank account, though delivery takes one to three business days.
With plastic or a bank account. To send money on Venmo, you need to link the app to a U.S. bank account, debit card, prepaid debit card or credit card. If you receive money and want to withdraw it from Venmo, you'll need to link a bank account.
Link a checking, not a savings, account. Savings accounts have a standard limit of six online withdrawals or transfers per month (see more about this limit).
Like PayPal, Venmo stores the money you receive on an in-app balance, which can fund your future payments (if there's enough money) or be cashed out to your bank account. Otherwise, the money sits there, and that's not ideal. A Venmo app balance is not federally insured like bank accounts are, so you could lose it if Venmo were to go bankrupt.
Under $5,000 per week. To get started on Venmo, you need to download the mobile app, create a login and confirm your phone number, email address and bank account. Your initial transfer maximum per week is $299.99 until you verify more of your identity. When you submit your Social Security number, ZIP code and birthdate, you become "verified" and can send up to $4,999.99 per week in one or multiple transactions. Venmo used to only allow users to send $2,999.99 per week but increased its sending limit during the COVID-19 crisis.
The maximum you can transfer from Venmo to a bank account starts at $999.99 per transaction, but once you're verified, the limit goes up to $19,999 per week.
Social media and privacy settings
Venmo offers social media features, including a live feed of transaction descriptions made by people you're connected to on Venmo, but you can adjust these privacy settings so your transactions are either set to "private" (visible to only sender and recipient) or "friends" (visible to sender, recipients and Venmo connections). Audience settings for past transactions can be altered retroactively.
Customer service is available for Venmo MasterCard holders by phone weekdays from 10 a.m. to 6 p.m. Eastern Time. Otherwise you can also email or chat with the support team on the mobile app.
Security features on the app include PIN- and fingerprint-based login options and two-factor authentication. If your phone is lost or stolen and you don't have these safeguards set up, you can disallow access to your account by logging on to Venmo's website and changing your permission settings.
Venmo's parent company, PayPal, reached a settlement in 2018 with the Federal Trade Commission over complaints that customers' access to funds was delayed without notification, and that Venmo had misled users about how to maintain privacy settings for their transactions.
Venmo made a limited release of a physical Mastercard that works for U.S. purchases anywhere that accepts Mastercard. This card isn't available to everyone, but you can add your name to the waitlist on Venmo's app. (If you have the itch to see what mobile checking is available right now, see our list of the best options for mobile banking.)