Venmo Credit Card Review: Cash-Back Rewards Get Personal, and Automated
The card offers 3% and 2% bonus categories that can change automatically each month depending on where you spend the most. Those bonus rewards are capped after the first year, though.
Many or all of the products featured here are from our partners who compensate us. This may influence which products we write about and where and how the product appears on a page. However, this does not influence our evaluations. Our opinions are our own. Here is a list of our partners and here's how we make money.
Our Take
The bottom line: There's no need to track rewards categories or activate bonuses, offering a simpler way to optimize rewards. But the sign-up bonus is a bit of a moving target, and the bonus cap in year two and beyond can be limiting.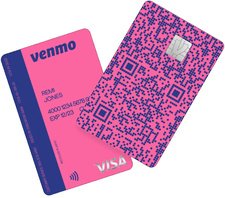 Annual fee
Regular APR
15.24% - 24.24% Variable APR
Intro APR
Quick Facts
Pros & Cons
Pros
No annual fee
Bonus categories
Cons
Spending caps on bonus rewards
No 0% intro APR
Requires good/excellent credit
Alternate Pick: Cash back with a welcome bonus
Blue Cash Preferred® Card from American Express
Earn more in popular categories
Earn 6% cash back at U.S. supermarkets on up to $6,000 in spending per year, 6% cash back on select U.S. streaming services, 3% cash back at U.S. gas stations and on transit, and 1% back everywhere else. Earn a $300 statement credit after you spend $3,000 in purchases on your new Card within the first 6 months. Terms Apply. The annual fee is $0 intro for the first year, then $95. Terms apply.
Read our review
Compare to Other Cards
Regular APR

13.99% - 23.99% Variable APR

Regular APR

11.99% - 22.99% Variable APR

Regular APR

14.99% - 23.74% Variable APR

Intro APR

0% intro APR on Balance Transfers for 18 months

Intro APR

0% intro APR for 14 months on purchases and balance transfers

Intro APR

0% intro APR on Purchases for 15 months
Get more smart money moves — straight to your inbox
Become a NerdWallet member, and we'll send you tailored articles we think you'll love.
Full Review
The Venmo Credit Card breaks away from one-size-fits-all rewards cards, offering extra cash back where you spend the most each month with no need to strategize. Just use the card as you normally would to make purchases, and you'll automatically earn a higher cash-back rate on your top two spending categories (from a list of eight).
The card also stays true to Venmo's roots as an app that makes it easy to split costs between friends. Its design features a QR code that others can scan with their phones, so when you front the cost of a restaurant meal with your card, you won't need to chase anyone down to get paid back.
Of course, if you aren't interested in actually using Venmo, the Venmo Credit Card is not for you. It's also worth noting that the card tends to change its sign-up bonus quite often (assuming it happens to be offering one at all), and extra cash-back earnings are capped after the first year.
Eligible Venmo customers can apply for the card through the Venmo app, but you must have had a Venmo account for 30 days first.
Venmo Credit Card
: The basics
Sign-up bonus: This card occasionally offers bonuses for new applicants that may change over time.
3% cash back in your top spending category for the month (from one of eight possible categories).

2% back in your second-place spending category for the month (from one of the remaining seven possible categories).

1% back on all other purchases, including any purchase that doesn't fall into one of the spending categories listed below.
Nerdy tip:
After the first year, there is a spending cap of $10,000, combined, for the 3% and 2% bonus categories. Once you hit it, you'll earn only 1% back for the rest of that year.
Spending categories that are eligible for 3% or 2% cash back
Grocery: This includes grocery stores and wholesale clubs.

Bills and utilities: Phone and internet service providers, streaming services, magazine and newspaper subscriptions, electricity, gas, water, trash disposal and other utilities.

Health and beauty: Drugstores, cosmetic stores, health clubs and other membership facilities like tennis, golf and swimming clubs.

Gas: Purchases at service stations that sell fuel.

Entertainment: Movie theaters, theatrical and concert promoters, video rental and game stores, books and newsstands, amusement parks, music stores, and toy and hobby stores.

Dining and nightlife: Dine-in, takeout and delivery from restaurants and fast-food establishments. Bars also are included.

Transportation: Rental cars, cabs and ridesharing services, limos, buses, trains, tolls, parking meters and garage parking.

Travel: Airlines, hotels and vacation rentals. Also includes resorts, bed and breakfasts, cabins, hostels and timeshares.
Interest rate: The ongoing APR is 15.24% - 24.24%, Variable.
Foreign transaction fees: None.
Minimum redemption requirement: None.
Benefits of the
Venmo Credit Card
Personalized rewards across a broad range of categories
The Venmo Credit Card doesn't require opting in or activating bonus categories. You don't really even need to "track" anything. For each monthly billing cycle, you'll simply earn bonus rewards in the top two categories you spend the most on (from the above list), and 1% back on other spending. Once the billing cycle ends, your earning opportunities reset.
Here's how this could work: Let's say you booked a trip this month requiring plane tickets and a hotel booking, so you spent the most on travel and would earn 3% cash back on those expenses. Your next highest spending was on bills and utilities, so that earns 2% back. The next month, you go on your trip and dine out often, turning that activity into your 3% cash-back category.
Some business credit cards offer this automated personalization, but it's rare among consumer cards. The HMBradley credit card features it, but you must open an HMBradley deposit account first. The U.S. Bank Cash+™ Visa Signature® Card lets you select spending categories each quarter — but because you must actively choose and track them, it takes more effort.
Any cash back you earn will appear in your Venmo balance after your statement closes. From there, you can apply the money toward a credit card bill (much like a statement credit), make purchases from a merchant that accepts Venmo, send money to someone else through the Venmo app or transfer it to a linked bank account or debit card.
Unique card design that makes splitting costs simple
Each physical card features its own QR code on the front, which comes in handy when you're splitting a purchase with another person. They can scan the QR code from the Venmo app and be brought to your Venmo profile. From there, they can send money, or request money from you. Keep in mind that paying a friend over Venmo using the Venmo Credit Card means you'll pay a 3% fee, which is the same as using any other credit card for peer-to-peer transactions.
Instant access upon approval
While your physical card is in the mail, you can begin making purchases with the virtual version of the card, which lives within the Venmo app and can also be added to some digital wallets (Apple Pay is a notable exception). Once the physical card arrives, you can activate it by scanning the QR code.
Manage the card on the Venmo app
If you need to pay your balance, see your rewards activity, change notifications, set up autopay, or track your spending trends or transactions, you can do so through the Venmo app. If your physical card is lost or stolen, you can disable it in the app and continue to shop with the virtual card. There's no separate website to log into. (For some, this may count as a drawback; see below.)
Drawbacks and alternatives
Bonus cash back is capped after the first year
In the first year, the sky's the limit when it comes to how much extra cash back you can earn. But that doesn't last. In year two and beyond, once you spend $10,000 in your combined 3% and 2% spending categories, all purchases earn 1% cash back for the rest of the year. Depending on your spending habits, you may hit that wall before the year is up.
Welcome bonus is a moving target
The Venmo Credit Card currently offers bonuses on a limited-time basis. So if you want the bonus, you'll have to time your application carefully. Other cards consistently sweeten the deal with welcome offers worth $150 or more, which can help offset the annual fee some of them charge. One example is the Blue Cash Preferred® Card from American Express, which offers this welcome bonus: Earn a $300 statement credit after you spend $3,000 in purchases on your new Card within the first 6 months. Terms Apply. The card also earns generous cash-back rates in several common spending categories. The annual fee is $0 intro for the first year, then $95. If that's too high, consider its sibling card, the $0-annual-fee Blue Cash Everyday® Card from American Express. Its rewards are also useful, though less robust. Terms apply (see rates and fees for the Preferred version; see rates and fees for the Everyday).
Many spending categories earn only 1% back
You earn 3% or 2% cash back in only two spending categories per month. Any other spending earns only 1%. If you have a month where you spend a lot at a home improvement store, for example, other cards will reward you more handsomely. However, you could pair the Venmo Credit Card with a flat-rate card like the Citi® Double Cash Card – 18 month BT offer, which earns 2% cash back on all purchases: 1% when you buy, 1% when you pay it back.
Not a starter credit card
While Venmo's audience skews younger, the Venmo Credit Card requires good to excellent credit to qualify (corresponding to a FICO score of at least 690). A seasoned Venmo user who is still new to building credit may need to set their sights on a starter credit card for now.
You must use it with the Venmo app
There's no Venmo Credit Card without Venmo. If you have no desire to use the Venmo app and would prefer a more traditional credit card experience, there are other cash-back credit cards that would be a better fit.
Should you get the
Venmo Credit Card
?
If you already use Venmo and you want an easy-to-manage card with decent ongoing rewards, the Venmo Credit Card could certainly be a contender. The card's seamless user experience makes it feel like the future of credit cards.
But if you're after a lucrative sign-up bonus, you have less-than-ideal credit or you have no desire to use Venmo as a payment tool, you'll want to look elsewhere.