I Have $15,000 In Credit Card Debt — What Should I Do?
Pay more than the minimum to start whittling down the balance, then examine transfer or consolidation options.
Many or all of the products featured here are from our partners who compensate us. This influences which products we write about and where and how the product appears on a page. However, this does not influence our evaluations. Our opinions are our own. Here is a list of our partners and here's how we make money.
If you're carrying serious credit card debt — like $15,000 or more — you're not alone. The average household with revolving credit card debt — that is, debt that they carry from one month to the next — had more than $7,000 worth of revolving balances in 2019. That's just the average. It's not at all uncommon for households to be swimming in more that twice as much credit card debt.
But just because a $15,000 balance isn't rare doesn't mean it's a good thing. Credit card debt is seriously expensive. Most credit cards charge between 15% and 29% interest, so paying down that debt should be a priority.
However, dealing with a five-digit credit card debt can feel overwhelming. Coming up with that kind of cash is daunting, but there are steps you can take to manage a heavy debt load:
If you're used to relying on your credit card to make your day-to-day purchases, cutting yourself off from charging might be really tough at first. But to get out of a hole, you're going to have to stop digging.
It is essential to stop adding new debt by switching to cash or debit as soon as possible. If you know you'll be tempted to charge, consider taking drastic steps: Cut up your card, or hand it over to a trusted friend or family member so that you won't have easy access to it. Just do whatever you have to do to stop the bleeding.
Take charge and banish debt
Sign up with NerdWallet to get a full picture of your spending and personalized recommendations for credit cards that save money on interest.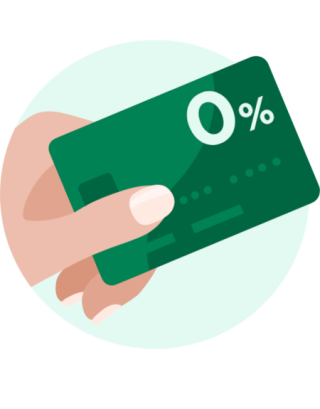 2. Pay at least double the minimums
One of the worst things that you can do when you're in credit card debt is pay only the minimums. Minimum payments equate to only 2-3% of the balance owed on the card, so if you don't start upping your monthly payments, you're going to be in debt for a very long time. This also means that you'll be shelling out thousands in interest.
Paying at least double the required minimum payment every month will speed up your debt repayment plan substantially, but more is obviously better. Cut expenses in other areas to throw cash as possible at your plastic – it may be a sacrifice now, but the money you'll save on interest by cutting down your debt as fast as possible will be well worth it.
3. Transfer your balance to a lower-interest card
If your credit score is good enough to allow it, it's a smart idea to transfer your high-interest credit card debt to a lower-interest card. This will speed your debt repayment quite a bit, because you'll be paying off the principle and any interest charges you've already accrued — new interest charges won't be piled on every month, at least for awhile.
4. Look into consolidating
If your credit card debt is spread between several high-interest cards, consolidating them all into a low-interest loan might be your best bet. Not only is it easier to deal with only one monthly payment, but if you choose your consolidation vehicle carefully you'll also be paying a much lower interest rate. But this is where it's important to be careful: Your consolidation loan's interest rate needs to be lower than the lowest interest rate on your cards. Otherwise, consolidating isn't worthwhile.
5. Consider credit counseling
If you're feeling anxious and stressed about your credit card debt and can't seem to get it under control no matter what you do, it might be time to consider credit counseling. Nonprofit credit counseling agencies will examine your whole financial situation and make specific recommendations based on your needs. Just be sure to work with a reputable agency, and commit to following the advice they provide.
The takeaway: If you're drowning in credit card debt, don't despair. It may not be easy, but you can take steps to tackle your outstanding balance. With a stiff cocktail of patience and discipline, you'll be debt free sooner than you think!
Find the right credit card for you.
Whether you want to pay less interest or earn more rewards, the right card's out there. Just answer a few questions and we'll narrow the search for you.
Get Started
Get more smart money moves – straight to your inbox
Sign up and we'll send you Nerdy articles about the money topics that matter most to you along with other ways to help you get more from your money.