How Credit Cards Are Fueling Bigger Gas Savings
The best cards for gas earn at least 3X back at the pump, and they don't feature names of big oil companies or service station brands.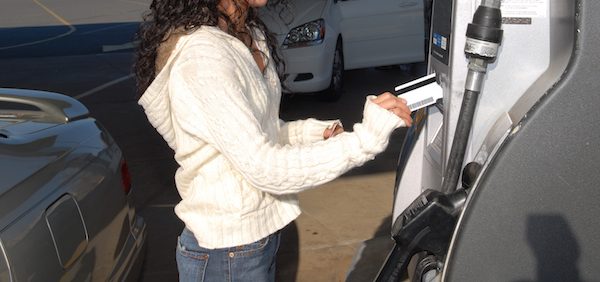 Many or all of the products featured here are from our partners who compensate us. This may influence which products we write about and where and how the product appears on a page. However, this does not influence our evaluations. Our opinions are our own. Here is a list of our partners and here's how we make money.
If you're paying full price at the gas pump these days, you might be missing a way to fuel your household savings. That's because many rewards credit cards offer bonus points when you use them at the gas station.
Used right, those rewards are like a discount on every gallon you buy.
It's not unusual now to get triple points — 3 points per dollar spent — for using a rewards card for service station fill-ups. And some of the don't feature the names of big oil companies or their service station brands. Instead, look for fat gas rewards on cards from retailers, warehouse clubs and credit unions.
Lucrative gas rewards are part of a larger trend in which intense competition among credit card issuers is driving better rewards for everyday spending, like gas, dining out and groceries, said Eric Marks, senior director with the banking practice of consultant West Monroe Partners.
"Payment providers and retailers now recognize they need these everyday spending rewards to attract and acquire customers," he said.
Here's what to know about when examining your current credit cards or marketing pitches for new ones.
The most lucrative cards offer the equivalent of 3% or more in rewards.
Example: With the , you can earn 3% back on a category of your choice which includes gasoline as an option and rewards on other spending.
Look for credit cards that offer bonus rewards on not only gas but other areas of spending, too. Why? You might not spend as much on gas as you think. U.S. households spend an average of $1,977 per year on gasoline. Even with a 3% gas rewards card, that's less than $60 per year or $5 per month.
Example: The  not only offers 3% back at U.S. gas stations, it also offers a huge 6% back on purchases at U.S. supermarkets (on up to $6,000 per year in purchases, then 1%) and select U.S. streaming subscriptions, plus 3% back on transit. Terms apply (see ). It has an annual fee: .
As more cards add gas spending as a bonus rewards category, you might find you already have a decent card for pump purchases.
Examples: The earns 2 miles per dollar spent on gas, with an annual fee of . The earns 6 points per dollar at U.S. gas stations, with an annual fee of . Terms apply (see ).
Some cards place limits on how much gas spending will earn accelerated points or cash back.
Example: The aforementioned  earns 3% cash back in a category of your choice (gas is one of the options); 2% at grocery stores and wholesale clubs; and 1% on all other purchases. But the 3% and 2% rates apply only to the first $2,500 per quarter in combined choice category/grocery store/wholesale club spending.
Instead of a percentage of cash back or points per dollar spent, some cards — especially — give you a specific discount, such as 6 cents off per gallon. But when gas costs $3 per gallon, that 6 cents off is a mundane 2% discount. Plus, with gas station cards, you typically can earn rewards and spend them only at a single brand.
Most cards that offer outsized rewards on gas spending include all purchases at the service station, including snacks or wiper fluid bought in the associated convenience store. But some cards limit rewards to gas spending paid at the pump.
Example: The , with a annual fee, offers a generous 5 points per dollar spent, among its rewards. But it's on gas at the pump only.
The offers 5% back on eligible gas purchases up to $6,000 per year, and the offers 4% back on eligible gas up to $7,000 per year. But you must be a member of those warehouse clubs, which means paying an annual membership fee. And redemption can be cumbersome.
Just because you're earning 3 points per dollar spent doesn't mean you're getting the equivalent of 3% in rewards value. For example, the gives 5 points per dollar spent on gas, but many redemption options are for a value of 0.85 cents per point instead of the more typical 1 cent.
To view rates and fees of the , see . To view rates and fees of the , see .