Who Has the Acceptance Edge: American Express or Discover?
In the U.S., it's now a tie, with both claiming a 99% acceptance rate among merchants accepting credit cards. But when traveling abroad, you'll still want a backup card and some cash.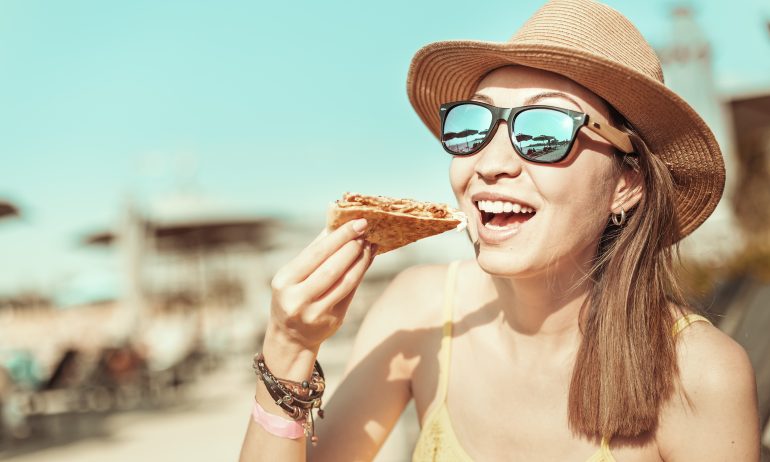 Many or all of the products featured here are from our partners who compensate us. This influences which products we write about and where and how the product appears on a page. However, this does not influence our evaluations. Our opinions are our own. Here is a list of our partners and here's how we make money.
Credit cards are a convenient alternative to carrying cash — as long as merchants accept them. And that can depend on which of the four main U.S. payment networks your card runs on: Visa, Mastercard, Discover or American Express.
Visa and Mastercard are accepted by virtually every merchant that takes credit cards, both in the U.S. and internationally.
Discover and American Express, however, have been working for years to catch up. As of 2020, both payment networks say they have reached a 99% acceptance rate among U.S. merchants who take credit cards. Internationally, though, it's a bit of a different story.
Here's a closer look at how Discover and American Express compare, at home and abroad.
Domestically, there's now almost no difference in merchant acceptance between American Express and Visa or Mastercard. According to AmEx's Q4 2019 earnings release from January 2020, 99% of U.S. merchants who accept credit cards now also accept American Express.
It wasn't always this way. Even a few years ago, American Express acceptance lagged behind the other payment networks (including Discover), mainly because it historically charged merchants higher interchange fees, also known as "swipe fees."
AmEx set that 99% "virtual parity" goal in 2016, and the company says it's gotten there in large part because of its OptBlue program, which has helped mitigate swipe fees and close the acceptance gap. The program allows eligible small businesses to accept AmEx cards through one of several third-party payment processors that partner with the issuer and set their own swipe fee rates.
In short, compared with a few years ago, you are much less likely in 2020 to hear the phrase "we don't take American Express."
Discover is now also at 99% acceptance among U.S. merchants that take credit cards. That's according to the February 2020 Nilson Report industry newsletter.
"We've worked to grow acceptance by having relationships with all major payment enablers in the U.S. and are embedded in their standard payment solutions for merchants," a Discover representative said via email.
It did take Discover a little longer to get there. For instance, the 2019 version of the Nilson Report noted Discover was accepted by only 96% of U.S. merchants. (You may have learned that fact if you only watched Super Bowl LIV for the commercials, as Discover featured an ad sharing the news.)
So for a time, AmEx had a slight acceptance advantage — but now they're even.
If you're traveling overseas
International acceptance data is harder to come by since both American Express and Discover lag Visa and Mastercard in this area.
But AmEx and Discover are working to increase their international footprints. American Express has a three-year goal of increasing international acceptance by 20%. To accomplish this, the company has been partnering with banks in different countries, and those banks acquire new merchants for AmEx. Since 2019, the issuer has also worked to increase the scope of its rewards-earning credit cards, so that bonus dining rewards aren't limited to only U.S. eateries but apply to restaurants worldwide.
The Discover Global Network combines Discover Network, Diners Club International, PULSE and more than 15 alliance partner networks to increase Discover's acceptance rates worldwide. Discover provides a map of countries where its cards are accepted. It notes that Discover cardholders can use their cards where a Discover partner is accepted. Currently, the Discover Global Network has more than 48 million merchant acceptance locations and 2 million ATM and cash access locations around the world, according to a Discover representative.
However, even if Discover or American Express say their cards are accepted in a certain country, that doesn't mean all merchants there will accept them. It's generally wise to take a Visa or Mastercard as a backup. Also, take your debit card so you can withdraw cash from ATMs. That way, you have a method of payment available no matter what a merchant accepts.
Both Discover and American Express offer good credit cards, and for the most part, you won't run into problems with either when shopping online or at national or regional retailers and restaurant chains. And more than before, small merchants are beginning to accept both types of cards.
Regardless of which you choose, consider also adding a Visa or Mastercard, especially if you travel overseas frequently.
Find the right credit card for you.
Whether you want to pay less interest or earn more rewards, the right card's out there. Just answer a few questions and we'll narrow the search for you.
Get Started
Get more smart money moves – straight to your inbox
Sign up and we'll send you Nerdy articles about the money topics that matter most to you along with other ways to help you get more from your money.