NerdWallet's Best Credit Card Tips for August 2021
As you're navigating expenses this August, some credit card strategies may offer additional value.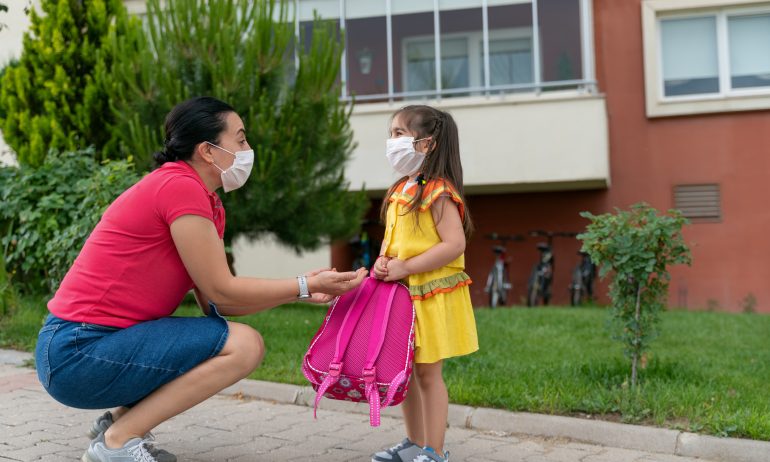 Many or all of the products featured here are from our partners who compensate us. This may influence which products we write about and where and how the product appears on a page. However, this does not influence our evaluations. Our opinions are our own. Here is a list of our partners and here's how we make money.
With the future of in-person learning becoming clearer, back-to-school shopping is in high gear. It's time for parents to get the essentials on their kids' lists, including newer additions like hand sanitizer.
Travel is also well underway. People are eager to make up for lost time during the pandemic, spending on flights, vacation rentals and more.
Whether you're loading up the kids for a family trip or getting them ready for school, August holds a lot of opportunities to spend strategically. Learn how to stay on track financially with these credit card tips.
Back-to-school expenses can add up. This is especially true if you haven't bought new clothes, shoes or other gear during the pandemic.
This year, parents with children in elementary through high school plan to spend an average of about $849 on items for their education, according to an annual survey by the National Retail Federation and Proper Insights & Analytics. Top expenses include electronics, clothing and shoes. For families with college students, the projected amount is about $1,200 on average.
For all school-related needs, there are a variety of ways to save money.
If you're in the market for a new credit card and would welcome a break on interest payments, a 0% intro APR on a card like the -annual-fee  can provide a lengthy window. It offers a . You can also defray some of the costs with the card's sign-up bonus: . Plus, you'll earn a healthy 2% cash back on all purchases.
For a slight bump in rewards, the -annual-fee earns 3% in a category of your choice, like online shopping, and 2% on grocery stores and wholesale clubs for the first $2,500 spent in combined categories. All other purchases earn 1%. It also has an introductory offer: Get . There's a sign-up bonus, too.
Look for back-to-school discounts and pay with a rewards credit card for added value. Some retailers like Amazon.com, Best Buy and Apple currently have back-to-school deals. If your state also participates in tax-free holidays, you can combine those discounts and skip the sales tax by shopping on eligible days. Rake in even more value by shopping with that earn cash back when you shop with select merchants.
By combining these strategies with rewards on a credit card, you'll make up some of the costs. The -annual-fee , for example, can get you 3% cash back at U.S. supermarkets on up to $6,000 spent per year; 2% back at U.S. gas stations and select U.S. department stores; and 1% back on all other purchases. Terms apply. So you get back some value on clothing, school supplies and gas when you chauffeur kids to school. As a cardholder, you may also find some useful which get you discounts on purchases made with qualifying merchants when you activate. When you redeem the offer, the savings are applied to your account as a statement credit.
For a solid rate on all purchases, a flat-rate card like the can offer 2% cash back. You'll earn 1% when you buy and 1% when you pay it back.
There are plenty of ways to save on a vacation this month or one you've got planned for Labor Day weekend in September. You can combine discounts and piggyback on your credit card's incentives for more value.
If you're looking to avoid expensive holiday rates, consider a . You can camp or visit a national park to minimize expenses. In fact, on Aug. 25, are waving admission in celebration of the National Park Service's birthday.
A credit card that earns rewards on gas and dining could be especially useful for a frugal Labor Day camping trip. The -annual-fee earns 4 points per dollar spent on dining; 2 points per dollar spent at grocery stores, gas stations and on eligible streaming services; and 1 point on everything else.
If you prefer to splurge a little, a vacation rental or hotel at a desirable destination may be the break you need. You can save money on food if you choose a vacation rental with access to a kitchen. But if your idea of a vacation doesn't require cooking, putting expenses on a credit card that rewards travel and dining can offer some value.
The -annual-fee  earns rewards on travel, plus groceries or dining. It gets 3 ThankYou points per dollar spent on air travel and hotels, 3 points at supermarkets, 3 points at gas stations, 3 points at restaurants and 1 point on all other purchases. It also has an annual hotel savings benefit that gets you $100 off a single hotel stay of $500 or more through ThankYou.com. Terms apply.
If you're looking to earn a heap of points for a big-ticket vacation down the line, the -annual-fee currently has a rich sign-up offer: It earns bonus rewards in a variety of popular spending categories, including dining and travel.
To view rates and fees of the , see .