One's Credit Builder: Build Credit With Guardrails
It's like a secured credit card, but with an adjustable limit. It allows you to avoid overspending and late fees.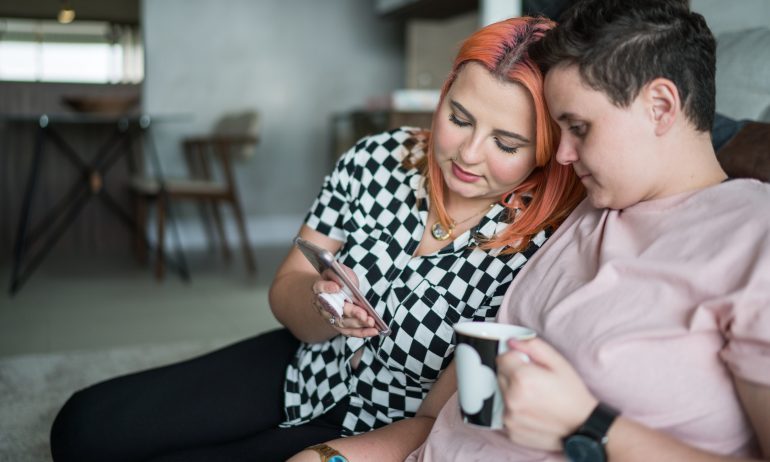 Many or all of the products featured here are from our partners who compensate us. This influences which products we write about and where and how the product appears on a page. However, this does not influence our evaluations. Our opinions are our own. Here is a list of our partners and here's how we make money.
One, creator of a banking app that allows you to manage multiple types of accounts in one place, is adding a feature that will function much like a secured credit card, but with an adjustable credit limit. It will become available to those ages 18 and older in the coming weeks.
One's no-fee Credit Builder works like a savings account earmarked for credit card spending, making it impossible to overspend or make late payments. It's geared toward consumers with lower credit scores, with the goal of helping them build credit and access unsecured credit cards later on. To understand how Credit Builder works, it helps to understand how it fits in with other parts of a One account.
As its name suggests, One allows you to manage multiple types of financial accounts within a single app. When you first open an account, you fund it by electronically transferring money from another bank account. From there, you have the option of adding a paycheck to your One account with direct deposit. You can also move money between "pockets," which you can think of as accounts within your account. They can be yours alone or shared with others. Plus, you'll receive a One Mastercard, issued by Coastal Community Bank, which you can use to make purchases from different pockets.
You begin with three default pockets:
Spend: Like a checking account, this is the pocket you use for expenses.

Save: Earn 1% APY on up to $5,000 (or up to $25,000 if you add a paycheck with direct deposit).

Auto-Save: You can opt in to contribute to this pocket in two ways — by rounding up each One card purchase to the next dollar and saving the difference, and by saving up to 10% of each direct deposit (up to $1,000 per month). The Auto-Save pocket earns 3% APY. You can use both of these methods at the same time.
You're not limited to these default pockets, however. You can create as many custom pockets as you like for free, and each one has its own account and routing number. This can help you budget for multiple goals at the same time, like travel, holiday gifts, pet care and more. You can share all pockets except for Auto-Save with other One users, so you can jointly save up for, and pay for, shared expenses.
How Credit Builder fits in
Credit Builder is a pocket you create within your One account. There's no hard credit inquiry when you do this. It uses the same One Mastercard, meaning that card can function as both a debit card when used with a Spend or Save pocket, and a secured credit card when used with your Credit Builder pocket.
The amount of money you put in this pocket becomes your credit limit. Unlike typical secured credit cards, you can change the amount of money in the Credit Builder pocket at any time. When the bill is due, it's paid automatically from the balance in the pocket, so you never make a late payment or get into credit card debt. (You can also pay ahead of time, if you like.)
On-time payments are reported to all three major credit bureaus, but credit utilization isn't, so you could charge up to the available balance without a negative effect on your overall credit. Also, there's a small overdraft credit line available if you surpass your limit — and you won't incur any overdraft fees to use it. Once that credit line is maxed out, though, your card will be declined.
One's Credit Builder bears some resemblance to the Chime Credit Builder Visa Secured Credit Card, where you move money from a Chime Checking Account to your Credit Builder secured account, and that sum becomes your credit limit. But Chime doesn't take the same all-in-one approach — it offers separate debit and credit cards, and doesn't allow you to split accounts into pockets.
If the goal of building credit is qualifying for unsecured credit, One also offers a credit line that connects to your Spend pocket and charges 12% APR on unpaid balances.
Benefits of Credit Builder
Build credit while working toward other financial goals: Dealing with multiple money goals at the same time can be intimidating, but with One's pockets, you can easily assign your money different jobs. One founder and CEO Brian Hamilton says this is in line with what the company views as essential to financial health: access to affordable credit and emergency savings at the same time. "Many products address one of these," he says. "But we want to address both."
Ability to share some accounts, but not others: Since each pocket has its own account number, you can choose what to share and what to keep to yourself. This is helpful when you share expenses with a roommate; you want to grant limited money access to your kids; or you and your partner share some, but not all, of your finances.
Guardrails leave you unprepared for an unsecured card: Credit Builder makes it impossible to get in over your head. You can't charge more than you can afford to pay back, you won't make late payments and you won't get into debt. Once you graduate to an unsecured card, get ready for a steep learning curve. Unsecured cards provide a lot of convenience and many come with valuable cash-back or travel rewards, but there's a risk of taking on debt that you just don't have with Credit Builder.
Shared accounts always have risks: The creator of a shared pocket is the "owner," but the other person has rights to the account and can deposit and withdraw money. Whenever you join financial forces with someone else, it's important to communicate about your budget and which expenses the account is intended for.
Find the right credit card for you.
Whether you want to pay less interest or earn more rewards, the right card's out there. Just answer a few questions and we'll narrow the search for you.
Get Started
Get more smart money moves – straight to your inbox
Sign up and we'll send you Nerdy articles about the money topics that matter most to you along with other ways to help you get more from your money.