Small-Business Credit Card Vs. Corporate Card: Is It Time to Move Up?
The key difference is who's responsible for the charges on the card — the business owner or the business itself.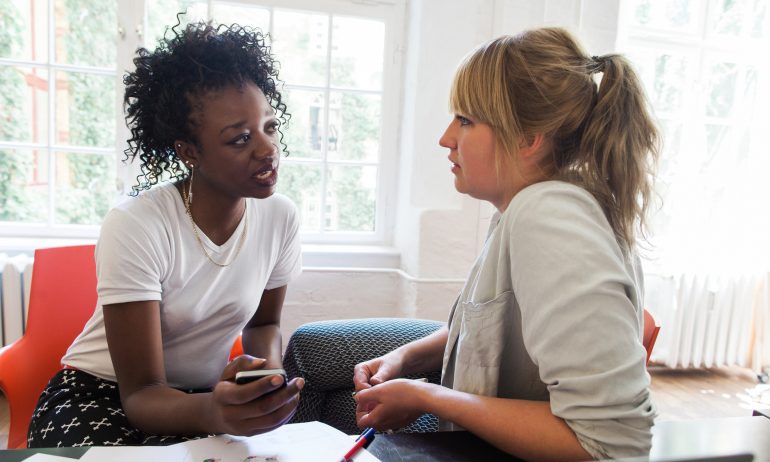 Many or all of the products featured here are from our partners who compensate us. This may influence which products we write about and where and how the product appears on a page. However, this does not influence our evaluations. Our opinions are our own. Here is a list of our partners and here's how we make money.
As your small business grows, your management needs will, too. You'll have more employees, more invoices to pay, more accounts receivable. And you may have too many authorized users on your small-business credit card. At that point, it may be time to change from a small-business card to a corporate credit card.
Most entrepreneurs have a sense of the . But the distinction between small-business cards and corporate cards — and the right time to move from one to the other — is less clear.
A , such as the , has a lot in common with a personal credit card. When you apply for one, the issuer typically will check your personal credit, and you are personally responsible for repaying debt on the card. If your company has a separate , the issuer will check that, too.
Many small-business cards have rewards program for spending on common business expenses, such as office supplies and telecommunications services. Most issuers allow account holders, usually the business owner, to get free authorized-user cards for employees.
Employees, however, aren't on the hook for the bill; the account holder is. Having many employees as authorized users is a risk to your personal and business credit, even if you set spending limits on the cards.
Enter the corporate card. A corporate, or commercial, card is generally used by businesses with annual revenue north of $4 million that process many transactions and have many people authorized to spend on behalf of the company, says Rajsaday Dutt, head of product strategy for commercial cards at Capital One.
Liability in a corporate card program usually rests with the company, though in some cases individual liability may apply:
Individual liability programs are less common than in the past, Dutt says. "Some very large companies worry that employees will have a large credit line and use it for personal expenses and then they will walk away from it, and the company will be left holding the bill. So they issue a card where the individual is liable," he says. But, he adds, "this is not the usual practice nowadays."
Going with a corporate card program has several benefits for a business owner.
Corporate cards are issued on the basis of the company's financial strength, not the owner's personal finances. "Generally, a commercial card requires you to have solid financials, a strong balance sheet and profit-and-loss account, and very good liquidity and cash flow," Dutt says.
While you would probably give small-business cards only to employees you trust, you still have to be on the lookout for fraud, which would affect both you and your business. A corporate card won't prevent fraud, but it will protect you personally.
Corporate credit card programs offer businesses robust ways to track expenses. Your card-holding employees typically will be able to file their expenses electronically, saving you time checking reports. Also, it will be easier to for you to see where and how your employees are spending your company's money.
Setting rules for spending is crucial for business success. Corporate card programs let managers set limits on the amount of spending and the categories in which employees can spend. Many companies forbid personal use of a corporate credit card.
Because the company is liable for payment, issuers don't report corporate card activity in the employees' name to the credit bureaus. Also, employees don't have to undergo a credit check. With small-business cards, employees are authorized users, and their activity is reported to the credit bureaus. Plus, the card issuer checks employees' credit.
Whether it's a small-business card or a corporate card with corporate liability, ultimate responsibility lies with the business, not the employee. Employees' responsibility is to file their expense reports on time so the employer can manage the credit card.
With corporate liability rather than individual liability now the standard, employees with corporate cards aren't required to essentially lend their employers money by paying business expenses out of pocket, then waiting to be reimbursed.
If you're a business owner thinking about a corporate card program, Dutt says to ask yourself whether these situations apply to your business: "If they're doing a lot of batch process payments, a very high volume of transactions or if they have a lot of people spending and want to keep control, then they should very seriously look at a commercial card."