What Is the Average Credit Card Interest Rate?
Depending on the type of credit card, the average interest rate varies — and it's constantly changing.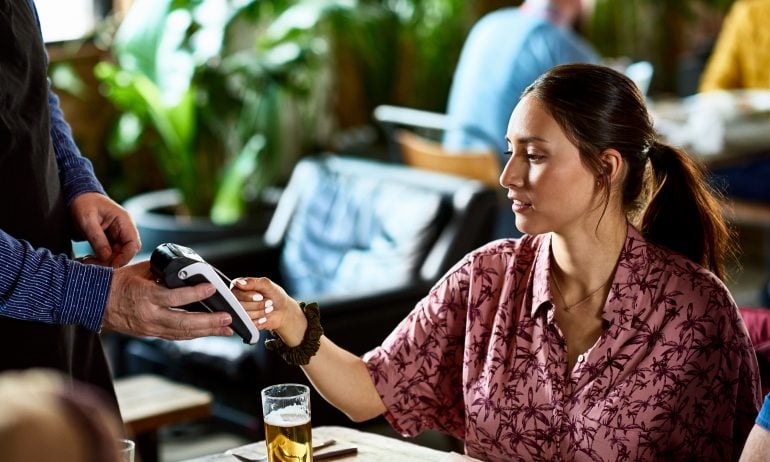 Many or all of the products featured here are from our partners who compensate us. This influences which products we write about and where and how the product appears on a page. However, this does not influence our evaluations. Our opinions are our own. Here is a list of our partners and here's how we make money.
For credit card accounts that were assessed interest, the average annual percentage rate was 16.44% as of November 2021, according to data from the Federal Reserve. Depending on your credit scores, the interest rate (aka APR) on your credit card may be higher or lower.
Good credit — a FICO credit score of 690 or higher — is key to securing a lower interest rate and saving money on credit card payments over time. A foolproof way to save on interest charges, though, is to pay off your credit card bill in full every month. That way, you'll avoid interest charges entirely.
Depending on the type of credit card, the average interest rate varies. Here's a look at several different average interest rates for comparison.
Average credit card interest rates: 2017 to 2021
Credit cards typically have variable APRs that are constantly changing. But for comparison, here's what the averages have looked like in recent years:
Federal Reserve: Commercial bank rates for credit card plans
| | | | | | |
| --- | --- | --- | --- | --- | --- |
| Average interest rate for all credit card accounts* | | | | | |
| Average interest rate for credit cards assessed interest** | | | | | |
*The average interest rate for all credit card accounts includes those for cardholders who were not required to pay interest charges. You don't have to pay interest charges if you have a 0% APR offer or if you pay off your credit card in full each month, for example.
**The average interest rate for credit card accounts assessed interest only includes those accounts in which cardholders were required to pay interest charges.
How credit card interest rates are determined
Credit card interest rates are based on several different factors. They're typically tied to the prime rate, which is the interest rate that banks charge their largest customers. When the prime rate increases, credit card rates usually do, too.
Some credit cards have different interest rates that fall within a range, like a purchase APR, balance transfer APR, penalty APR or cash advance APR. The specific rate you get is also based on your creditworthiness — your ability, in the eyes of the issuing bank, to pay back what you borrow. Banks determine this in part by looking at your credit scores.
While a credit card doesn't have fixed monthly payments like a personal loan, it's still money borrowed. Compared with some other loans, credit cards may have high interest rates to compensate for potential risk when cardholders can't pay back their debt.
And different credit card types may have different interest rates. For instance, rewards credit cards and store credit cards tend to have higher interest rates. The average interest rate for a private label credit card in 2020 was 25.7%, according to data in a 2021 consumer credit card market report from the Consumer Financial Protection Bureau. The CFPB defines a private label card as a card that can be used with one merchant or a small group of related merchants only.
Ways to get a lower interest rate
While you can't fully control your interest rate, you may be able to lower it with a few strategies.
Get or maintain good credit
In general, the higher your credit scores, the lower your credit card APR will be.
For example, according to the CFPB report cited above, the average interest rate for general-purpose credit cards in 2020 ranged from 17.5% (for those with the highest credit scores) to 23.9% (for those with the lowest scores).
To achieve good credit — which, again, typically means FICO scores of 690 or higher — it's important to pay bills on time, avoid using more than 30% of your available credit, and keep accounts open and active (when it makes sense). All of these are key ingredients that factor into credit scores.
By paying bills on time, you can also avoid a penalty APR, which is a higher interest rate that some issuers apply when you miss a credit card payment.
Negotiate a lower interest rate with your issuer
A low interest rate is ideal if you're carrying a balance on your credit card from month to month. And while your card's APR will hinge in part on your credit scores, there may be room to negotiate a lower rate with your credit card issuer if you're having trouble keeping up with payments.
Apply for a credit card at a credit union
If a low interest rate is a priority, you can also consider a credit union credit card. Your credit scores will still influence your interest rate, but these not-for-profit institutions are known to have lower interest rates compared with financial institutions like big banks. As of December 2021, the average interest rate for a credit card at a credit union was 11.21%, according to the National Credit Union Administration.
Ultimately, a "good" interest rate for a credit card is a bit of a moving target; your own rate will depend on your credit scores, the type of credit card you're applying for, the issuer of that card and economic factors like the prime rate.
Find the right credit card for you.
Whether you want to pay less interest or earn more rewards, the right card's out there. Just answer a few questions and we'll narrow the search for you.
Get Started
Get more smart money moves – straight to your inbox
Sign up and we'll send you Nerdy articles about the money topics that matter most to you along with other ways to help you get more from your money.