The Simplest Way to Freeze Your Child's Credit
Put up strong barriers to child identity theft by freezing your child's credit and safeguarding their data.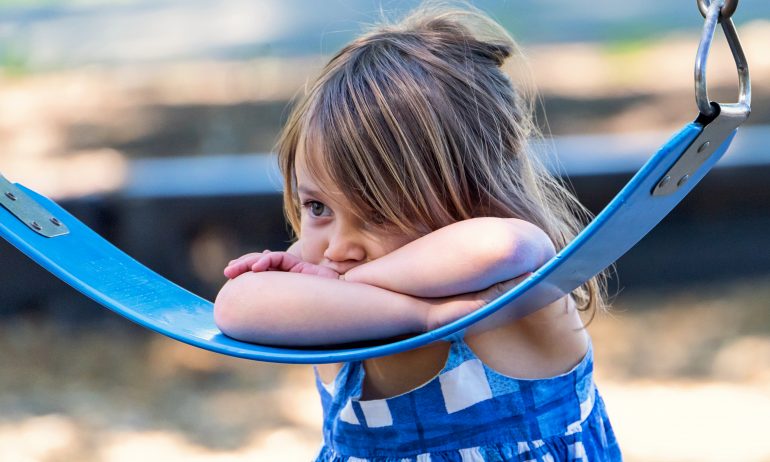 Many or all of the products featured here are from our partners who compensate us. This influences which products we write about and where and how the product appears on a page. However, this does not influence our evaluations. Our opinions are our own. Here is a list of our partners and here's how we make money.
Parents and guardians can now freeze the credit for children younger than 16. The credit bureaus must create a credit file for the child if none exists — which should be the case — and freeze it. Sixteen- and 17-year-olds may request freezes themselves.
Credit bureaus don't knowingly create credit files for minors. But they have no way of verifying that a Social Security number actually belongs to the person using it, according to the Identity Theft Resource Center, a nonprofit that helps with ID theft prevention and recovery. Thieves may even "create" a consumer by blending a child's Social Security number with a different name, address and birthdate, a practice called synthetic identity theft. Because parents have little reason to check whether a credit record exists for their child, the crime can go undetected for years.
Eva Casey Velasquez, president and CEO of the Identity Theft Resource Center, says she "absolutely" recommends that parents freeze their children's credit. That will prevent criminals from using the child's personal data to take out credit, creating a mess the family must clean up. (And don't forget to freeze your own credit, too, to stop scammers from opening new credit accounts in your name.)
Here's a simplified way to freeze a child's credit, and some tips to protect against child identity theft.
How to freeze a child's credit
1. Gather the needed documents
The three major credit bureaus (Experian, Equifax and TransUnion) have slightly different requirements. But to make the process simple and streamlined, simply send the same set of documents to each one. Each bureau will disregard extra documentation.
Here's what you need to cover all three bureaus' requirements. Make three sets of copies for each; don't send originals:
Your government-issued ID (usually a driver's license).

Your child's birth certificate or other document showing you have the authority to act on the child's behalf (foster care certification, power of attorney or court order).

Your Social Security card.

Your child's Social Security card.

A utility bill or bank or insurance statement with your name and address on it.
Sort the copies into three piles, one for each credit bureau.
2. Print out child freeze request forms
If you're requesting freezes for more than one child, you'll need to fill out a form for each one. You can download the necessary forms from Equifax and Experian.
TransUnion doesn't have a form, but you can download this letter to fill out seeking a "protected consumer freeze" for your child.
3. Mail the request and document copies
You will send each form or letter, along with one set of documents, to each credit bureau. Equifax and Experian list their mailing addresses on their freeze request forms. TransUnion's address is P.O. Box 380, Woodlyn, PA 19094.
Either regular or certified mail is acceptable. Because you are mailing sensitive personal information, NerdWallet suggests using certified mail.
4. Wait for confirmation, then store it securely
You will receive confirmation in the mail that a freeze has been placed, and the correspondence will include your child's PIN. That number is necessary for unfreezing your child's credit, so keep that in a safe place (a fireproof safe is ideal). You might also want to store it electronically by using a secure password manager service, for example.
The freeze will remain in place until your child unfreezes it later to apply for a credit card, car loan, student loans or other credit.
How to protect your child from identity theft
Freezing your child's credit will keep a criminal from opening credit in your child's name, but it doesn't protect your child from identity theft entirely.
You can adopt habits to guard against child identity theft and teach your child to do the same.
Protect Social Security numbers by leaving forms requesting them blank until and unless you are told why they are necessary and how they will be protected.

Pay attention to mail. While credit preapproval offers in your child's name don't always indicate identity theft, they are worth investigating. Correspondence from a collection agency addressed to your child is a huge red flag.

Keep your child's documents locked away. Birth certificates and Social Security cards shouldn't be in your purse, wallet or car. Safeguard anything with that information in your own home. That means keeping paperwork with Social Security numbers inaccessible, possibly in a home safe or locked file cabinet, inaccessible to service people and visitors.

Monitor health insurance claim information. A claim that doesn't make sense to you can indicate that your child's personal information has been used to access health insurance benefits.
Parents and other guardians also need to understand that a child's data is not theirs to use, even if a child is in their care, Velasquez says. Parents or foster parents have sometimes used children's unblemished records with noble intentions, say, to get utilities connected or to set up mobile devices so that they can keep in touch with the family. But such actions constitute identity theft.
Guarding personal data isn't the ultimate solution, but it's what we can do now.
"A Social Security number should not be used as a verifier," says Chi Chi Wu, staff attorney at the National Consumer Law Center. "We need a better way to verify identity. Ultimately, that's the solution."
Get score change notifications
See your free score anytime, get notified when it changes, and build it with personalized insights.