How I Ditched Debt: Cait Flanders
Many or all of the products featured here are from our partners who compensate us. This influences which products we write about and where and how the product appears on a page. However, this does not influence our evaluations. Our opinions are our own. Here is a list of our partners and here's how we make money.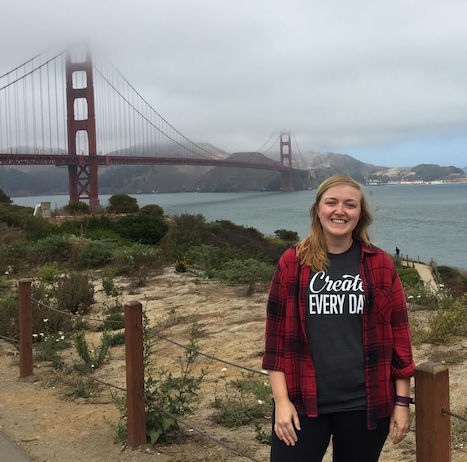 In this series, NerdWallet interviews people who have triumphed over debt using a combination of commitment, budgeting and smart financial choices. Their stories may even inspire you to pay off your debt.
Living within your means is one of the most important ways to secure financial health. Cait Flanders — the blogger behind caitflanders.com, formerly Blonde on a Budget — learned that lesson the hard way. In her early 20s, she racked up debt totaling nearly $30,000.
Cait paid that off in about two years by monitoring expenses, reading an encouraging book and cutting down on unnecessary purchases. The debt-free freelancer now spends her money wisely, and on her own terms.
Here's her story, related to us via email.
What was your total debt when you started your repayment journey?
Cait: In 2011: $28,000 total, including credit card debt, student debt, car loan and personal loan.
What is your outstanding debt today?
Today: $0. I've been debt-free since May 2013.
How did you end up in debt?
I was living a lifestyle I couldn't afford and used credit cards like they were free money. I didn't shop much, but said "yes" to every invitation to go out for meals and drinks with friends and used credit to pay for it all. I also made a few big-ticket purchases, like buying all brand new matching furniture when I was only 23 and a car when I was 24. It was totally indulgent, but I was sold on (and got stuck in) the minimum payment trap. Nerd tip: If you're prone to making frivolous credit card purchases, try using a cash-based budgeting method, like the envelope system, to keep your spending under control.
What triggered your decision to start getting out of debt?
I was maxed out in 2009 and consolidated all my consumer debt into a personal loan at a lower interest rate then, but continued to overspend and found myself maxed out again in 2011. After months of ignoring my credit card statements, peeling back only the corner of the envelopes to see what the minimum payments were, I finally looked at the numbers and realized I had no choice but to get serious about paying it all off.
What steps did you take to reduce your debt? What resources or services did you use?
I started simple by tracking my spending (on paper) for three months, so I could see where my money was going. As I continued doing that, it became obvious where I could cut back so I could put more money towards debt. I read one book, "Debt-Free Forever" by Gail Vaz-Oxlade, and used her tough love to stay motivated. Aside from that, I just continued to track my spending and cut back where I could. I paid off all my debt in two years.
Nerd tip: Track your expenses automatically with a budgeting app that connects to your financial accounts.
How has your life changed for the better since you got out of debt?
It has changed in so many ways. My debt felt crippling, at times, and I know it held me back from doing so many things. The first big change I made in my life was I started allocating money in my budget to travel. I had always wanted to travel, but never seemed to have money to do so before. Now, it's a huge part of my life. But perhaps the best way it changed my life was that it gave me the opportunity to quit my day job and work for myself. I would never have felt comfortable doing that if I had the weight of my debt on my shoulders.
How to eliminate your own debt
Create a plan to get out of debt and give yourself the freedom to pursue other financial goals. If you're balancing several different types of debt, like Cait, NerdWallet recommends using the debt avalanche strategy to pay it off in the shortest time while maximizing savings on interest. Here's how to do it: