Greedflation and Stagflation: Who's to Blame and What to Do
Money News & Moves: Tough times require thoughtful financial strategies.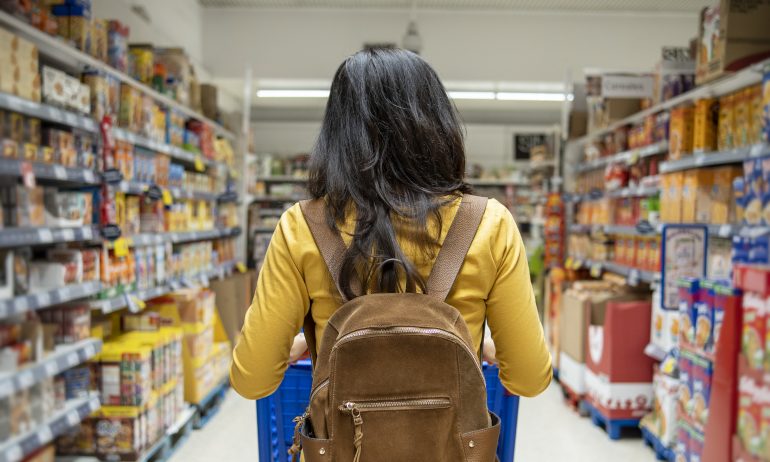 Many or all of the products featured here are from our partners who compensate us. This influences which products we write about and where and how the product appears on a page. However, this does not influence our evaluations. Our opinions are our own. Here is a list of our partners and here's how we make money.
The investing information provided on this page is for educational purposes only. NerdWallet, Inc. does not offer advisory or brokerage services, nor does it recommend or advise investors to buy or sell particular stocks, securities or other investments.
Everybody's piling into the "we're raising prices due to inflation" game. Is it corporate greed or something else that's jacking up prices so high?
An increasingly grumpy American consumer is looking to blame somebody.
As if inflation weren't bad enough: Is it greedflation?
Cell service providers AT&T and Verizon are targeting some of their more economical older plans with rate increases. Verizon also added an "economic adjustment charge" to some monthly fees, and T-Mobile bumped up fees on some older plans in February. The cost of a Hershey's chocolate bar is up 17%, part of a wider pricing change to sweeten earnings. Health insurance companies are seeking approval to raise premiums next year by an average of 10%-15%. New York state consumers could see premium increases nearing 19% for individuals.
Companies have the power to raise prices to "minimize earnings declines," aka "protect profits," but we, the consumers, don't have the ability to magically expand our budgets. So, it's not surprising to hear a growing number of people blame "greedy corporations" for gouging consumers on gas, food and services in the name of inflation.
Nearly three-quarters (72%) of Americans surveyed in late April and early May blamed "profit-seeking corporations" for higher gas prices. The poll, conducted by the Washington Post and George Mason University, showed that it was an opinion shared by many in both political parties: 86% of Democrats and 52% of Republicans.
But corporate "greedflation" is not the root cause of higher prices, according to Wharton marketing professor Z. John Zhang, among others. He and like-thinking peers blame the war in Ukraine, supply chain and logistics problems, and COVID-modified consumer patterns.
"I think that firms are actually doing exactly what they're supposed to do. Where you could raise prices, you raise prices to make more money to invest for more production. That's what we want the firms to do," Zhang said in a recent Wharton podcast.
Well, maybe not everybody wants that. But, wait. There's more.
Inflation made worse: Stagflation looms, money managers say
Increasingly, the case is being made for a particularly virulent strain of rising costs called stagflation. That's when higher prices are combined with a sagging economy: inflation plus economic stagnation.
Imagine layoffs and rising unemployment, consumer demand evaporating — but everything remaining expensive.
That's a storm of a fecal magnitude.
Earlier this month, in a Bank of America survey of 266 fund managers, 83% said they expect stagflation to seep into the global economy over the next 12 months. These fund runners manage more than $745 billion in assets, so they've got skin in the game.
Look, we're not here to raise your anxiety about the state of the world. And financial "experts" are wrong all the time with their economic predictions, so there's no need for alarm. Instead, let's do something to reinforce your financial position. Some suggestions:
Continue to slowly build a cash cushion. Yes, that can be difficult during times of rising prices, but consider small but frequent automatic transfers into your emergency savings account.

If you have confidence in your 401(k), IRA and other long-term investments, don't make any rash decisions in reaction to market movements. If you're unsure about your investment mix, talk to an advisor.
Fourth of July: Big bucks for burgers and beer
From a cost standpoint, your Independence Day backyard celebration may be less burgers, hot dogs and beer — and more pork, fruit and wine. According to an analysis by Wells Fargo, the staples of Fourth of July parties have soared in cost due to this year's bout of inflation.
Ground beef (+11.8%), hot dogs (+12%) and beer (+25%) have seen greater price increases than pork (+3.1%), produce (+7%) and wine (+5.8%), the report says.
To minimize the impact of higher costs on your Fourth festivities, consider alternatives.
Rather than going with fresh ground beef, shop frozen pre-formed beef patties. Demand has declined, so you may find some bargains. And the Wells Fargo report notes that the cost of beef ribs has risen only 2%. Now you're talking. Slap a little hot sauce on those suckers and forget the chicken wings (+38%).
Have a restful and safe Fourth of July.