Guide to Affordable Internet for Low-Income Households
The Affordable Connectivity Program and Lifeline offer eligible low-income households a monthly discount on home internet.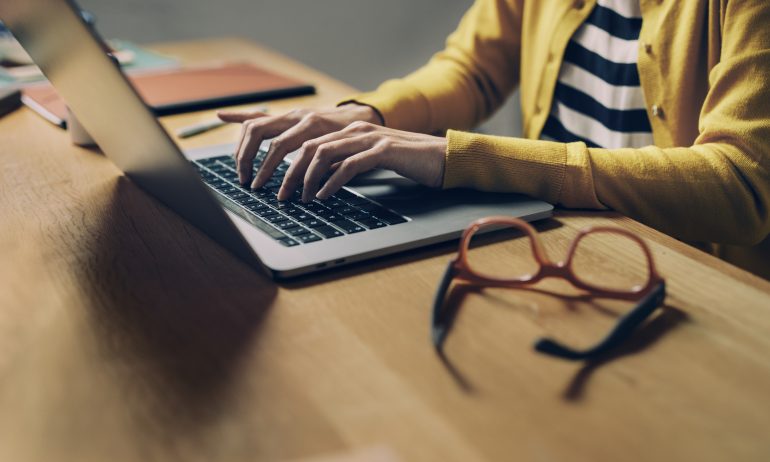 Many or all of the products featured here are from our partners who compensate us. This influences which products we write about and where and how the product appears on a page. However, this does not influence our evaluations. Our opinions are our own. Here is a list of our partners and here's how we make money.
Access to the internet at home is not a luxury for most Americans. When it comes to completing schoolwork and working from home, connecting with friends and family over video chats, attending telehealth appointments and paying bills online, access to reliable and affordable home internet is vital. 
Still, in the United States about 24 million households — or roughly 1 in 5 — don't have internet access at home, according to 2021 data from the Department of Commerce's National Telecommunications and Information Administration. And 4.4 million offline households cite "the internet is too expensive" as the reason they don't have access at home.
Internet speeds have increased while prices have decreased in recent years, according to the 2022 Broadband Pricing Index, which is published by internet provider association USTelecom and compiles public data from the Federal Communications Commission and other sources. But costs are still prohibitive for some low-income families. (Find out how the government defines low income: What is considered low income?) Inflation has driven up prices across the board, and purchasing a computer or tablet to access the internet at home is a barrier to entry for some. But there are ways to lower your internet bills.
Average monthly costs for home internet plans
So, how much does a home internet plan cost per month? In 2022, the most popular internet service packages cost an average of $36.33 per month, according to the index. This package included download speeds of 98Mbps, or megabits per second, which is how internet speed is measured. 
Plans with higher internet speeds, 259Mbps, cost more, an average of $58.12 per month.
How to apply for low-income internet 
Two FCC programs aim to get affordable internet access to low-income households. The first, the Affordable Connectivity Program, helps low-income households access broadband internet with a monthly discount and offers a one-time-use device discount for the purchase of a computer or tablet. The second program, Lifeline, takes a similar approach but with a smaller monthly discount. If you're eligible, the two programs can be paired to save money with deeper discounts. 
What you need to know about the Affordable Connectivity Program 
The Affordable Connectivity Program gives eligible households a $30 monthly discount on internet services ($75-a-month for people living on tribal lands). There is also a one-time discount of up to $100 to purchase a desktop or laptop computer or tablet — participants must contribute more than $10 and less than $50 toward the purchase. 
For the Affordable Connectivity Program, a household is defined as a group of people who live together and share money; they don't have to be related.
To enroll, submit an application online or print and mail it to the address provided. You can also call the ACP support center at 877-384-2575 for further assistance. If approved, you'll have 90 days to sign up for service with a participating provider, including prominent names such as AT&T, Verizon and Comcast. 
If you already have service, you may be able to enroll in the ACP through your provider.
Who is eligible for the Affordable Connectivity Program?
Before applying for the ACP, potential applicants should check whether they qualify for the benefit. To be eligible, your household income must be at or below 200% of the federal poverty guidelines, or you can qualify if a member of your household meets one or more of these criteria: 
Participates in one of the following assistance programs:  

Federal housing assistance.

Free and reduced-price school lunch program.

Recipient of veterans pension or survivor benefits.

Supplemental Nutrition Assistance Program.

Supplemental Security Income.

Special Supplemental Nutrition Program for Women, Infants, and Children or WIC. 

Received a federal Pell Grant during the year in which the household is applying for the ACP. 

Bureau of Indian Affairs general assistance.

Food distribution program on Indian reservation.

Tribal Temporary Assistance for Needy Families.
When filling out the application, you'll need to provide your name, date of birth, home address and Social Security number. You'll also need to select how you want to qualify for the program — either based on participation in the select programs or on your income.
What you need to know about Lifeline
Lifeline gives eligible low-income households a monthly $9.25 discount on the cost of internet, phone, or one of the bundled packages offered by providers. People living on tribal lands can receive up to $34.25 off their monthly bill. 
To determine if you qualify, contact your phone or internet company directly, call the Lifeline Support Center at 800-234-9473 or apply online. 
The application will ask for your full name, date of birth, home address and tribal identification number or the last four digits of your Social Security number. 
Who is eligible for Lifeline? 
Lifeline is aimed at people whose income is at or below 135% of the federal poverty guidelines or who participate in federal assistance programs, including: 
Federal public housing assistance.

Veterans and survivors pension benefits. 
How the Affordable Connectivity Program and Lifeline work together 
To get the deepest discount and lower your bills, it's worth checking to see if you are eligible for both programs since they can be combined. You can choose the same provider for both services or mix and match as long as the providers participate. One example the FCC suggests for combining the programs is to use Lifeline for phone service and the ACP for home internet. 
You won't automatically be enrolled in one program if you qualify for the other, especially since there are some different eligibility guidelines. For example, the ACP covers more potential customers since its threshold is at or below 200% of the federal poverty guidelines, compared with Lifeline's 135%. 
You'll need to recertify for both programs annually to keep the benefit. The Universal Service Administrative Co., which administers Lifeline and the Affordable Connectivity Program for the FCC, checks yearly to ensure you still qualify. If USAC cannot confirm your eligibility, you will receive a letter in the mail or a voicemail. You'll have 60 days to respond before you lose access to the discounts.