Are You Squeamish About Buying Used Items? Get Over It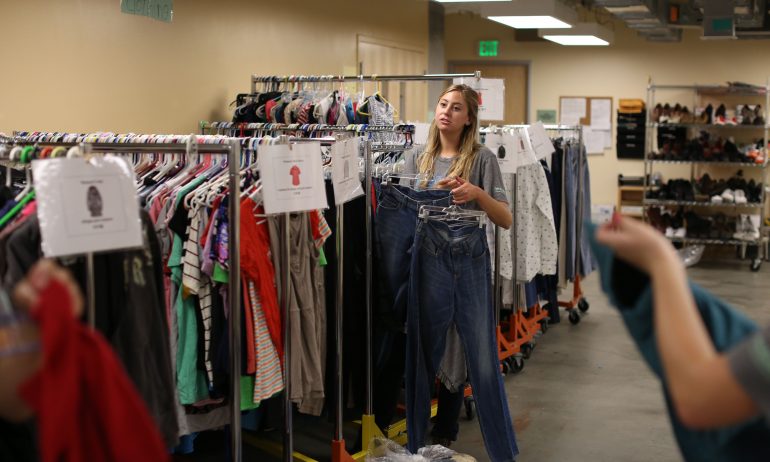 Many or all of the products featured here are from our partners who compensate us. This influences which products we write about and where and how the product appears on a page. However, this does not influence our evaluations. Our opinions are our own. Here is a list of our partners and here's how we make money.
Bedbugs. Weird smells. The possibility of imminent breakdowns. People have all sorts of excuses for not buying used stuff.
Those who deliberately buy used items, though, say such fears are not just overblown — they're also expensive.
Katy Wolk-Stanley, a Portland, Oregon, labor and delivery nurse, has a short list of things she'll buy new, including personal care items (toothbrushes, makeup, feminine hygiene products) and certain clothing (socks, underwear, bras). Otherwise, she looks for secondhand options, something she's done for more than 10 years since she first heard of The Compact, a group of people who pledge to avoid buying new.
The idea is to reduce waste, clutter and the negative effects of consumerism. The original pledge was for one year, but Wolk-Stanley and other members of the group kept going.
"You save money. You make a decision that you feel good about. There's no reason to stop," says Wolk-Stanley, who blogs as The Non-Consumer Advocate.
Saving money, helping the planet
Wolk-Stanley and others use thrift stores, Craigslist, garage sales and local Buy Nothing or Freecycle groups that connect people who have stuff to give away with those who want it.
"I'm not buying used things that are worn out. I'm buying used things that look brand new," Wolk-Stanley says. She's using the saved money to help put two sons through college without loans.
People who buy used often value the idea of keeping stuff out of landfills and reducing their environmental impact as much as they do saving money.
Angela Barton, a writer and editor in Los Angeles, likes cutting her carbon footprint as well as traveling more using the money she saves. Julia Park Tracey, an author and journalist in Forestville, California, refurbished her home using materials that otherwise might have been discarded. She bought new energy-efficient appliances but gathered most supplies from The Freecycle Network, Craigslist and the nonprofit Habitat for Humanity ReStores, which sell donated paint, flooring, appliances, furniture and building materials.
"I just think we should use what we have instead of creating the demand for new things," Tracey says.
The decision to buy new can be costly. Take cars, for example. The average transaction price for a new vehicle exceeds $34,000, and it will lose as much as 22% of its value when driven off the dealership lot, according to car research site Edmunds.com. If you make 10 vehicle purchases in a lifetime, you can save more than $100,000 simply by buying cars that are two or three years old. And you might stack up more savings by avoiding long loan periods and high interest rates that people take on to buy cars they can't really afford.
Household goods prices often are inflated as well. Furniture, appliances and electronics tend to have big markups, and there's an $8 billion rent-to-own industry devoted to making them even more expensive. The weekly or monthly payments often add up to twice or more what the item would cost if purchased outright.
Diana VanDusen of Lakewood, Washington, initially believed her poor credit meant she had little choice but to sign up for a rent-to-own store's weekly payments to buy furniture and appliances for her home. She thought "used" meant shoddy goods, but discovered the high cost of rent-to-own didn't guarantee high quality.
"I paid off the front-loading washer-dryer that's in my house now. Within a month it broke down," says VanDusen, who cleans apartments. "I could have owned 10 washers and dryers for what they charged me for one."
Some things are better if purchased new. Safety experts recommend avoiding used bicycle helmets and car seats, for example, in case they were damaged in previous accidents.
People leery of buying used appliances and furniture can consider refurbished versions, floor models or the "scratch and dent" section of home improvement stores, where imperfect merchandise can be bought at steep discounts.
Some people who buy most things used avoid mattresses and upholstered furniture for fear of bedbugs. Wolk-Stanley hasn't found any yet. The blogger washes clothes and linens before using them. Anything upholstered gets thoroughly inspected before it enters her home.
Hunting down good used items can take more time than snapping up something new, but Wolk-Stanley believes she ultimately saves time as well as money.
"I'm looking for a higher-quality item that would not necessarily have been in my budget originally," Wolk-Stanley says. "That item will last longer and not need to be replaced, and therefore, I'm buying things once."
This article was written by NerdWallet and was originally published by The Associated Press.