How I Ditched Debt: 'Born Spender' Goes on a Spending Fast
Many or all of the products featured here are from our partners who compensate us. This influences which products we write about and where and how the product appears on a page. However, this does not influence our evaluations. Our opinions are our own. Here is a list of our partners and here's how we make money.
In this series, NerdWallet interviews people who have triumphed over debt using a combination of commitment, budgeting and smart financial choices. Responses have been edited for length and clarity.

Anna Newell Jones considers herself a "born spender" whose desire for the latest fashions and gadgets landed her in debt.
When she got married in May 2009, she had a big secret — she owed nearly $24,000 in credit card debt, student loans and money that her parents borrowed for her. She was living paycheck to paycheck and felt like she had hit a bottom financially. So she shared with her husband, Aaron, a plan to cut her expenses to the bone, pay off debt and become a financial adult. And she decided to blog about her efforts to keep herself motivated and accountable.
First up was making a list of wants and needs customized to herself. Do-it-yourself hair color in a box made the "needs" list, but salon services did not. Then she did what she calls a reverse budget — she analyzed the previous three months' spending to see where her money was going so she could determine what could be cut.
Newell Jones declared a "spending fast" in 2010: spending the bare minimum and only on necessities. The Denver resident found it freed up time previously spent shopping, returning items and worrying about the financial hole she was digging. That extra time helped her figure out how to increase her income, including photographing weddings on weekends, writing a book and creating her website at andthenwesaved.com.
Sign up to link and track everything from cards to mortgages in one place.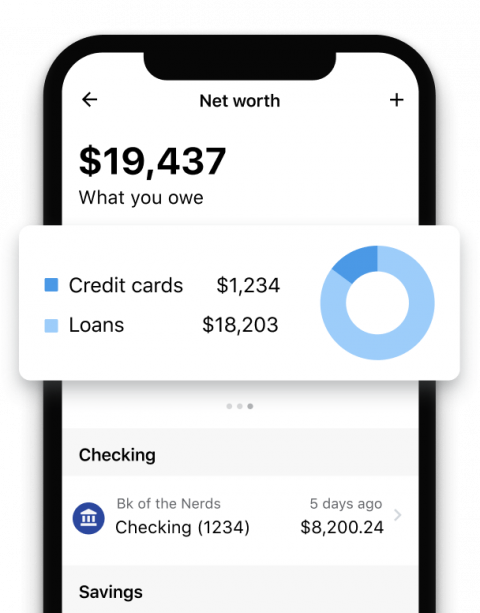 What was your total debt when you started? What is your debt today?
At the tail end of 2009, I [had] $23,605.10 in debt, and I managed to eliminate all of it in only 15 months! I have a mortgage now. Apart from that, I've been able to remain completely debt-free.
How did you end up in debt?
I'm a natural spender. I like new things. I used to live for finding that perfect shirt or decoration for my house. ... Even though I owed money to others (like my parents for school), I was always able to find money when I wanted something. I was completely overwhelmed by my debt and thought I'd die with it, so in a lot of ways I decided, "Ah, screw it! Might as well at least enjoy myself!" Basically, I spent money I didn't have on things I didn't really need. I was reckless.
What triggered your decision to get out of debt?
I wanted my financial life to be about more than just covering my minimum balance each month or not bouncing a check. I got to the point where I was tired of feeling like crap about myself and the situation I had created for myself. I had, in a lot of ways, hit my "financial bottom." I was desperate enough to make sacrifices and do whatever I had to to get out of debt.
What steps did you take to reduce your debt?
I made some very serious lifestyle choices … meaning I only spent money on necessities (rent, basic food, etc.) and nothing extra. I started my blog as a way to hold myself accountable. I thought that maybe if I went public about my debt and about how much it weighed on me, I'd be more likely to not immediately ditch the entire idea once things got difficult.
How has your life changed for the better since you got out of debt?
Oh man, it's so much better! Life without debt, shame, worry and anxiety centered around money is so freeing. Before, I was stressed and worried all the time, and it showed. Now I own several businesses, have money to save for my family's future, and have the freedom to spend more time with my husband and son.
How do you remain debt-free today?
I'm very mindful of my money and my spending. I regularly do reverse budgets [to watch for overspending issues that could crop up]. I also run a Spending Fast Bootcamp and connect with members of the bootcamp each week in Facebook Live videos. Helping them helps me stay aware and present, rather than mindlessly slipping back into my old "spender" ways.
How to tackle your own debt
Jones, who says her blog kept her accountable, wishes she had known about other people who were also battling debt and also felt ashamed and isolated. She created just such a community on her website. Support and accountability can help, she says.
Analyze your current spending, to see where money has been going and pinpoint expenses that can be reduced or eliminated

Identify your own wants and needs. Needs are non-negotiable, while wants can wait. But every person's list will vary.

Save for an emergency fund. When you are trying to repay debt, watching balances go up can be discouraging. But emergencies will happen. Be prepared with money designated for just such occasions. An amount as low as $500 in reserve can insulate you from an unexpected expense and running your credit cards back up.