How I Ditched Debt: Paying With Cash, Working Side Gigs
Many or all of the products featured here are from our partners who compensate us. This influences which products we write about and where and how the product appears on a page. However, this does not influence our evaluations. Our opinions are our own. Here is a list of our partners and here's how we make money.
In this series, NerdWallet interviews people who have triumphed over debt using a combination of commitment, budgeting and smart financial choices. Responses have been edited for length and clarity.

Chris Browning and his wife, Kay, faced a common challenge among newlyweds: a large bill after the honeymoon. Their wedding, which they financed with credit cards, cost about $14,000. A five-day honeymoon in Hawaii cost an additional $3,000.
More bills piled up as they started life as a couple: furniture for a new apartment, medical and education expenses, not to mention their foodie lifestyle. Two years later, the Brownings' debt peaked at about $27,000.
Determined to pay off the debt and live with less stress, Browning, 31, a business analyst in Southern California, made a few big changes. He created a budget, paid cash for all food purchases and took on side hustles, putting the extra income toward debt repayment.
Today, life is less stressful for Browning and his wife. He also has time to pursue other passions, including podcasting at Popcorn Finance. Browning recently connected with NerdWallet to share his story.
Sign up to link and track everything from cards to mortgages in one place.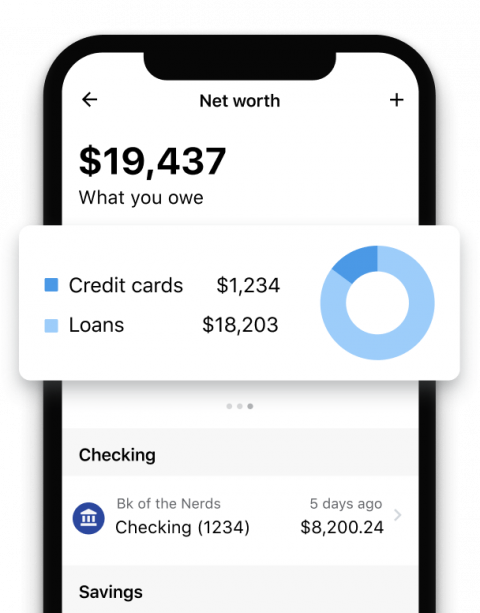 What was your total debt when you started your repayment journey, and what is it today?
Our total debt reached just over $27,000. Today, our credit card debt is $0. Our only debt is a car loan.
How did you end up in debt?
Our debt started mounting after our wedding [in 2012]. We covered the cost ourselves — about $14,000 — using credit cards. Our honeymoon cost $3,000 and was also put on a credit card. After the wedding, we moved into a studio apartment that we furnished using credit cards — that was another $1,500.
Another big chunk was about $3,000 in unexpected tuition costs for my wife, as she dropped a class and became a part-time student, which caused her to lose a portion of a school-provided scholarship. We also paid a lot in out-of-pocket expenses for an emergency room visit. Covering the deductible and co-pay was more expensive than what we had budgeted.
A lot of it was just being irresponsible. I always paid more than the minimum payment on our credit card bills. But we continued using the cards even though we wanted to pay them down. We were overspending every month, and the balances just kept going up.
What steps did you take to reduce your debt?
Our food budget was trouble for us. It was a very loose budget, and we ate out all the time.
We moved to a cash-based budget for food. We kept $300 from every paycheck in an envelope and used that money for food, including dining out. It was the only way we could keep spending under control.
I also opened savings accounts for different expenses that came up throughout the year, such as car registration and Christmas presents, so we weren't caught off guard by those costs. I set up automatic transfers from our main checking account to the savings accounts, so the money was there when we needed it.
How much did your job and side hustles contribute to debt payments?
Toward the end [of our debt-free journey], I started a new job as an accountant, earning $14,000 more annually. Finding a better-paying job was one of my biggest goals.
I also earned income from side hustles. I made the most from delivering food for DoorDash and Postmates — about $300 a week. After work on some days, I made deliveries in the local area. On weekends, I worked another five or six hours.
How did you stay motivated throughout your journey?
It was just really stressful having that debt. I thought about it all the time, and I hated not being able to use so much of our paychecks for things other than debt. We eventually want to own a home, and we'd like to travel, but the debt limited us.
Even though we had setbacks, the desire to be debt-free kept us focused.
Did paying off your credit card help improve your credit score?
At the peak of our debt, my score was around 620. By the time the debt was paid off, my score went up to about 800.
Having a high credit score helped most when we needed a car. My wife had a car accident, and we needed a new car. We walked into our credit union and got a $24,000 loan right away.
How do you remain debt-free today?
I keep the same budget, with some tweaks to allow more flexibility. All the lifestyle changes I had to make in order to pay off debt made me think about what's important to me and what's a worthwhile purchase. I've carried those changes into our post-credit-card-debt lives.
What advice would you give someone who's just starting their debt-free journey?
Stop using your credit cards. Switch to a cash-based budget if you can. It prevents overspending.
Find someone to talk to about your debt. I had a friend I talked to, and at the end of our debt journey, I connected with different bloggers. It's motivating to hear from other people who've done this, especially those who had more debt. Their stories helped me stay encouraged and gave me an extra boost when I needed it.
HOW TO TACKLE YOUR OWN DEBT
Create a realistic budget that you can stick to, and try using online budgeting and savings tools.

Consider debt consolidation if you have multiple high-interest debts and good credit. This rolls your debts into one single payment and can lower your interest costs.
Photo courtesy of Chris Browning.