How Long Does a Foreclosure Stay on Your Credit Report?
Foreclosure stays on your credit for seven years from the first missed payment — but you can start restoring your credit right away.

Many or all of the products featured here are from our partners who compensate us. This influences which products we write about and where and how the product appears on a page. However, this does not influence our evaluations. Our opinions are our own. Here is a list of our partners and here's how we make money.
Foreclosure happens when you default on your mortgage and your lender takes ownership of the home.
A foreclosure stays on your credit reports for seven years from the date of the first missed payment, bringing down your credit score. After that period of time, the foreclosure mark should automatically fall off your reports. But you can start working to restore your credit score right away.
Get score change notifications
See your free score anytime, get notified when it changes, and build it with personalized insights.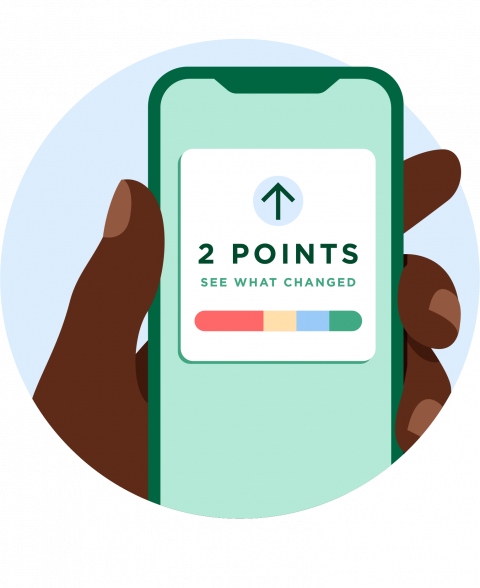 How a foreclosure affects your credit
A foreclosure's impact on your credit will depend on your credit standing before the negative mark hit. The higher your score, the greater the likely impact.
In general, though, you can expect a foreclosure to drop your score by 100 or more points, according to a 2011 report from FICO, a credit scoring agency. It can take up to seven to 10 years for your score to recover entirely, FICO also found.
What if a foreclosure doesn't fall off after seven years?
The credit reporting process is imperfect. That can occasionally result in a foreclosure or other derogatory mark not falling off automatically after seven years.
You can rebuild much sooner
Don't let the seven-year timeline stop you from acting — you can begin working to rehabilitate your credit score right away. Help offset the negative mark by stacking up positive data on your credit reports:
Pay all bills on time. Payment history is the biggest factor affecting credit scores. You want to build up a long track record of on-time payments so you look good to potential lenders in the future.

Use 30% or less of your credit limits. The second-biggest factor in scores is how much of your credit limits you use, which is called credit utilization. The lower your credit utilization, the better for your score.

If needed, look into ways to rebuild credit such as getting a secured credit card or credit-builder loan.