How to Master Thrifty Back-to-School Shopping
Monitoring sales and combining forces with other parents are a couple of ways to make things more economical.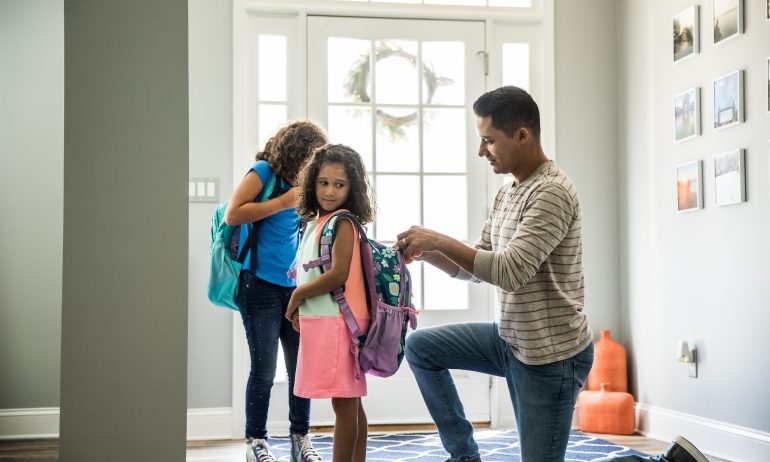 Many or all of the products featured here are from our partners who compensate us. This influences which products we write about and where and how the product appears on a page. However, this does not influence our evaluations. Our opinions are our own. Here is a list of our partners and here's how we make money.
It's that time again: back to school, and back-to-school expenses.
A NerdWallet survey, conducted online by The Harris Poll in June, found that parents who plan to do back-to-school shopping this year expect to spend $610, on average, and 14% plan to spend $1,000 or more.
You can save money while outfitting your student by shopping savvy and leaning on your community. Here's how.
Audit what's already in your house
Usable supplies may have come home with your child at the end of last year — perhaps even unused. Check closets and last year's backpack, and while you're at it, see if that backpack is good for another year of use.
Check the sales, spread out the shopping
Watch for weekly ads from your favorite stores and check them for deals on the school supplies, clothes and electronics your student needs. Check online, too.
Rather than make one massive shopping trip, selectively pick up on-sale items in any given week. Although it takes a while to assemble everything on the list, this approach spreads out the hit to your budget.
Use technology to save money
Think about using cash-back apps like Rakuten or Ibotta to boost your savings.
If you're shopping online, take advantage of tools like Google Shopping to compare prices. You can also use browser extensions like the Camelizer, which gives information on Amazon pricing, to spot whether you're getting a good deal.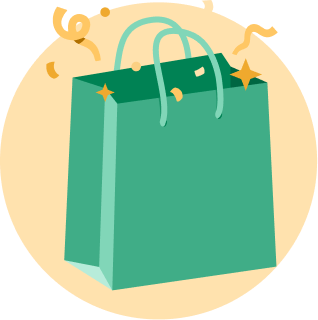 Shopping online just got nerdier
Let NerdWallet find the coupons, promo codes, and rewards every time you checkout.
Keep sales tax holidays in mind
Several states have sales tax holidays that coincide with back-to-school shopping. This is a popular way to save, with 20% of 2023 back-to-school shopping parents saying they'll rely on their states' tax-free shopping days to make purchases this year, according to NerdWallet's survey.
Be strategic about clothing purchases
One pair of everyday shoes, new gym shoes and a new outfit or two may be enough to get the year started. Let older kids get a sense of what's in fashion during the first few weeks of school, then shop. That delay guards against summer purchases they later decide aren't what they wanted.
As the year progresses, you can shop Black Friday deals (which start in October) or Veterans Day sales to fill in what's needed.
You may be able to source school supplies, clothes, jackets and more from thrift stores or resale sites like swap.com.
Check out your local Buy Nothing Project group on Facebook or the BuyNothing app. Members request and give away things for free.
Similar groups can be found on Facebook Marketplace, Nextdoor and Craigslist.
Buy in bulk, then split costs
The parents of your kid's classmates may want to join forces to buy certain supplies. It may be cheaper to buy in bulk and split those supplies up across families for a lower per-unit cost.
This approach works well for classroom supplies like tissues, plastic storage bags and hand sanitizer — especially if a parent has a Costco or Sam's Club membership.
Reach out to community organizations
Check whether your public library, local community center or place of worship is leading a back-to-school supply drive.
As school gets closer, contact the school office or your student's teacher. They may be able to suggest sources for discounted supplies or let you know which items on the supply list can be brought to school later. For example, it's unlikely the classroom needs 30 boxes of tissues all at once in late summer; the teacher may prefer reinforcements when cold season starts.
The survey found that more than half (56%) of parents planning to do back-to-school shopping this year say they'll use a credit card. Be prepared with strategies for whittling credit card balances back down, such as the debt snowball payoff method.
One in 10 (11%) of the 2023 back-to-school shopping parents say they'll probably go into debt to pay for school purchases this year. The popularity of buy now, pay later loans can make that easy to do. These short-term loans may not charge fees or interest, but if you take out several, it could be difficult to stay on top of payments.
This survey was conducted online within the U.S. by The Harris Poll on behalf of NerdWallet from June 27-29, 2023, among 571 U.S. adults ages 18 and older who are parents of kids in K-12/college, among whom 543 plan to do back-to-school shopping this year. The sampling precision of Harris online polls is measured by using a Bayesian credible interval. For this survey, the sample data is accurate to within +/- 4.5 percentage points using a 95% confidence level. For complete survey methodology, including weighting variables and subgroup sample sizes, contact [email protected].