Rent-A-Center's Formula: Charge You More at Every Step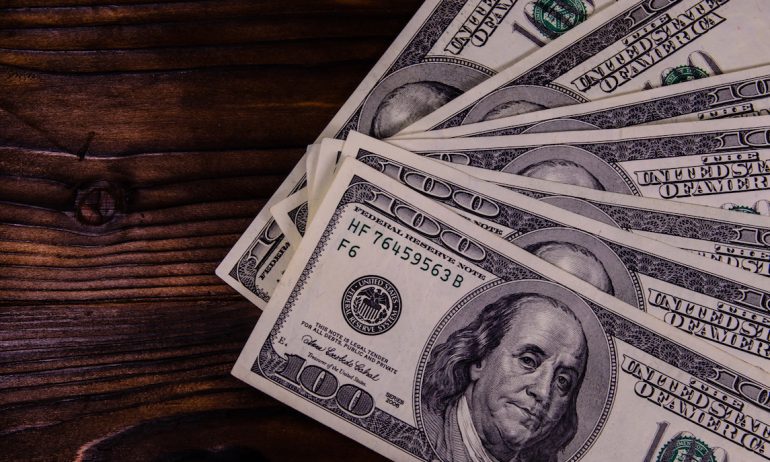 Would you pay twice the price for a couch or washing machine if you could have it right now?
How about five times as much?
That's how much consumers can pay when they shop at Rent-A-Center, the nation's largest "rent-to-own" company, which leases furniture, electronics and appliances from thousands of its stores across the country.
The U.S. rent-to-own industry — worth $8 billion, according to some industry estimates — allows consumers to lease big-ticket items without a credit check and pay in regular installments until they take ownership of the goods.
To consumers who might not qualify for other kinds of financing, rent-to-own is marketed as an affordable, convenient option: Take your dream sofa home now, pay later.
Rent-A-Center contracts can be confusing, with fees and other riders that could hurt a renter's credit, NerdWallet and Raycom Media found in reviewing thousands of consumer complaints to state and federal agencies across the country. Consumers say they are routinely stuck with payments, damaged credit and calls from debt collectors.
To better understand the real cost to consumers, reporters collected and analyzed the advertised prices to rent and buy 39 Rent-A-Center products in 48 states and the District of Columbia.
The data showed Rent-A-Center charges high prices in four ways:
The company often prices its merchandise far above the amount charged by most major retailers

For consumers living in states that restrict high price markups, Rent-A-Center typically charges higher rates on leases

Total charges to consumers can be the equivalent of triple-digit annual percentage rates, comparable to payday loans, car title loans and other high-interest forms of lending that can trap consumers in a cycle of debt

Consumers are urged to pay optional fees in addition to their regular payments, sending their costs much higher
High markups on merchandise
At Rent-A-Center, an item's cash price is often far higher than at other major retailers.
In 40 states and the District of Columbia, Rent-A-Center stores charged an average of twice as much for products as a consumer could find at a comparable retailer, NerdWallet's analysis showed.
Customers have 90 days to pay that sum and own the merchandise outright before their purchase converts to a lease.
For some electronics sold on its website in August, including a Vizio soundbar, an Asus mini tablet and a Samsung Blu-ray player, Rent-A-Center's cash price was roughly triple what other retailers charge.
Lower prices? Costlier leases
The other states — California, West Virginia and Maine among them — have consumer protection laws that limit the size of markups.
But those protections don't automatically lead to better deals. Customers may enjoy a lower cash price in those states, but the lease periods can last longer or come with higher payments. When those are included, the total price — the cash price and rental charge together — are nearly the same as the total in states allowed to charge higher cash prices.
In California, for example, you may be able to buy a new Frigidaire gas range from Rent-A-Center for $945. In neighboring Nevada stores, the company advertises the exact same model for significantly more: $1,365.
But according to Rent-A-Center's website, a Californian would pay $2 more per week over the life of the lease. The total price would reach $2,126 — much closer to Nevada's $2,274 despite the lower initial price of the range in California.
Reporters compared the terms of Rent-A-Center leases with other expensive forms of consumer lending, such as payday loans, car title loans and pawning goods. Although rent-to-own agreements are leases, not loans, and don't accrue interest, NerdWallet and Raycom calculated an equivalent annual percentage rate.
The analysis found APRs at Rent-A-Center ranging from 43% to 468%, with the exception of New Jersey, where state law imposes a 30% cap.
Items with shorter lease terms — less expensive products, such as cell phones — often end up with the highest APRs. This happens because Rent-A-Center still charges rents that can exceed the original cash price of the item, and the customer is required to pay that sum within a smaller time period.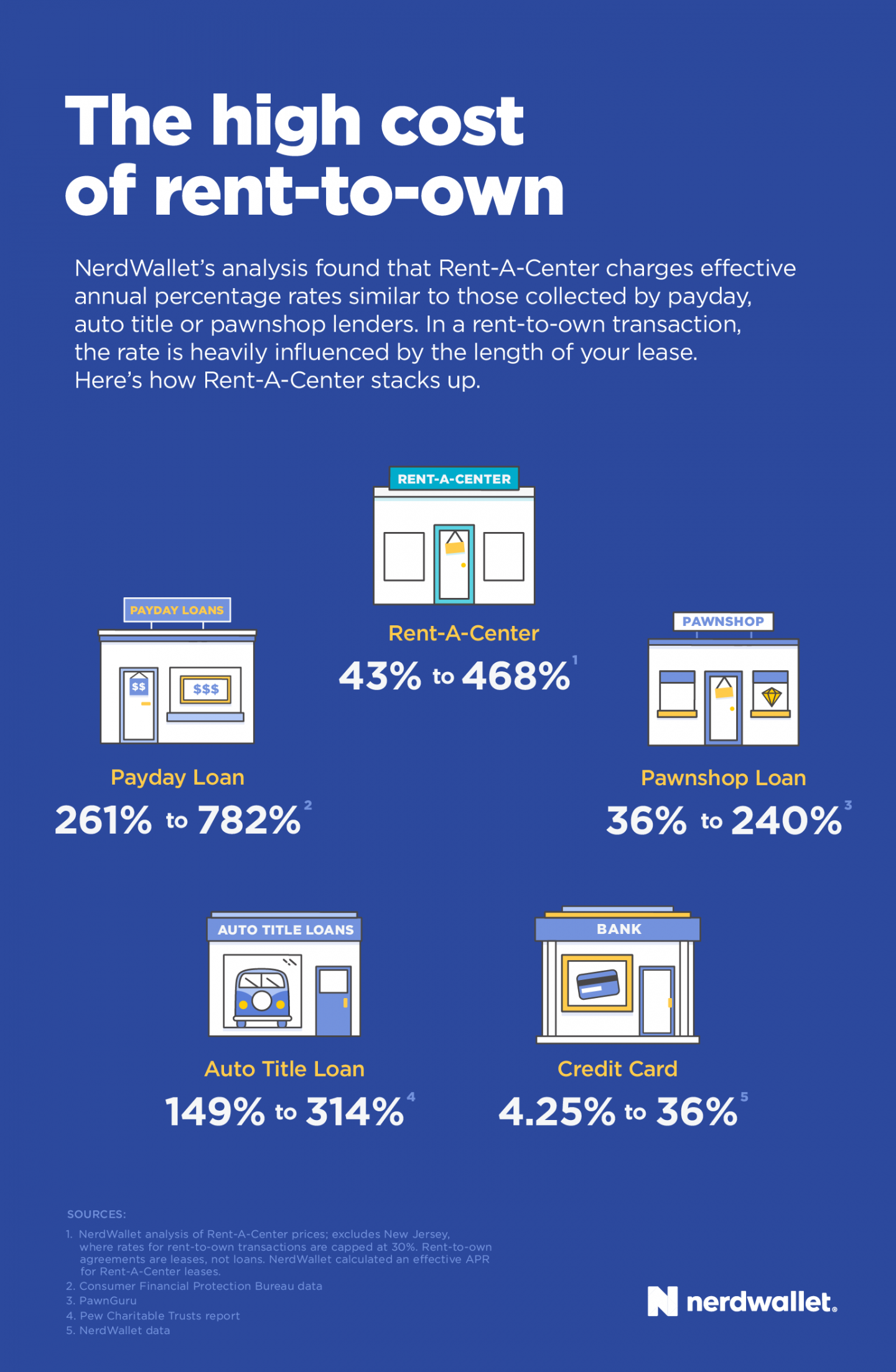 The cost of merchandise purchased from Rent-A-Center is driven even higher by additional charges:
The company offers an optional "loss-damage waiver" that can be up to 10% of the lease charge in some states, according to two dozen customer contracts reviewed by reporters. This waiver is a costly form of credit insurance.

The company encourages customers to enroll in RAC Benefits Plus, a membership program that touts extra product protections, grocery coupons and discounts with other retailers. It adds $3 per week or $13 per month to a lease agreement.

Customers will pay state and local sales tax not just on the items or the rental charge but on these extras as well.
Many customers have difficulty understanding their total costs, however, because rent-to-own companies like Rent-A-Center aren't required by federal laws to calculate and disclose the true cost of leasing items under contracts. By contrast, lenders for car loans or mortgages must disclose these costs.
Rent-A-Center may offer that Vizio soundbar for $468 in a state like Texas, but when you factor in the rental charge, the waiver, a RAC Benefits Plus membership and sales tax, you're paying nearly $1,100 for an item you could find for roughly $150 on Amazon.