How to Save on Your Destination Wedding in Hawaii
Your island dream comes with a price tag. A planner shares tips for keeping costs in line.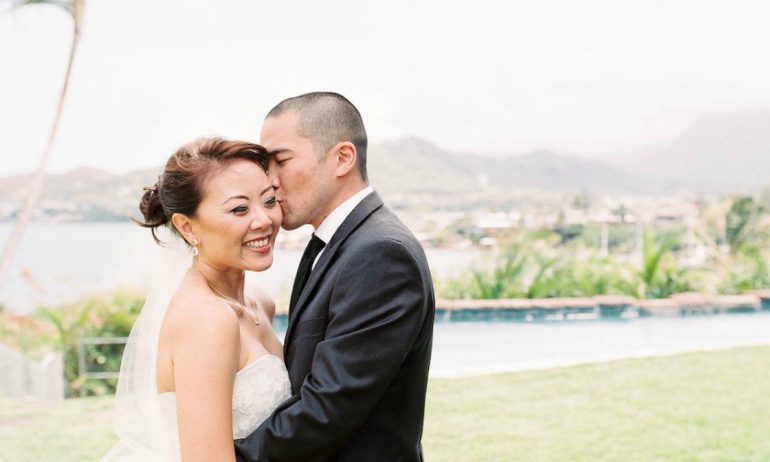 Many or all of the products featured here are from our partners who compensate us. This influences which products we write about and where and how the product appears on a page. However, this does not influence our evaluations. Our opinions are our own. Here is a list of our partners and here's how we make money.
It's no surprise that Hawaii ranks among the top places in the world to have a destination wedding. Between the picturesque scenery (like white sand beaches and lush valleys) and laid-back vibe, it's hard to think of a more romantic place to get hitched.
But nuptials in the Aloha State can quickly get expensive, so before you start planning yours, make sure you're prepared for the costs and logistical challenges.
Kristen Moux has orchestrated several weddings in Oahu since starting her event planning business four years ago. She shares her money-saving advice for couples who are considering a wedding in Hawaii.
The cost of a Hawaii wedding
Don't assume that a small destination wedding will automatically be cheaper than a larger, traditional wedding — especially if it's going to be in Hawaii. Moux says that couples should plan to set aside at least $25,000.
"

Couples don't understand why having a wedding in Hawaii is so expensive. It's definitely a sticker shock for them.

"
Kristen Moux

,

wedding planner
"Couples don't understand why having a wedding in Hawaii is so expensive," she says. "It's definitely a sticker shock for them."
Although that amount is lower than the national average cost of a wedding ($33,391), a baseline of $25,000 is more than many couples expect to spend on an intimate affair. One contributing factor is that there are limited resources available on the islands. Any additional items — including certain flowers and food — must be flown in from the continental U.S. or other countries.
Tips to cut costs for your destination wedding
Time it right. Moux recommends avoiding June and July, as those are the most popular months and venues tend to inflate their prices. February, October and early November are your best bet. Holidays are a big no-no. "Steer clear of any holiday, including spring break. Your guests may have Memorial Day weekend off, but everyone's having their wedding at that time," she says. "And flowers get way more expensive around Valentine's Day and Mother's Day."
Pick the right island. Hawaii is made up of eight main islands, including Oahu, Maui, Kauai, and, of course, the island of Hawaii (also known as the Big Island). Which island should you choose? Each island has its perks, so consider where you'll have access to the wedding amenities that are most important to you and balance that with cost. Moux says Oahu is the cheapest and most convenient: "The other islands don't have as many vendors, amenities or choices in terms of decor, specialty linen or catering," she says. But you may prefer Maui's resorts or Kauai's secludedness.
Go easy on the decor. You can have a bare-bones ceremony and still get great wedding photos. "You don't need a lot of drapes or expensive decor if you're using our local flora and fauna," Moux says. "Take advantage of the nature around you and use the atmosphere as decoration."
Choose your venue carefully. Moux points out a common (and pricey) mistake that couples make when selecting a venue: picking one that's far away from the accommodations. "Cheap transportation for your guests just doesn't exist in Hawaii," she says. "It will take a big bite out of your budget. There aren't a lot of Ubers in Hawaii, and it could also play into how long you'll need your photographer, videographer and makeup artist."
Make the most of your pre-wedding trip. Chances are high that you'll be visiting at least once before the big day. Moux recommends booking far in advance for your wedding-related appointments, including food tastings, hair and makeup trials, and venue walk-throughs, so you have a better chance of consolidating them and reducing the need for multiple trips.
Featured image by Rachel Robertson Photography.