You're our first priority.
Every time.
We believe everyone should be able to make financial decisions with confidence. And while our site doesn't feature every company or financial product available on the market, we're proud that the guidance we offer, the information we provide and the tools we create are objective, independent, straightforward — and free.
So how do we make money? Our partners compensate us. This may influence which products we review and write about (and where those products appear on the site), but it in no way affects our recommendations or advice, which are grounded in thousands of hours of research. Our partners cannot pay us to guarantee favorable reviews of their products or services. Here is a list of our partners.
Smart Money Podcast: Buying Local, and Emergency Loans
By
Liz Weston, CFP®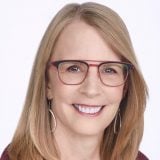 Liz Weston, CFP®
Senior Writer | Personal finance, credit scores, economics
Liz Weston, CFP®, is a personal finance columnist, co-host of the "Smart Money" podcast, award-winning journalist and author of five books about money, including the bestselling "Your Credit Score." Liz has appeared on numerous national television and radio programs, including the "Today" show, "NBC Nightly News," the "Dr. Phil" show and "All Things Considered." Her columns are carried by The Associated Press and appear in hundreds of media outlets each week. Prior to NerdWallet, she wrote for MSN, Reuters, AARP The Magazine and the Los Angeles Times. She shares a home in Los Angeles with a husband, a daughter and a co-dependent golden retriever.
and 
Sean Pyles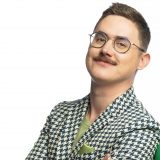 Sean Pyles
Senior Writer | Personal finance, debt
Sean Pyles leads podcasting at NerdWallet as the producer and host of NerdWallet's "Smart Money" podcast. On "Smart Money," Sean talks with Nerds across the NerdWallet Content team to answer listeners' personal finance questions. With a focus on thoughtful and actionable money advice, Sean provides real-world guidance that can help consumers better their financial lives. Beyond answering listeners' money questions on "Smart Money," Sean also interviews guests outside of NerdWallet and produces special segments to explore topics like the racial wealth gap, how to start investing and the history of student loans.
Before Sean lead podcasting at NerdWallet, he covered topics related to consumer debt. His work has appeared in USA Today, The New York Times and elsewhere. When he's not writing about personal finance, Sean can be found digging around his garden, going for runs and taking his dog for long walks. He is based in Ocean Shores, Washington.
Edited by 
Kathy Hinson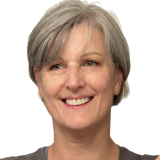 Kathy Hinson
Lead Assigning Editor | Personal finance, credit scoring, debt and money management
Kathy Hinson leads the Core Personal Finance team at NerdWallet. Previously, she spent 18 years at The Oregonian in Portland in roles including copy desk chief and team leader for design and editing. Prior experience includes news and copy editing for several Southern California newspapers, including the Los Angeles Times. She earned a bachelor's degree in journalism and mass communications from the University of Iowa.
Many or all of the products featured here are from our partners who compensate us. This influences which products we write about and where and how the product appears on a page. However, this does not influence our evaluations. Our opinions are our own. Here is a list of our partners and here's how we make money.
Welcome to NerdWallet's Smart Money podcast, where we answer your real-world money questions.
This week's episode starts with a discussion about how to help small, local businesses, which have been hit much harder by the pandemic than the big online shopping sites. One way is to seek out local sources for products you might otherwise buy from the online megastore. Another is to order directly from local restaurants rather than using delivery apps. If money is tight, a social media shoutout or five-star review can help others discover local gems.
Then we pivot to this week's question from Michelle. She says, "I recently got into a fender-bender that left the back of my car pretty messed up. It still drives, but one of the doors doesn't open, and a window is cracked. I want to get it fixed, but I don't have enough cash to cover the repair. I'm thinking of getting a small loan, but I don't have great credit. What do you think would be the smart thing to do?"
Check out this episode on any of these platforms:
We'll help you get on track
See your spending breakdown and spot opportunities to save money.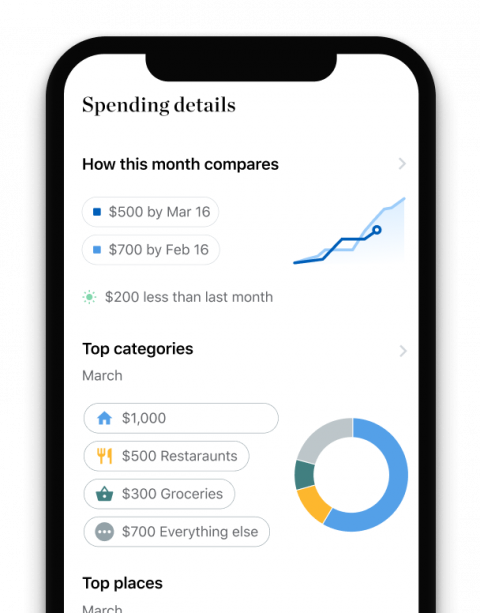 Small-dollar loans are usually for amounts of $2,500 or less. Banks, credit unions and reputable online lenders typically don't make loans this small, so people often turn to payday lenders or unsavory online outfits. Interest rates can be extremely high and you may have only days or weeks to pay off the loan, increasing the chances you'll have to renew the loan or borrow elsewhere to pay it off. This is known as a debt trap.
Some credit unions offer "payday alternative loans" that allow people to borrow small amounts at reasonable interest rates. Borrowers can pay off the balance over 6 to 12 months, reducing the chances they'll have to borrow again.
Michelle's car is still drivable, so she may have time to save up the cash she needs. If not, she has time to check with local credit unions to see if any offer these alternative loans. A co-signer also could help her get a loan at a reasonable interest rate, or she could look for lenders willing to make secured loans — personal loans backed by an asset, such as a car or home — at a reasonable rate.
Explore your options. You may be able to borrow from your local credit union, or from family and friends.
Bad credit equals higher rates. If your credit isn't great, you may be able to qualify for a lower rate by getting a co-signer or a secured loan backed by an asset you own, such as a house or a car.
Know the risks. Some small-dollar loans, including payday loans, can carry astronomically high interest rates, which can lead to a cycle of debt.
More about emergency loans on NerdWallet:
Liz Weston: Welcome to the NerdWallet Smart Money Podcast, where we answer your personal finance questions and help you feel a little smarter about what you do with your money. I'm Liz Weston.
Sean Pyles: And I'm Sean Pyles. As always, be sure to send us your money questions, call or text us on the nerd hotline at (901) 730-6373, that's (901) 703-NERD, or email us at [email protected] I am continually impressed by how insightful and smart all of your questions are, so please keep them coming, and we will keep answering them.
Liz: Also, hit that subscribe button if you want more Nerdy goodness delivered to your device every Monday. And if you like what you hear, please leave us a review. On this episode, Sean and I discuss small-dollar loans, their uses, risks and alternatives. But first, in our This Week and Your Money segment, we're talking about how to help local businesses stay afloat during the pandemic.
Sean: This has been something I've been thinking about since the pandemic began and everything shut down. One, as I talked about a couple of weeks back, I was doing some impulse shopping and I was trying to see how I could make that be more productive for my local economy and help smaller businesses. But what recently got me thinking about this as well is that there was an article I read in The New York Times that found that a third of all of the small businesses in New York City may never reopen. That was according to a report by the Partnership for New York City, a business group. So that's really staggering if you think about how many local shops you go to for a cute houseplant or a cup of coffee or clothes for your kid — all of these places that you know the owners and you rely on their specialty goods for. A third of them being gone is heartbreaking, and there are things that we can do to make sure that some of them survive.
Liz: And one of the things you should think about is which businesses do you want to be able to go to when this is all over. Those maybe are the ones that you target. But overall, your local economy is going to be stronger, the more money that you can spend locally. When you spend with local businesses, more of the money stays in your community and helps people that you know, and also helps you because these businesses survive.
Sean: Right, and then they end up paying taxes and that goes to your city government, and that helps pave the streets and keep the lights on the road, and it keeps your bridges working as bridges should. All of these important things, and again, local is really where you can make the most impact, whether it's in an election or in an economy.
Liz: I recently wrote a column after interviewing the behavioral economist, Dan Ariely, and he and his colleagues are doing something I thought was really cool. There's 50 of them at the lab where they work, and they basically pick a local business and every week each of them spends $100 there. And that's $5,000, which wouldn't be a drop in the bucket to the bigger stores, but it could be enough to keep a smaller place going. And I mean, you don't have to do this by spending $100 every week. But if you can talk to some of your coworkers or your friends and neighbors, and pick a different company or a different local business every week and put some money there, that could keep them going until the pandemic is over.
Sean: I really love that idea because that way you ensure that you're getting money into your local economy, helping a smaller business right in your area. I found one way to do that that isn't as expensive for some people who maybe don't have $100 to spend. One way was kind of a pay-it-forward gift card option where you buy a $10 gift card for a friend for a local store, and then you encourage them to do the same for someone else, And $10 is enough where you can get something small, like a succulent from your local plant store or a face mask from a local craft store. And then someone else can do that as well. So you keep supporting other smaller businesses while also connecting with your friends, which is really hard to do right now as well, so it's a win-win in different areas.
Liz: That's a great idea. Another thing I like to do is frequent our farmer's market, — and not just because there's always celebrity sightings there, I live in Los Angeles, that's part of it. Sometimes smashing into a paparazzi is the first indication I have that anybody famous is standing next to me. But anyway, farmer's markets, obviously, these are all local farmers — this is money, again, that stays in your community. And you tend to have, at least the ones I've been to, there's a pretty wide variety of stuff that you can buy. It's not just food. It can be crafts, it can be clothes, so that's something to check out.
Sean: Yeah. I think one thing that has been really helpful for me when trying to shop local is thinking about one, all of the new things that we have to buy in this pandemic economy, like hand sanitizer or face masks, and then thinking about the ways that local companies have been adapting to fill those needs. Obviously, people know that in Portland, we have tons of breweries and distilleries and we can't really go to them in the same way we could before. But a lot of them are actually making hand sanitizer now that you can purchase from them, so even though I'm not going to my favorite brewpub for a beer the way I would have maybe 12 months ago, but I can get hand sanitizer from them. So that way I'm filling a need that I have while also supporting a company that I know I want to support, but can't in the way I would want to.
Sean: Yeah, and a lot of times they come in the alcohol bottles, which makes it even more fun in a way.
Liz: Ah, I love that, I love that.
Liz: And that's a great gift, by the way. Hint, hint.
Sean: Yeah, and even for places that aren't local in your community, that you do want to support, there's a really easy way that you can support them while avoiding directing your money to those big online stores. Say that you're looking for a face mask and you found a little dealer that was either at Walmart or Amazon, somewhere online, and you didn't really want to spend your money at that shop. Google the name of the company that is listed on that website, find their direct website, and then purchase whatever you're going to get from them. That way you can ensure that all of your money is going to support a local business and not some mega-corporation that doesn't need that money anyway.
Liz: That's a great idea.
Sean: And even beyond spending money, it's really easy to promote a local business after you have maybe already purchased something or you see something that you like online by sharing it on social media. I've seen a lot of people tweet out local businesses, especially as we're trying to support more black-owned businesses. That's been one of the key ways that I've been able to get connected with local businesses that I want to support that I didn't even know existed.
Liz: Yeah, those kinds of shoutouts can make a huge difference. And also, you know, the business owner appreciates it.
Sean: Mm-hmm, and again, it's free, free marketing, and you're also making a difference in connecting with your network, too.
Liz: Yeah, and a lot of people right now are dealing with, money is really tight, so they don't have a lot of extra to spread around, but that's something that anybody can do to help out.
Sean: And one last thing I wanted to mention for people that are maybe buying takeout. I've been getting a decent amount of takeout lately since I can't go to restaurants. I found that if you order directly from the restaurant, you don't go through one of those apps that has it delivered to you. That way, you, again, you similarly make sure that all of the money that you're spending is going directly to that company because, as we know, these apps take a big chunk of what you're spending and put it in their pockets. And a lot of restaurants don't even make that much, but they feel like they have to be on these servers to get any business at all. So if you want a pizza or there's a really good pho place in my neighborhood, we just call them up. And yeah, I have to drive down the street to get the food, but it makes me feel better knowing that I'm supporting them and not some other company.
Liz: Oh, that is huge. I mean, I was using all those apps because they give you free delivery for a while, and I always like free. But then I started reading about how much of the dollar that you spend, they take, and a lot of times, the business is just barely breaking even. That doesn't really help. So if you really want to help, call them directly.
Liz: All right, I think that about covers it, but I would love to hear our listeners' ideas if they have some for how they support local businesses. So you can email us at [email protected] or send us a voice memo at the number we'll say later. We'd love to hear what you think.
Sean: Yeah, please do. I know there's always new ways to support local businesses, so please let us know what you're doing so we can all make an impact together. Let's get to this episode's money question.
Liz: This episode's money question is from Michelle. She says, "I recently got into a fender-bender that left the back of my car pretty messed up. It still drives, but one of the doors doesn't open, and a window is cracked. I want to get it fixed, but I don't have enough cash to cover the repair. I'm thinking of getting a small loan, but I don't have great credit. What do you think would be the smart thing to do?"
Sean: Man, Michelle, that is a really tough place to be in. To help us talk through a few different small loan options on this episode of the podcast, we're talking with Annie Millerbernd, a Nerd who knows a lot about small loans and ways to fund expenses like this.
Liz: All right, sounds good. Hey, Annie, welcome to the show.
Annie Millerbernd: Glad to be here. Thanks for having me.
Sean: Hey, Annie. Let me set you up here. Our listener Michelle needs to fix her car, but she's short on cash and her credit is not great right now. She's thinking of getting a small personal loan to cover the cost, but she's not sure that is the smartest choice. So to start, can you explain what a small-dollar loan is and how it's different from other kinds of loans?
Annie: Small-dollar loans are loans typically under $2,500. Usually, they're a few hundred dollars to a few thousand dollars, and because they have the small amount, banks and reputable online lenders don't typically offer them — it's hard for them to make them profitable. So instead, these payday lenders and unsavory online lenders will fill in the gap, and those lenders typically offer APRs that are super high with short repayment terms that make them difficult to repay on time.
Liz: Those short repayment terms — talk about what those are and why they're dangerous.
Annie: The short repayment terms, they can be two weeks, maybe more, maybe less. They're usually around a month or under for payday lenders. Short repayment terms are risky because they make it difficult for a person to pay that loan back on time. So if you have a combination of a high APR and a short repayment term, you have to pay back a lot of money in a small amount of time. And that's a difficult thing for a lot of people who need the small amount of money to do, so they end up having to basically get another loan to repay that loan on time.
Sean: And that's what can create the cycle of debt, because if you had a hard time scrounging up a few hundred bucks for a car repair, chances are, in a few weeks when that loan is due, you're going to have a hard time paying back that base amount, plus the APR, which can be upwards of 300%, right?
Annie: That's right. They have exorbitant APRs and, like you said, the short repayment terms make it really difficult to pay back all of that extra money in addition to what you borrowed.
Liz: A lot of these loans don't require credit checks, and I know some people think that that is a positive. But actually, that can be a negative, right, Annie?
Annie: Right, so if you're a person who needs a small amount of cash or any amount under a thousand or a couple thousand dollars, you might think that maybe you don't have great credit or maybe you don't have any credit at all, and having a lender not look at that would be better for you. But actually, if a lender isn't checking their credit and income and debt and basically assessing your ability to repay, then they aren't probably basing the APR that you're getting on your ability to repay.
Sean: And at the same time, if you want to improve your credit by having on-time payments on your credit report, these loans aren't going to help you get there. So you'll be responsible for an expensive loan, and then you also won't be getting the benefit on your credit report of making on-time payments, so that doesn't make you any better off at the end, either.
Liz: So, with all these disadvantages, though, we know a lot of people are in the situation where they don't have access to, really, any substantial amount of money to take care of an emergency expense.
Sean: Right, but there are some alternatives to these riskier loans, ways to get some cash. Annie, can you talk about what a few of those might be?
Annie: Credit unions are one of the best options most people have for a small-dollar loan, and there are some requirements around membership for a credit union personal loan. But credit unions offer a small-dollar loan called "payday alternative loans," and they're far and few between, but these loans typically have amounts of less than $1,000 or $2,000 and they have longer repayment terms — so one month to six or 12 months and APRs of 28% or lower, so that's going to be your best option for a small loan. Small-dollar loans aren't only from payday lenders and deceptive online lenders. That's a really good option.
Liz: And Annie, I know that regulators were trying to get banks into this space to do these smaller dollar loans. Is that actually happening?
Annie: There used to be this suggested rate cap from the FDIC, which is the main regulator for banks, and the rate cap was at 36%. Earlier this year, the FDIC, with other regulators, issued some guidance that omitted that APR cap — and that really was to encourage banks to start offering small-dollar loans to bring some competition to the small-dollar lending space. And there's some research that says that banks could be well-positioned to offer these loans at sub-100% APRs while also having that existing consumer relationship where they can assess your ability to repay, and they can report your payments to credit bureaus.
Liz: Yeah, because that's been the problem with payday loans is the lenders say they have to charge these outrageous amounts of interest because the lending isn't profitable otherwise. They can't do the kind of underwriting that a typical lender would do. But your bank already has all the information pretty much it needs to make these loans, right?
Annie: Yes, and banks would struggle to make a 36% APR on a $400 loan profitable. That's not probably realistic is what some of the research says, so we're looking at $50 to $60 on a $400 loan with a three-month repayment term which, according to some key research, consumers think would be a fair loan, and it is an APR of less than 100% that the bank can still make profitable.
Liz: OK. One of the things Michelle said is that her car is still drivable, which tells me that she has some time, so that if she does want to check out the credit union option, she has time to go online, to look for a credit union where she could be a member to sign up. She can do all those things and get a loan. That's kind of different from an emergency situation where you need the money right now.
Sean: Annie, are there any other alternatives you think besides credit union loans that people should be aware of?
Annie: Yes. If you can borrow from a friend or family member, that's going to be one of the safest options. Of course, it doesn't help you build credit. But it is a way to ensure that you understand the terms of the loan and you have the opportunity to build in interest or whatever terms you and that person would like to. Of course, you're securing it with your relationship with that person and if you don't repay, you might get yourself in a tough spot in a personal matter.
Sean: Yeah. One really interesting idea for funding small dollar amounts are lending circles. So if you get together with maybe a dozen or so people in your local community and you each put in, let's say like a hundred dollars every two weeks, and then at the end of the month, one person gets that pot of money and then you do it again next month and then you rotate who gets the money so that eventually everyone gets that pot of money. So, back to Michelle, let's say Michelle doesn't really have any options to get money from friends or family or a lending circle. I'm wondering what you think are the best ways to get a loan when you don't have a great credit score?
Annie: Well, if you don't have a great credit score, there are reputable online lenders that pair their product to bad- and fair-credit borrowers. These lenders might have higher APRs, but they do tend to stick to the 36% or lower range, which is helpful for consumers who are trying to build credit and want a reasonable repayment term. They typically have one year or longer repayment terms, so those are one of the better options if you don't feel like you can turn to a bank or credit union for that kind of loan.
Another alternative would be to add a co-signer to your loan. Some banks and online lenders let people add co-signers, which is a person who has maybe a better credit profile, less debt and a higher income. And if you add a co-signer, not only could you get a loan that you might not otherwise qualify for, you might even get reasonable rates and a higher loan amount. The downside of adding a co-signer is that that person is essentially on the hook for the loan if you can't repay it, and so their credit is also on the line when they co-sign your loan.
Sean: Is there one of these that you think would maybe be the best option or does it depend on your own individual circumstances?
Annie: It really depends on your individual circumstances. I would say if you can find a co-signer and the lender that you're working with allows co-signers, that's a really good option if you and the person you have that relationship with are both comfortable with it. You can also do a secured loan, which is typically using your car, certificate of deposit or your savings account. And those are good options, but you have to weigh the benefit of getting the loan with the potential cost of losing whatever it is you're securing the loan with.
Liz: Yeah, you don't want to put your car up as collateral if you need that car to get to work — that could be a disaster.
Sean: One thing that seems like a really big draw with these loans is that people can get them fast, right, so I'm wondering, how fast exactly people could expect to get this money from the time they apply to the time the money is in their account?
Annie: That really varies. It depends on the lender you're working with. It depends on if you're using a bank, online lender, a community bank or a credit union. Some banks will say that they can do a loan the same day that you apply for it — they could fund it as soon as the same day or the next business day, but more often I've seen it where large national banks will take a few days and up to a week. With online lenders, you have the option of fast funding often, so reputable online lenders pride themselves on being able to fund a loan really quickly after you apply for it, and you may pay for that with a higher rate. So be sure to compare your options between banks and online lenders and credit unions to find the lowest rate, and then determine whether the fast funding option is a priority.
Sean: OK, so I have one final question for you: Besides the obvious pitfall of potentially entering a cycle of debt if you get a really expensive loan, are there any other things you think that Michelle should be looking out for?
Annie: One of the things that she should look out for is her credit. Just be sure that wherever she's looking for this loan, her credit will either come out the other side better, or at least not worse. If you get a loan from a reputable lender that does report your payments to credit bureaus, then what you're doing is you're getting your credit in better shape so that next time you have to turn to a personal loan or a credit card or some other credit product, you're better positioned to get a lower rate. And the expense is a really important factor because even if your credit isn't involved, if you get a very expensive loan and you end up having to repay that very quickly, you could slip into the cycle of debt that we talked about earlier.
Liz: Well, that was super helpful, Annie. Thank you for joining us today.
Annie: Thanks for having me.
Liz: With that, let's get to our takeaway tips. First, explore your options. If you need cash in a pinch, ask family and friends before taking out a small-dollar loan. If you do need a loan, see what your local credit union offers, since they'll likely have the best rates.
Sean: Next, if you have bad credit, understand your options. You might qualify for a loan, but it will likely have a higher interest rate. In that case, look into potentially co-signing with a trusted friend or family member, or look at a secured loan.
Liz: Finally, know the risks of small-dollar loans. Some, like payday loans, can carry astronomically high interest rates, which can lead to a cycle of debt.
Sean: And that is all we have for this episode. Do you have a money question of your own? Turn to the Nerds and call or text us your questions at (901) 730-6373, that's (901) 730-NERD. You can also email us at [email protected] and visit nerdwallet.com/podcast for more info on this episode, and of course, remember to subscribe, rate and review us wherever you're getting this podcast.
Liz: And here's our brief disclaimer thoughtfully crafted by NerdWallet's legal team: Your questions are answered by knowledgeable and talented finance writers, but we are not financial or investment advisors. This Nerdy info is provided for general educational and entertainment purposes, and may not apply to your specific circumstances.
Sean: And with that said, until next time, turn to the Nerds.