Smart Money Podcast: 'How Should I Spring-Clean My Finances?'
Many or all of the products featured here are from our partners who compensate us. This influences which products we write about and where and how the product appears on a page. However, this does not influence our evaluations. Our opinions are our own. Here is a list of our partners and here's how we make money.
Welcome to NerdWallet's Smart Money podcast, where we answer your real-world money questions — in 15 minutes or less.
Check out this episode on any of these platforms:
This week's question is from Adriana, who says, "I've been getting really into cleaning and simplifying my life, doing the whole Marie Kondo thing, and now I'm wondering how I can do that with my finances. What do you think is the best way that I can spring-clean and simplify my finances?"
We'll help you get on track
See your spending breakdown and spot opportunities to save money.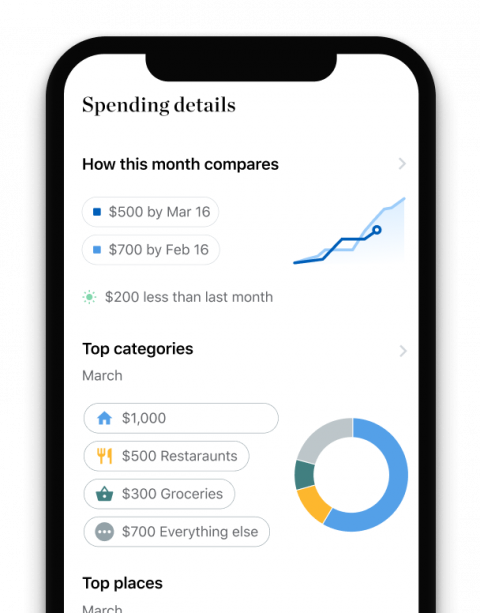 Spring-cleaning your finances should start with your budget. Review your spending in recent months and compare it with your income. At NerdWallet, we like the 50/30/20 budget, which suggests limiting "must have" expenses — shelter, food, utilities, transportation, insurance and minimum loan payments — to 50% of your after-tax income. That leaves 30% for "wants" — the stuff that can be postponed or cut if necessary — and 20% for savings and extra debt payments. Not only does the 50/30/20 bring more balance to your finances, but it can really help you if you lose a job or your income otherwise drops, since your essential expenses are only half your after-tax pay rather than 70%, 80% or even more.
Next, take stock of your credit and your credit cards. Sign up for NerdWallet's free credit score, if you haven't already, so you can monitor your credit, and be sure to check your credit reports at least once a year at AnnualCreditReport.com. Check to see if you can get a better credit card, since rewards programs and interest rates change over time.
Finally, review your investments. What's the breakdown now of stocks vs. bonds vs. cash? It might be quite different now than what you intended because of all the market volatility. Consider rebalancing or using an automated solution that rebalances for you, such as a robo-advisor or a target-date retirement fund.
Do a spending autopsy. Look at where your money is going and decide if any adjustments should be made.
Take stock of your credit cards. If your credit scores are already good, it's OK to cancel a credit card once in a while to simplify your finances.
Check your investments. Make sure your asset allocation still makes sense and rebalance if necessary, or choose an automated solution that will do it for you.
More about tidying up your finances on NerdWallet: