Smart Money Podcast: Prepping Your Money for a Recession, What to Do with a $10,000 Inheritance
Many or all of the products featured here are from our partners who compensate us. This may influence which products we write about and where and how the product appears on a page. However, this does not influence our evaluations. Our opinions are our own. Here is a list of our partners and here's how we make money.
Welcome to NerdWallet's Smart Money podcast, where we answer your real-world money questions.
This week's episode starts with a discussion about the recently proclaimed recession and how that can change the way you handle your finances.
In the Great Recession of 2007 to 2009, the median amount of time people were out of work rose from about two months to more than six months. That's a long time to be without a paycheck. Save more now if you can, but also try to protect and expand your access to credit. Having unused space on credit cards or home equity lines of credit can be a lifeline if your emergency fund isn't enough.
Then we pivot to this week's question from Alice in Ohio. She says, "I have a question about inheritance. I inherited an amount of money, $10,000, through a bank account that I was beneficiary of. Do I have to pay income tax on that amount?"
Check out this episode on any of these platforms:
We'll help you get on track
See your spending breakdown and spot opportunities to save money.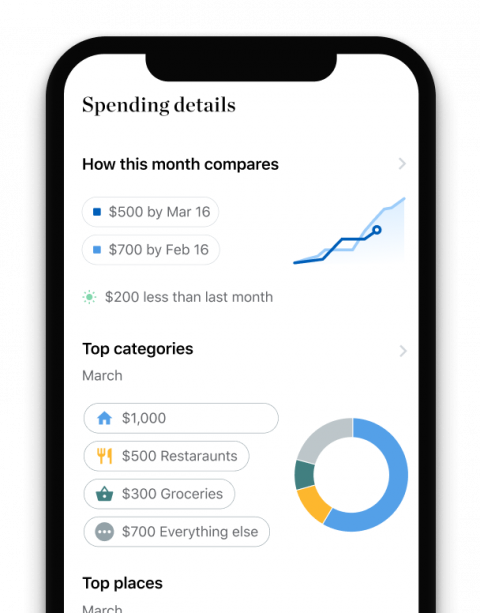 The short answer is no. People don't have to pay income taxes on inheritances or gifts they receive.
Income taxes aren't the only kind of taxes, of course. A few states charge inheritance taxes: Iowa, Kentucky, Maryland, Nebraska, New Jersey and Pennsylvania. These taxes are based on who receives the inheritance — spouses and children are usually exempt, and the rate goes up the more distantly related you were to the deceased. Also, very large estates — those worth more than $11.58 million — may owe estate taxes to the IRS and sometimes the state. Those taxes are paid by the estate rather than the person receiving the inheritance. Gift taxes are related to estate taxes: When they're owed, which is rarely, they're paid by the giver rather than the receiver. You would have to give away more than $11.58 million during your lifetime to owe any gift taxes.
The next question with any windfall is: What should I do with this money? Paying off high interest-rate debt and boosting your emergency fund are usually good choices. If you have a goal that's more than 10 years in the future, investing the money in the stock market can be a smart move. But it's also OK to take a certain amount, say 10%, and just blow it on something fun. You've got to live a little, right?
You typically don't owe any tax on money that you inherit or are given. Only a handful of states tax inheritors. For most people, inheritances and gifts are tax free.
Estate and gift taxes really aren't a thing for the vast majority. You'd have to die with more than $11 million for your estate to owe estate taxes. People who give away money sometimes have to file gift tax returns, but they won't owe gift taxes until they've given away more than $11 million in their lifetime.
Don't blow your windfall. Have some fun, but use most of the money to save, pay down debt or invest.
More about windfalls on NerdWallet: