How to Deal With Debt Collection
Debt collections can be overwhelming. Here's why it happens, how it affects your credit and how to deal with it.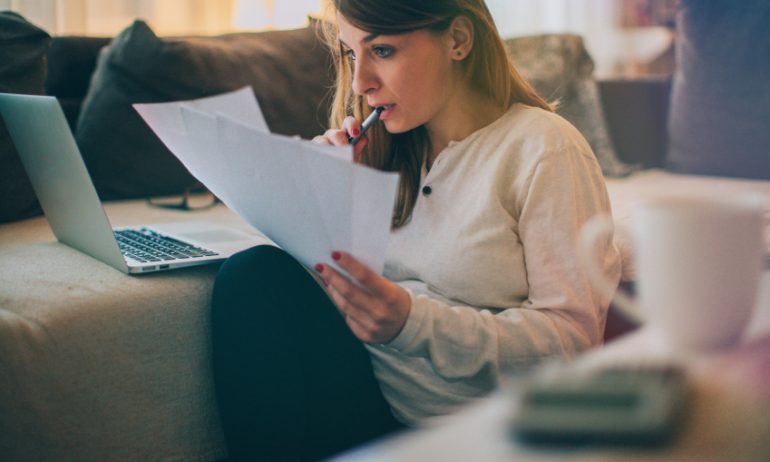 Many or all of the products featured here are from our partners who compensate us. This influences which products we write about and where and how the product appears on a page. However, this does not influence our evaluations. Our opinions are our own. Here is a list of our partners and here's how we make money.
Debt collectors can contact you via phone, mail, email or text.

You have a right to ask for debt verification and validation letters.

The Fair Debt Collection Practices Act outlines what debt collectors can and cannot do.

You can set up a payment plan, settle your debt or pay it off in full.

Low-cost or free legal aid may be able to help you if you receive a court summons.
If you're facing calls from debt collectors, make sure you understand how debt collection happens, the best way to resolve your account and what this means for your credit — before you pay anything.
It's important to deal with debt collection. If you don't, you could wind up in court.
Debt collection happens when a debt goes unpaid for a period of time. The overdue payment may be reported as delinquent starting 30 days after the due date. You'll get notices and possibly calls from the creditor seeking payment.
At some point, usually after 120 to 180 days of nonpayment, the creditor — such as a credit card company, bank or medical provider — gives up on trying to collect. The original creditor may then sell your debt to a debt collection agency to recoup losses.
Then you'll start getting debt collection notices from a different company. Debt collectors may call, send mail notices, emails or text messages. It's the same debt, and you still owe payment — it's just that a third party has bought the right to collect.
How to deal with debt collection
Don't make any rash decisions when dealing with a debt collector; you might end up making your situation worse. Follow these steps:
You have the right to receive debt validation and debt verification letters; use it. You should receive a validation letter from the debt collector within five days of first contact. Check it over for details about the age, amount and history of the debt, and information on who's trying to collect. Consult your own records — including your credit reports — to corroborate details of the account. If you need further information, request a debt verification letter.
Learn about your consumer rights under the Fair Debt Collection Practices Act so you know what collectors aren't allowed to do — such as calling you at unreasonable times, threatening you with arrest or using obscenities. Some states have even more protections for consumers; find your state's laws online or contact your attorney general's office to learn more.
The two most common ways to handle a debt in collections are choosing a payoff method or disputing the debt as being in error:
There are a few options for paying a collections account. No matter which you choose, do not give the collector permission to access your bank account, either by providing your debit card number or setting up automated debits. If you make an agreement for a payment plan or to settle the debt for less than owed, get the agreement in writing so you can hold the collector accountable.

You can dispute the debt if it's not yours or if you already paid it off. The agency must stop collection efforts and investigate. During this time, it can't put the issue on your credit reports. If it finds the debt valid, the collector will mail you documents verifying the bill. If not, it will stop attempting to collect the debt.
How debt collection affects your credit
In general, debt collections will remain on your credit reports for seven years from the point the account originally became delinquent. The exception is medical bills that go into collections but are later paid by an insurer; those drop off your credit reports upon being paid.
Some of the newer scoring models — such as VantageScore 3.0 and FICO 9 — ignore collections that have been paid. But FICO 8 credit scores, the ones most widely used in lending decisions, will consider even paid-off collections if the original debt was over $100.
Like other negative marks, collections showing on your credit reports will hurt your credit, but the effect will lessen over time. There are a few ways to try and have a debt collection removed from your credit report, such as:
Disputing the account if an error has been made.
How to deal with a court summons for debt collection
Lawsuits for collections accounts are a common and efficient way for collection agencies to get payment. Here's how to deal with a court summons for debt collection:
Never ignore a court summons about debt
These lawsuits can result in wage garnishment, a bank levy or a lien on your property.
Make sure that the debt collector has proof that the debt actually belongs to you, that the amount is accurate and that the debt hasn't expired. Each state has a statute of limitations for debt, after which you can no longer be legally sued for payment, but you can still be contacted.
Hire an attorney who specializes in debt collection defense. If you can't afford court costs, look for low-cost or free legal aid programs near you via the Legal Services Corporation or LawHelp.org.