Why You Might Want Flood Insurance — Even if It's Not Required
Your mortgage lender may not require you to buy flood insurance, but you could still be at risk.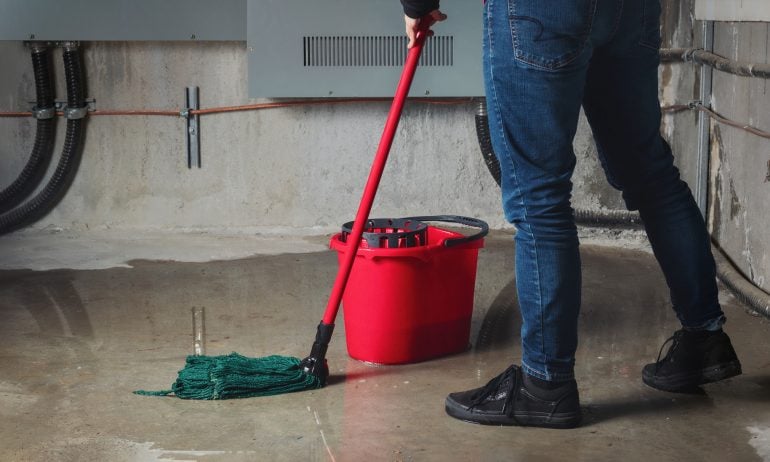 Many or all of the products featured here are from our partners who compensate us. This influences which products we write about and where and how the product appears on a page. However, this does not influence our evaluations. Our opinions are our own. Here is a list of our partners and here's how we make money.
Between atmospheric rivers in California, Hurricane Ian in Florida, flash floods in Kentucky and monsoons in Las Vegas, floods have caused billions of dollars in damage over the past year alone. 
You may not think flooding could ever affect your home. However, 90% of natural disasters in the U.S. involve floods, according to the Federal Emergency Management Agency. And if your home does flood, your homeowners insurance isn't likely to help.
Do you need flood insurance?
Many people assume their homeowners insurance covers flood damage, but that generally isn't true, says Michael DeLong, research and advocacy associate at Consumer Federation of America.
Flooding is different from the water damage your homeowners policy usually covers, such as from a burst pipe. In the insurance industry, flooding is excess water from sources like overflowing rivers, surging tides or rainfall that can't drain fast enough. Nearly every homeowners policy excludes this type of damage, so if you want coverage, you'll need separate flood insurance.
Many people who buy flood insurance do so because they have to. FEMA designates certain places as "special flood hazard areas," where there's at least a 1% chance of flooding in any given year. If you live in an SFHA and have a federally backed mortgage, your lender will require flood insurance.
Most homeowners outside of FEMA's high-risk zones don't buy flood insurance — but that could be an expensive mistake. About 25% of flood insurance claims are from low- or moderate-risk areas, according to FEMA.
A map boundary shouldn't determine whether you buy flood insurance, Jeremy Edwards, press secretary at FEMA, said in an email. "Where it can rain, it can flood."
And don't count on federal disaster assistance if you decide not to buy flood insurance. The maximum FEMA grant to help flood victims rebuild their homes is $41,000, but most payouts are significantly lower. Compare that to federal flood insurance, which pays up to $250,000 for the structure of your home.
How to assess your flood risk
While FEMA's maps are a good starting point, they're not the only place to check your home's flood risk. At RiskFactor.com, you can see your home's chance of flooding both now and up to 30 years in the future. The website is a product of the nonprofit First Street Foundation, which uses scientific research to model the effects of climate change.
Unlike FEMA's maps, which have historically focused on coastal and river flooding, Risk Factor maps also reflect the risk of flooding from heavy rainfall. Because a warming atmosphere can hold more moisture and produce more rain, scientists believe this type of flooding will become more common with climate change.
Risk Factor will also show how much flood damage could cost in various scenarios. This information can help you make an informed decision about whether to buy flood insurance.
"Are you able to pay out of pocket if that rare event happens?" says Matthew Eby, founder and CEO of First Street Foundation. "If not, then you should definitely be thinking about insurance."
Note that "a model is a model," Eby says, and not a definitive forecast of what's going to happen. If Risk Factor says your home has a chance of flooding, Eby recommends doing further research by speaking with your community's flood plain manager. Your state or municipal government can help you find their contact information.
If you're considering buying a new home, ask the seller whether the house or neighborhood has ever flooded in the past, DeLong says. Certain states such as Texas and Louisiana require sellers to share this information.
How to get flood insurance
Most people buy flood insurance through the National Flood Insurance Program. These policies are administered by FEMA and sold by insurers like Allstate and Farmers. A full list of providers is on the NFIP's website.
If you can't afford flood insurance or you need other ways to reduce your risk, consider these tips.
Elevate expensive items. Eby recommends putting pricey appliances such as heating or air-conditioning units on raised platforms, which is generally cheaper than elevating your entire house.
Protect your basement. Sealing your basement's walls with a waterproofing compound may help keep floodwaters out. Have a sump pump remove any water that does get in.
Install flood vents. These openings in your foundation can prevent structural damage by allowing water to flow freely into and out of your home's lowest level.
Consider community solutions. There's only so much you can do to protect your home if the flood risk originates beyond your property. That's why Eby encourages homeowners to get together with neighbors and local governments to see if investments in seawalls, levees or upgraded drainage systems could reduce flood risk on a broader scale. After all, Eby says, "The property is only as valuable as the community it's a part of."
Get more smart money moves – straight to your inbox
Sign up and we'll send you Nerdy articles about the money topics that matter most to you along with other ways to help you get more from your money.