Does Homeowners Insurance Cover Water Damage?
Damage from a sudden leak might be covered; flood damage probably won't be.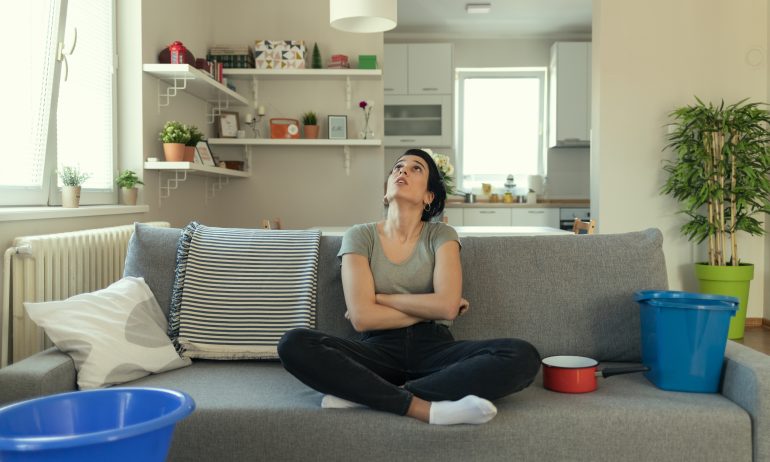 Many or all of the products featured here are from our partners who compensate us. This influences which products we write about and where and how the product appears on a page. However, this does not influence our evaluations. Our opinions are our own. Here is a list of our partners and here's how we make money.
Homeowners insurance generally covers sudden and accidental water damage, especially if it's from an internal cause like a failing appliance.

It won't cover some other causes of water damage, including flooding and lack of maintenance.

If you need to file a claim, contact your insurer as soon as possible and take steps to prevent further damage.
A leaky dishwasher. A burst pipe. A heavy rainstorm. Any one of these could cause water damage in your home. In fact, the Insurance Information Institute estimates that about 1 in 60 insured homes has a claim for water or freezing damage each year.
But a standard homeowners insurance policy won't cover every type of water damage. Here's a guide to what's covered, what isn't and how you can make the most of your claim.
Does homeowners insurance cover water damage?
A home insurance policy typically covers sudden and accidental water damage from causes such as burst pipes or failing appliances. It usually won't cover water damage from flooding or lack of maintenance.
Depending on which parts of your home are affected, you could have coverage from two parts of your policy:
You'll have coverage up to the limits listed on the declarations page of your policy minus your deductible (the amount of a claim you're responsible for).
Below are some typical causes of water damage and how your homeowners policy might be able to help.
Homeowners insurance generally covers water damage from an appliance that suddenly fails, but it won't pay to replace the appliance. You typically won't have coverage if the failure is due to normal wear and tear or a lack of maintenance on your part.
Say your water heater springs a leak, sending water gushing across your basement floor. As long as you've properly maintained the water heater, your homeowners policy would likely cover the water damage. For example, it could pay for new flooring and replace ruined furniture. However, it wouldn't pay to fix or replace the water heater unless you've added equipment breakdown coverage to your policy.
Equipment breakdown coverage is an endorsement that will pay to fix or replace heating, ventilation and air conditioning systems and major appliances if they have an electrical or mechanical failure.
If your sump pump breaks down or overflows, your homeowners policy generally won't cover the water damage unless you've added coverage for water backup and sump pump failure to your policy.
A homeowners insurance policy may cover water damage from sudden, accidental leaks. However, it won't cover damage that develops over time or that you could have prevented through maintenance.
Here's an example: If a strong windstorm blows some shingles off your roof, causing a leak, replacement shingles and any resulting water damage would likely be covered. Storms are sudden and accidental, and wind is a covered event on most home insurance policies unless you live in a high-risk coastal area.
However, if your 18-year-old roof starts leaking due to wear and tear over the years, your homeowners policy is unlikely to help.
The same goes for leaky windows or pipes. That slow drip under the sink probably isn't covered, but damage from a pipe that freezes and bursts probably is. (Note that your policy generally won't pay to fix the pipe itself, just the resulting damage.)
Backed-up drains and sewer lines
A sewer line backs up, causing a smelly mess in your bathroom. Are you covered? Probably not, unless you've added water backup coverage to your homeowners policy. This is typically the same endorsement that pays for damage from a failing sump pump or backed-up septic tank.
However, there are some circumstances in which a standard homeowners policy might cover water damage from rain. For example:
Heavy wind blows a tree onto your roof, destroying some shingles and allowing rain into your top floor.

A large piece of hail breaks your window, and rain gets in through the shattered glass.
Say your kitchen catches fire. The firefighters respond quickly and keep the blaze from spreading to the rest of your house. However, the water from their hoses causes major damage to your floor and cabinets.
Your homeowners policy will likely pay for anything ruined by fire and smoke as well as the water damage from putting out the fire.
What about mold from water damage?
It may take only a day or two for mold to form after water damage, according to the Federal Emergency Management Agency. If your homeowners policy pays for the water damage that caused the mold, it may also pay to remove it. So if mold started growing after a pipe burst, you might have coverage. If the mold was a result of a flood, you probably wouldn't.
Should you file a water damage claim?
Even if you think your water damage will be covered, filing a claim isn't always a slam dunk. If the damage is relatively minor, you might not get much of a payout after the insurance company subtracts your deductible. And you could end up essentially paying that amount back if your insurance company raises your premium because you filed a claim.
Note that some insurance companies may refuse to renew your policy if you file more than one claim in a short period of time. So for minor water damage, you may be better off paying for repairs yourself — especially if you've filed other claims within the past five to seven years.
How to file a water damage claim
Once you've decided a claim is worth submitting, there are a few key steps to take.
Prevent further damage. As soon as you discover the problem, act quickly to keep it from getting worse. This could include shutting off the water to that part of the house or dehumidifying the room to prevent mold.
File your claim promptly. The sooner you reach out to your insurance company, the sooner it can reimburse you. Depending on your insurer, you may be able to submit a claim online, by phone or on the company's mobile app.
Document the damage. Before you do any cleanup or repairs, take photos and/or video of the damage. Your insurer will likely request an inventory of ruined personal belongings to reimburse you for them.
Make temporary fixes. While you shouldn't schedule major work until your insurance adjuster has reviewed the damage, you can take smaller steps to protect your home. For example, putting a tarp over a leaky roof can prevent more water from getting in, and throwing out a damp carpet can keep mold from growing. Keep receipts for any purchases because your insurer may reimburse you for them.
How to prevent water damage in your home
To avoid water damage claims altogether, follow these tips:
Clean your gutters and downspouts regularly, and consider installing gutter guards to keep leaves and other debris out.

In the winter, keep your thermostat on at least 55 degrees to prevent burst pipes. If you have a crawl space, close its vents and insulate any pipes that run through it. Shut off the water supply to outdoor faucets, drain the lines and cover the faucets.

Regularly check major appliances — including hoses and pipes — for leaks and other damage, and make repairs promptly. You should also inspect your roof for damaged shingles.

Know where your home's main water shutoff valve is and how to use it in case of emergency. (A plumber can help if you're unsure.)
Get more smart money moves – straight to your inbox
Sign up and we'll send you Nerdy articles about the money topics that matter most to you along with other ways to help you get more from your money.