Does Renters Insurance Cover Bedbugs?
Renters insurance is unlikely to help you with these invasive pests. Fortunately, you may have other options.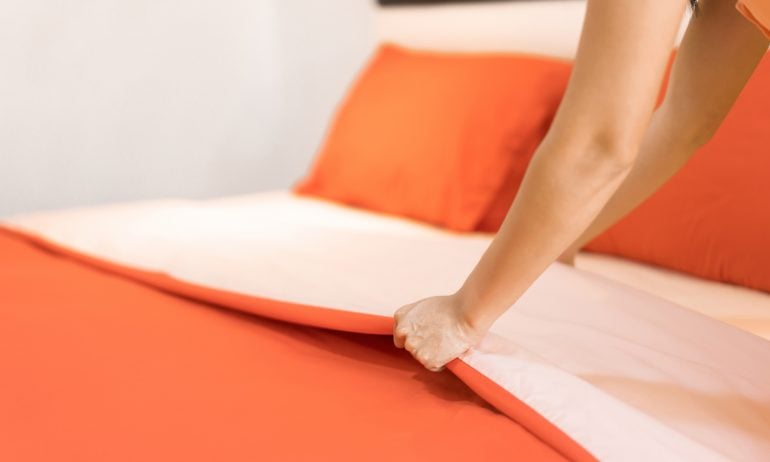 Many or all of the products featured here are from our partners who compensate us. This may influence which products we write about and where and how the product appears on a page. However, this does not influence our evaluations. Our opinions are our own. Here is a list of our partners and here's how we make money.
Ridding your home of bedbugs can cost anywhere from $300 to $5,000, depending on the size of your space and the severity of the infestation, according to HomeAdvisor. Unfortunately, most tenants can't count on their renters insurance to help with these costs.
Does renters insurance cover bedbugs?
Generally, the answer is no. Most renters insurance doesn't cover bedbugs (with a couple of exceptions).
That's because renters insurance is designed to cover sudden, unexpected disasters such as a fire or hurricane. Dealing with infestations of bedbugs, mice or other vermin is considered part of home maintenance, and therefore isn't covered by most policies.
Extermination isn't the only expense that isn't covered. For example, renters insurance won't replace an infested mattress that can't be salvaged or cover your hotel bills if you need to move elsewhere for a few nights.
If you do want bedbug coverage, you have a couple of options. Jetty includes a "Bedbugs Power-Up" in all its renters policies. This coverage will pay $300 toward the cost of getting rid of bedbugs. However, Jetty renters insurance is available only to those living in the company's partner properties. Ask your landlord if it's an option.
In select states, Assurant includes coverage in its renters policies for extermination and other bedbug-related costs.
The few other bedbug insurance policies available are mostly for landlords and property managers rather than for tenants.
Is your landlord responsible for getting rid of bedbugs?
In many cases, yes, especially if you live in a multiunit building. But it depends on your location and the circumstances of your infestation. Your first step is to check your lease, which might specify whose responsibility it is to remove bugs.
For example, if you're living in a multifamily rental with assistance from the U.S. Department of Housing and Urban Development, your lease likely holds the landlord responsible for extermination unless your negligence caused the infestation.
Tenants generally have certain rights under the legal concept of the "implied warranty of habit­ability." That means your landlord must provide a basic standard of housing that includes heat, structurally sound walls and floors, safe drinking water — and no vermin.
However, this doesn't guarantee that your landlord will pay to get rid of your bedbugs. If there's a clear argument that you introduced the pests yourself, you may be on the hook for the extermination bill.
Say you've lived in a single-family rental house for two years, but the bedbugs didn't show up until you returned from an overseas vacation. Odds are, you were the one to bring the bugs into your home, and you'll have to pay to get rid of them.
But what if you live in an apartment building where several neighboring units are affected by bedbugs? In such cases, it may be harder to place blame for the infestation, and there's a better chance of the landlord paying out.
Some parts of the country have passed specific bedbug regulations. In Colorado, for instance, the landlord must pay for extermination, though tenants are responsible for relocation costs and replacing their own belongings. Florida law requires the landlord to get rid of bedbugs and other pests in any rental unit other than a single-family home or duplex.
Check your state and city laws to determine whether your landlord is obligated to foot the extermination bill.
Where such laws apply, tenants must generally report the infestation to their landlord in a timely fashion and cooperate with the needs of the exterminator. For example, you might need to clean up clutter or leave the building while treatment is going on.
In turn, the landlord typically must respond to a bedbug report within a few days and give one to two days' notice before the exterminator arrives.
If you and your landlord can't agree on who should pay for the extermination, or if your landlord refuses to help at all, you may need to consult a lawyer.
How to get rid of bedbugs
In addition to hiring an exterminator, the U.S. Environmental Protection Agency recommends the following tactics to help rid your home of bedbugs:
Vacuum thoroughly, then empty the vacuum cleaner bag or canister, tightly seal its contents and dispose of them in an outdoor container.

Move your bed away from the wall and make sure bedding doesn't touch the floor.

Clean up clutter and seal cracks in walls to eliminate hiding places for bugs.

Encase your mattress and boxspring in a bedbug-proof cover.

Seal infested items in plastic bags, then empty them into the dryer and run at high heat for at least 30 minutes.

Put bedbug interceptors under the legs of beds and other furniture.

Use caulk to seal cracks around baseboards, electrical outlets and other places where bugs might hide.
Get more smart money moves – straight to your inbox
Sign up and we'll send you Nerdy articles about the money topics that matter most to you along with other ways to help you get more from your money.