What Is a Medicare Part D Formulary?
A Medicare Part D formulary is a list of the drugs the plan covers, organized into tiers with different out-of-pocket costs.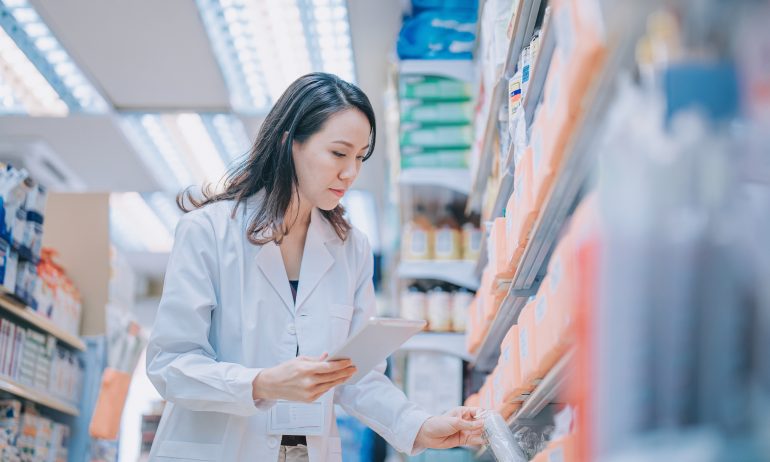 Many or all of the products featured here are from our partners who compensate us. This influences which products we write about and where and how the product appears on a page. However, this does not influence our evaluations. Our opinions are our own. Here is a list of our partners and here's how we make money.
Big changes are coming to Medicare Part D prescription drug coverage following the passage of the Inflation Reduction Act of 2022, which gives Medicare the power to negotiate for lower prescription drug prices. The act also includes caps on out-of-pocket spending, limits on increases in Medicare Part D premiums and drug prices, and more.
Certain changes took effect at the start of 2023, while others start as late as 2026.
» Read more: What the Inflation Reduction Act means for your Medicare coverage
The most important thing to find out when you're shopping for Medicare Part D prescription drug coverage is whether a plan covers your medications. You'll find the answer in the formulary, its list of covered drugs.
Each Medicare Part D plan and Medicare Advantage plan with prescription drug coverage has its own formulary. You can use the formulary to find whether your medications are covered and what you'll pay for them out of pocket.
Here's what you should know about Medicare Part D formularies.
What are formulary tiers?
Medicare Part D plans organize the drugs on their formularies into tiers. Each tier has different out-of-pocket cost requirements. Many plans have five formulary tiers, but some might have more or fewer.
Drugs on low tiers have lower or even zero cost-sharing requirements, while drugs on higher tiers will generally cost you more out of pocket. Your plan won't help at all with the cost of drugs that aren't on the formulary.
However, if you or your health care provider believe that you need a specific drug that's not included on your plan's formulary, you can apply for a special exception. The insurance company might grant the exception if your prescriber can demonstrate that the drug is medically necessary because the alternatives included on the formulary would be less effective or would have adverse effects.
Here's a hypothetical example of Medicare Part D formulary tiers:
Tier 1: Preferred generic drugs

The least expensive generic prescription drugs.

This tier may have $0 or minimal-cost copays.

Tier 2: Non-preferred generic drugs

This tier usually has relatively low copays.

Tier 3: Preferred brand-name drugs

Less expensive brand-name drugs. This sometimes also includes costlier generic drugs.

This tier may have higher copays or a coinsurance requirement.

Tier 4: Non-preferred drugs

More expensive brand-name drugs.

This tier typically has a fairly high coinsurance requirement.

Drugs that meet a government-defined threshold for the monthly cost of their ingredients. By law, plans can require up to a 33% coinsurance for this tier. The coinsurance is capped at 25% for plans with the maximum Part D deductible of $505 in 2023.
What drugs need to be included in a Medicare Part D formulary?
The Centers for Medicare & Medicaid Services, or CMS, evaluates and approves plans' formularies. Medicare prescription drug plans aren't generally required to include specific drugs, but they must meet certain standards for CMS to determine that a formulary "provides access to an acceptable range of Part D drug choices".
Drug categories: Plans must include drug categories and classes that cover a certain set of medical conditions.

At least two drugs per category: Plans must cover at least two drugs per category or class, if possible. The two drugs have to be "chemically distinct" — that is, they can't be two different forms of the same drug or a brand-name and generic version of the same drug. For example, a plan that covers Lipitor to treat high cholesterol wouldn't meet the requirement by covering Atorvastatin, the generic version. However, it could meet the requirement by covering Simvastatin, a generic version of a different cholesterol drug.
How do I find if a Medicare Part D formulary covers my drugs?
Your plan must provide a copy of your formulary and cost-sharing requirements after you enroll and before Medicare open enrollment starts on Oct. 15 of each year afterward.
The disclosure materials from your plan can tell you what drugs are covered and how cost-sharing works, but they're not always the most readable. Fortunately, you can also use some more approachable interactive tools to check what's covered while you're shopping for a plan.
You can enter information about your drugs and the pharmacies you use at medicare.gov/plan-compare to compare cost, coverage and ratings for the plans available in your area.
Many insurance companies' websites also include tools that show how their plans will cover your drugs and pharmacies.
Can my Medicare Part D formulary change?
Yes, your Part D plan can change its formulary, but there are rules for when and how. Changes could include changing a drug's tier or cost-sharing requirements or dropping a drug entirely.
Formulary changes with written notice in advance
For most formulary changes that affect a drug you're taking during the year, your plan must do at least one of these two options:
Provide written notice at least 30 days before the effective date.

Provide written notice when you request a refill, plus at least a one-month supply of the drug under whatever rules applied before the change.
The written notice needs to include:
What's changing: Is the drug being dropped or moving to a different tier?

Why the change is happening.

Options for alternative drugs in the same category, class or cost-sharing tier, with cost-sharing information.

How to request a coverage determination or exception to the change.
Formulary changes that can happen right away
Under certain circumstances, Part D plans can immediately change the formulary status of certain drugs without providing notice in advance. You'll still get written notice, but it may be after the fact.
For example, plans can immediately drop a drug that's no longer offered by the manufacturer or that the Food and Drug Administration considers unsafe.
Plans can also drop or change tiers for a covered brand-name drug if they add a newly available generic drug in its place with equal or lower cost-sharing requirements.
If you have additional questions about Medicare, visit 
Medicare.gov
or call 800-MEDICARE (800-633-4227, TTY 877-486-2048).
Get more smart money moves – straight to your inbox
Sign up and we'll send you Nerdy articles about the money topics that matter most to you along with other ways to help you get more from your money.