When to File a Car Insurance Claim — and When Not To
You'll probably want your insurance company involved if you crash into somebody's car, even if the damage is minor.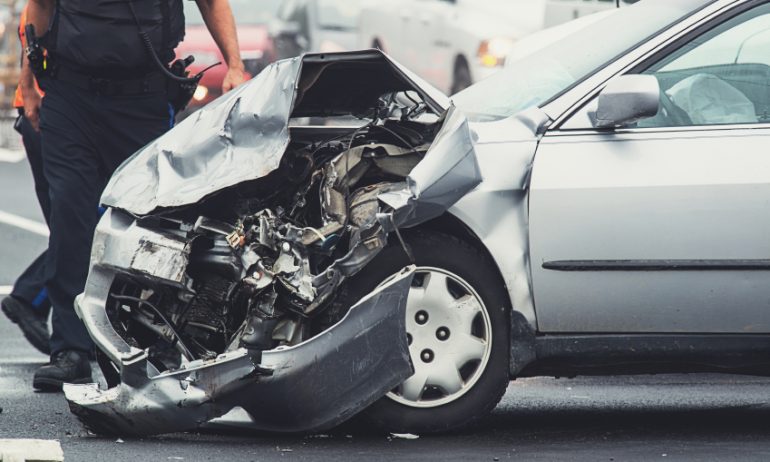 Many or all of the products featured here are from our partners who compensate us. This influences which products we write about and where and how the product appears on a page. However, this does not influence our evaluations. Our opinions are our own. Here is a list of our partners and here's how we make money.
After the embarrassment of causing a minor accident comes the dread of a possible car insurance rate hike. Even if you have plenty of car insurance coverage, you might be tempted to keep the mishap a secret from your insurance company and pay for the car repairs out of your own pocket.
That might make sense if your car was the only one involved — you backed into a pole, for instance. But causing car damage or injuries to others means you could be on the hook for thousands of dollars. Here's how to judge when to tell your insurer about an accident.
| | Tell your car insurance company? |
| --- | --- |
| You put a dent in someone's car and they suggest settling it privately with cash | Yes. Don't make a private deal, in case they demand more money later. Suggest the person make a claim and tell your insurer about the accident. |
| You cause serious car damage to someone else | Yes, tell your insurer about the accident. There might be more costly damage than you realize. |
| You cause a car accident with injuries | Yes, tell your insurer. Injuries can easily lead to big medical bills. |
| You accidentally cause small damage to your own car, like backing into a pole | Don't bother contacting your insurer if you have no collision coverage, or if the damage is less than your collision deductible. There would be no claim payment in that case. |
| You accidentally cause a lot of damage to your own car | Contact your insurer if you want to make a claim on collision coverage. Weigh the possibility that your rates could go up at renewal time because of the claim. If you don't have collision coverage, there's no reason to contact your insurer. |
Tell your insurer when other drivers are involved
Let's say you make a dumb driving move and put a dent in somebody else's car. Settling the accident with the other driver, without the help of your insurer, is risky. After all, you don't really know whom you're dealing with. What if you pay for repairs, and months later he comes back demanding more?
Your liability insurance is there to protect you from lawsuits, and your insurance company is experienced with handling parties involved in an accident, no matter how angry they are. Liability coverage pays for the damage and injuries you cause others, and it pays your legal defense costs if you're sued as a result of an accident.
To prepare for a possible claim against you, provide the other driver with your insurance information, call the police, and report the incident to your insurance company. It's also a good idea to take photos of the damage to both cars before you part ways with the other driver. Depending on the jurisdiction, the police may not come to the scene of the accident if no one is injured and the damage is minor. In that case, file a report at the police station. A police report provides important documentation, and the insurance company will ask for a copy if you file a car insurance claim.
Tell your insurer when serious car damage or injuries could be lurking
Others' damage: Even if the other driver is honest and the accident was only a fender bender, the damage might be more serious than it first appears. In 2015 the average property-damage liability claim was $3,593, according to ISO, a data analytics provider.
Others' injuries: Likewise, it can be hard to tell whether injuries are involved at the scene of an accident. Some injuries, such as whiplash, have delayed symptoms that might not show up right away. You definitely don't want to be held responsible for paying someone else's medical bills. Let your insurer handle it. The average injury liability claim was $17,024 in 2015, according to ISO.
Your own car damage: Your car might have hidden damage. Your collision insurance will pay for repairs, minus your deductible. ISO reports that the average collision claim was $3,350 in 2015. Your policy likely requires you to notify the insurance company within a reasonable amount of time after the accident. Waiting too long could jeopardize a claim payment.
When there is no need to file a car insurance claim
When the mishap involved only you and your car
If you purchased only liability insurance and didn't buy collision coverage, then your policy doesn't cover damage to your car anyway.

If you have collision coverage, it will pay for damage to your car. But say you backed into a concrete post, denting the bumper — you might consider paying for the repairs yourself or just leaving the dent rather than filing a claim on your collision insurance. Get a quick repair estimate. If the repair costs less than your deductible, then there's no point in filing a claim. The deductible is the amount you pay out of pocket toward a repair.
If a claim might raise your rates
If the repair costs for your car are more than your collision deductible, you'll have to weigh whether the insurance payout is worth the risk of a rate increase later. Whether your insurance rates will go up after a claim depends on your previous claims history, your insurance company rules and even your state, which may regulate the circumstances under which insurers can add a surcharge to your rate. Surcharges — industry lingo for premium hikes — typically last three to five years, and may gradually decrease over that period.
The only way to find out how much your insurance company will raise rates is to ask for its surcharge schedule or talk to your agent. Bear in mind, though, that your insurance company will make note of the inquiry.
"Auto insurers keep close track of their interactions with customers, so the inquiry will be logged into their system," says Michael Barry, a spokesman for the industry group Insurance Information Institute. "It is unlikely, however, that an auto insurer would raise a policyholder's rate because of a single inquiry which did not result in the filing of a claim."
Whether or not your rates go up after filing a car insurance claim, it's always a good idea to compare car insurance quotes at policy renewal time to make sure you're getting the best price. NerdWallet's car insurance comparison tool can help.
Get more smart money moves – straight to your inbox
Sign up and we'll send you Nerdy articles about the money topics that matter most to you along with other ways to help you get more from your money.