How to Buy Amazon Stock
If you've decided to add this retail giant to your portfolio, here's the process for how to buy Amazon stock.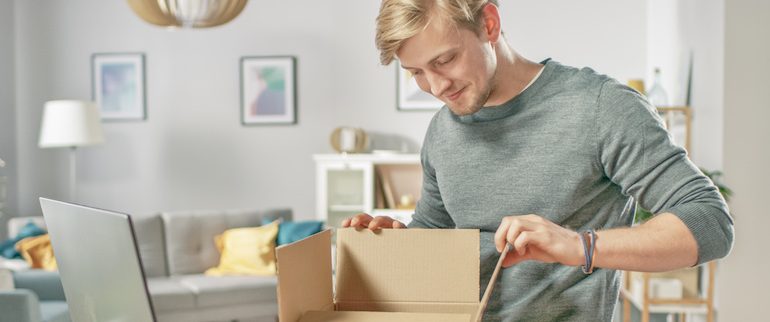 Many or all of the products featured here are from our partners who compensate us. This may influence which products we write about and where and how the product appears on a page. However, this does not influence our evaluations. Our opinions are our own.
Amazon's share price nearly doubled between 2017 and 2018, and the company recently hit a $1 trillion valuation. That swell has many investors wondering how to buy Amazon stock.
The company's success is rooted in making it easy for customers to quickly — and perhaps impulsively — buy products online. There's no "buy now" button for stocks, but investing in Amazon is nearly as easy as shopping on Amazon.com.
Here's how to buy Amazon stock.
1. Do your research into Amazon
There's an understandable appeal to owning shares of a company you interact with regularly, but what you know about a company as a customer often doesn't equal knowing it as an investor.
Don't base your to-buy-or-not-to-buy decision on a stock's past performance or current price. Instead, rely on the all-important step of scrutinizing Amazon's merits as an investment. That includes digging into the company's management, revenue, net income and earnings, as well as analyzing the competition.
Nerd tip: Amazon's stock symbol is AMZN. The company's IPO was in May 1997, at $18 per share.
Aside from those factors, you'll want to consider whether buying Amazon stock is the right decision for your portfolio. The answer depends on your financial situation, current holdings and investment goals. Which brings us to...
2. Decide how much to invest in Amazon
Amazon's trading price in the past year has ranged from $931 to over $2,000 as of this writing. (You can find its current stock price by searching for Amazon's trading ticker, AMZN, on an online broker or financial information website.)
Is one share more than you can afford to invest? That's OK: Some brokerages offer fractional shares — effectively pieces of a single share — that you can buy. There's more on that in the next section on opening a brokerage account.
Whether you can afford a complete share or not, here are three things to consider before choosing an amount to buy:
Stocks are long-term investments. That means you shouldn't buy Amazon stock — or any other stock, for that matter — with money you'll need within the next five years. If you ignore this, you'll run the risk of needing that money when the stock is down in value, which could lock in losses if you need to sell. Before buying individual stocks, make sure you have an adequate emergency fund. (Here are some suggestions for where to save for short-term goals.)

Even for long-term goals, don't dedicate more than 10% of your portfolio to individual stocks. We believe low-cost mutual funds like index funds should make up the bulk of your investment portfolio. These funds track a market index and invest in many companies, which makes it easy to diversify your portfolio and lower your investment risk.

Add to your investments over time. There's a name for this strategy: dollar-cost averaging. It means investing set amounts on a regular basis, rather than putting a lot of money into the market — or into a stock like Amazon — at once. Dollar-cost averaging can help ensure you don't always buy stocks or other investments at a price high.
3. Open a brokerage account
Buying Amazon stock requires you to have a brokerage account, and online brokers offer the quickest and easiest ways to start one today. If you don't have a brokerage account, you can open one in about 15 minutes —  the process is similar to signing up for a checking or savings account. See our tutorial on how to open a brokerage account for more details.
If you can afford a single share or more of Amazon, you have a wide range of options. Look for a broker with low or no commissions, excellent customer service and useful tools and resources. We've narrowed down the field to make it easier, so check out NerdWallet's roundup of the best brokers for stock trading or see some of the picks from that analysis below.
$0 trade fees. $0 annual or inactivity fees.

$0 trade fees. $0 annual or inactivity fees.

Up to $600 cash credit with qualifying deposit.

$0 trade fees. $0 annual or inactivity fees.

Free career counseling plus loan discounts with qualifying deposit.
If your heart is set on Amazon and you can't afford to buy a full share at the current trading price, look at services such as Robinhood or Stash, which offer those fractional shares mentioned above. That will allow you to buy a portion of one share of Amazon to get started.
Once you have a brokerage account and you've decided how much to invest, it's time to buy Amazon stock.
"

You shouldn't get too hung up on getting the lowest price to the penny."
A stock's price is determined by its bid-ask spread — essentially, the gap between the price buyers are willing to pay and the price sellers are willing to accept. The bid-ask spread changes throughout each trading day, but you shouldn't get too hung up on getting the lowest price to the penny — more on that below.
When you're ready to buy the stock, you'll do so through your online broker's website or trading platform. You'll be asked to choose an order type, which determines when and how your order to buy Amazon stock is executed.
Most brokers offer a range of order types , but you'll generally be fine if you stick to two choices: a market order and a limit order.
A market order executes ASAP. It is generally a good choice for buy-and-hold investors. The price you pay for the stock may vary slightly from the price you see when placing your order, because a market order prioritizes time: It is executed as quickly as possible at the best available price.

A limit order is a good choice for investors who prioritize price over speed: Your order will be placed only if the stock price hits the level you've set. Limit orders are helpful during wild market swings, but the risk is that your order may not get executed in full or at all.
Once your order goes through, welcome to prime time: You're officially an Amazon shareholder.
Whether you're buying Amazon stock or shares in another company, the process is generally the same. Consult our full guide on how to buy stocks to learn more.


View Morningstar's top stock picks 
With a 14-day free trial* of Morningstar Premium, you'll get up-to-date expert stock research to help drive your investment decisions.
*Paid subscription thereafter, see Morningstar.com for details.
We want to hear from you and encourage a lively discussion among our users. Please help us keep our site clean and safe by following our
posting guidelines
, and avoid disclosing personal or sensitive information such as bank account or phone numbers. Any comments posted under NerdWallet's official account are not reviewed or endorsed by representatives of financial institutions affiliated with the reviewed products, unless explicitly stated otherwise.