Want to Buy Pfizer Stock? Here's What You Should Know
Thinking of adding this biopharmaceutical company to your portfolio? Here's what to consider before buying Pfizer stock.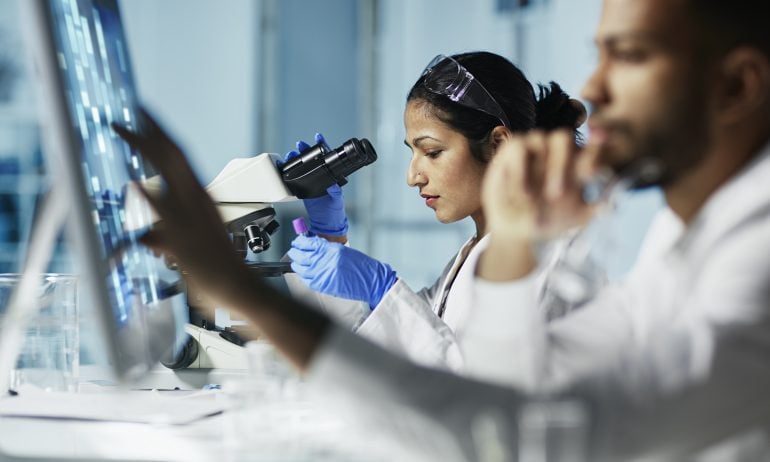 Many or all of the products featured here are from our partners who compensate us. This may influence which products we write about and where and how the product appears on a page. However, this does not influence our evaluations. Our opinions are our own. Here is a list of our partners and here's how we make money.
---
The investing information provided on this page is for educational purposes only. NerdWallet does not offer advisory or brokerage services, nor does it recommend or advise investors to buy or sell particular stocks or securities.
Pfizer isn't new to the limelight. The company's stock is included in dozens of health care, pharmaceutical and dividend , and Pfizer regularly makes headlines for its innovations in health care. But when its COVID-19 vaccine (developed alongside German biotech company BioNTech) was given emergency use authorization by the U.S. Food and Drug Administration in December 2020, the company gained renewed interest.
Pfizer's stock price jumped on the development, and though it corrected in the following weeks, the stock continued to trade higher than it had been prior to the vaccine news.
But the question for potential investors isn't how Pfizer has performed recently — it's what might come next and whether the stock is a good fit for your portfolio. Below are three things to consider before buying Pfizer stock.
» Already done your research? Learn like Pfizer
It may be tempting to buy Pfizer stock based on recent headlines, but the reality is Pfizer's potential success may be already baked into the stock price you're paying today. In other words, as a retail investor, you're not on the "ground floor" so to speak — you're up against institutional investors who have the resources of an army to uncover the kind of things that move stock prices long before you do. That's why it's best to avoid investing in any company solely based on past performance or its current price.
Instead, you'll want to do as the pros do: pore over Pfizer's financial statements, revenue, earnings, projected performance and dozens of other variables to determine whether Pfizer is a sound investment. All of this data should be available through your online broker, or via an independent research site like .
Before purchasing any stock, consider how it fits in with your existing portfolio. Does the potential investment:
All of these questions will help you determine if the stock will build diversification within your portfolio, or lead to over-concentration in one particular area.
For example, Pfizer is considered a large-cap value company, suggesting it may not see the rapid growth of, say, a relatively new tech company. However, Pfizer offers a strong dividend that has increased since mid-2009, and in 2020, its stock price was less volatile than most of its competitors. (Remember, though, that past performance doesn't guarantee future results.)
Considering these factors, Pfizer may fit in better with a portfolio that needs a greater balance toward less-volatile, income-producing value stocks. This of course is just an example; there are dozens of factors that would go into balancing your particular portfolio and determining whether Pfizer may be an appropriate investment for you.
To figure out how much you should invest in Pfizer, first take a broader look at your financial situation. Consider:
If you've answered yes to the above questions and feel ready to invest, but you still aren't sure how much to contribute, consider. With this strategy, you'll invest a specific amount at regular periods, such as weekly or monthly. This can be less stressful than investing the full amount all at once, as it can lower the chance of buying in fully at an inopportune time.
However you decide to invest, the process to buy Pfizer stock is the same when evaluating any company. If you're ready to learn more, check out our guide on .
Disclosure: The author held no positions in the aforementioned securities at the original time of publication.