Want to Buy Zoom Stock? Here's What You Need to Know
Zoom has become a part of daily life for millions around the world. If you're interested in investing in Zoom, here's what to consider before you buy.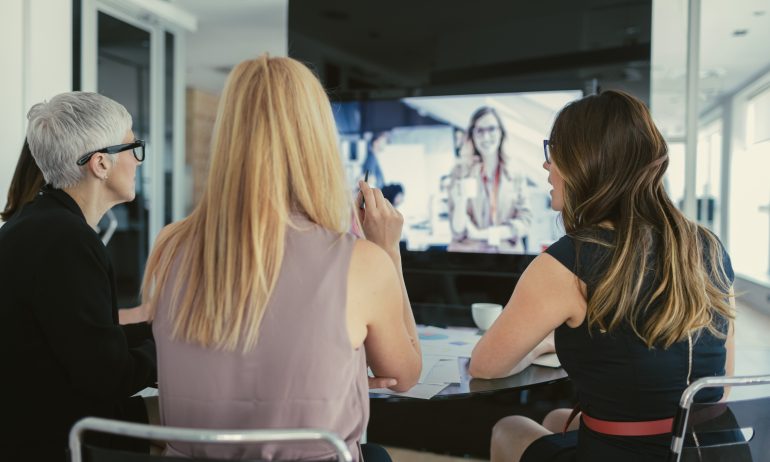 Many or all of the products featured here are from our partners who compensate us. This may influence which products we write about and where and how the product appears on a page. However, this does not influence our evaluations. Our opinions are our own. Here is a list of our partners and here's how we make money.
---
The investing information provided on this page is for educational purposes only. NerdWallet does not offer advisory or brokerage services, nor does it recommend or advise investors to buy or sell particular stocks or securities.
Everyday investors can now jump on the line with Zoom Video Communications, which debuted on the Nasdaq stock exchange in April 2019 under the ticker symbol ZM.
Zoom's cloud-based service allows people in different locations with different devices to connect face-to-face and share content via video, voice and chat. And in the time of coronavirus, people have increasingly turned to the service: Zoom says it served 10 million daily meeting participants in December 2019 — and more than 300 million per day in April 2020, during the start of the pandemic and work-from-home era.
So Zoom is popular. But does its stock belong in your portfolio? Read on to find out how to evaluate whether to buy Zoom stock.
Zoom makes money by selling its platform subscriptions to everyone from single users to companies with hundreds of thousands of employees. Unlike some other firms, Zoom went into its IPO as a profitable company.
In the 2020 fiscal year, those profits jumped more than threefold, from $7.6 million to $25.4 million as companies continued to integrate Zoom's technology into their work. (Full disclosure: NerdWallet uses Zoom.)
But profitability is just one factor investors should consider before buying a stock. Spend some face time with Zoom's most recent annual report as well as its S-1 filing, both available on its investor relations website. These are a treasure trove of information about the company's operations, financials, customers, case studies, leadership team, challenges and growth opportunities. In other words, all the things that can help investors determine if Zoom is a worthy addition to their portfolio.
Research and data are also available via online brokers or independent analysis sites like . One reminder: Zoom trades on the Nasdaq under the ticker symbol ZM. This is not to be confused with ZOOM Technologies — ticker: ZOOM — the delisted stock of a mostly shuttered Beijing-based wireless tech distributor.
» Want more detail? Learn
If you're still keen after doing some research, consider how Zoom stock would slot in among the rest of your portfolio. Specifically, look at  and what this new investment would mean for your . A general guideline for investors is to spread money across different companies, industries and geographies, thereby reducing risk and exposure to any one stock's sudden movements.
Would buying Zoom put you too deep into the technology sector? Would it tip your portfolio too far into stocks as a whole? (As opposed to maintaining a balance between stocks and safer investments like bonds, something financial experts tend to suggest.) Asking these kinds of questions, and keeping an eye on the big picture, can help you stay aligned with your investing goals.
One way to invest in Zoom and diversify at the same time might be to buy an  or . Index funds and ETFs track a market index and allow you to hold stock in hundreds of different companies within one fund. And there are a number of funds with Zoom among their holdings.
Research and a sense of your overall portfolio can help you decide how much money to invest in Zoom. So, too, might your opinion on how long people will continue to work and dial in from home. But there's more to consider.
Look at your overall financial situation and ask:
See our guide on for more details, including a look at various order types you can place.
» Need a broker? View our list of the
Disclosure: The author held no positions in the aforementioned securities at the original time of publication.