Coinbase vs. Robinhood
When it comes to buying cryptocurrencies, Coinbase has the upper hand for a few reasons.
Many or all of the products featured here are from our partners who compensate us. This influences which products we write about and where and how the product appears on a page. However, this does not influence our evaluations. Our opinions are our own. Here is a list of our partners and here's how we make money.
---
The investing information provided on this page is for educational purposes only. NerdWallet, Inc. does not offer advisory or brokerage services, nor does it recommend or advise investors to buy or sell particular stocks, securities or other investments.
The main difference between Coinbase and Robinhood is that Coinbase is a full-service crypto exchange, while Robinhood is a traditional stockbroker that also offers a limited — though expanding — set of cryptocurrency options.
Long story short: If you want advanced digital asset options such as crypto-to-crypto trades and staking, Coinbase has a wider selection of options. But if you want access to other asset classes such as stocks in the same place you're trading crypto, then Robinhood offers a serviceable, low-cost alternative to dedicated crypto exchanges.
Here are some of the key points for crypto users to consider when deciding between Coinbase and Robinhood.
One advantage Robinhood has over Coinbase is the cost to purchase cryptocurrencies. On Robinhood, it's free. You can buy and sell crypto as frequently as you want with no fees whatsoever (and pattern day trading rules that exist for stocks don't currently exist for crypto). You'll still have to pay a spread (the difference between the bid and ask price).
It's worth noting that in 2020, a Securities and Exchange Commission order found that Robinhood provided "inferior trade prices," costing customers $34.1 million. The SEC investigation was about Robinhood's marketing and execution in general and not crypto trades specifically. Robinhood agreed to pay $65 million to settle the charges.
Coinbase, meanwhile, has a widely varying fee structure, depending on the amount you're buying in U.S. dollars and how you're paying for it.
Coinbase does not disclose fees until just before your purchase, making comparison difficult, but NerdWallet set up a handful of test transactions to get a sense of the range. Generally, if you're buying $100 in Bitcoin with a linked bank account, the fee would be a flat $2.99. Coinbase also charges a spread of about 0.5% for cryptocurrency sales and purchases; that spread may change depending on market fluctuations.
If you toggle over to the "Advanced Trade" section of your Coinbase account, you can trade for lower, volume-based fees.
Overall, fees at Coinbase can get confusing, and frankly, it feels a little outdated to pay per trade when other brokerages have been moving away from that for years.
However, in early 2022, Coinbase did roll out a direct deposit feature that allows users to allocate a portion of their paycheck (either USD or the crypto of their choice) to land in their Coinbase account each pay period. This service is completely free of fees, and users can set how much of their paycheck they want distributed to Coinbase, either as a dollar amount or as a percentage. Coinbase users can also avoid trading fees by paying for a monthly membership to the Coinbase One service, which costs $29.99.
Robinhood has stepped up its crypto offerings in 2022, though its options remain limited compared with Coinbase. On Coinbase, there are more than 170 tradable cryptocurrencies, and even more that can be added to price watch lists. And, Coinbase adds new tradable cryptocurrencies fairly often.
Robinhood, on the other hand, currently lists 16 cryptocurrencies .
Cryptocurrency selection winner: Coinbase.
This is another category that Coinbase should win by default: Robinhood is a stockbroker that dabbles in converting USD into cryptocurrency, while Coinbase is a cryptocurrency brokerage and exchange that also offers a hosted wallet — and a personal wallet if you want it.
What does that mean? With Coinbase, you have the option to buy crypto with cash, then store those coins on Coinbase's hosted wallet. Or, you can send those coins to your own Coinbase Wallet, which is completely separate from Coinbase the app. You can also send them to your own, non-Coinbase wallet.
Coinbase also has some advanced capabilities such as staking, which allows you to earn rewards as high as 5.75% just by holding certain cryptos. And you can trade cryptocurrencies for one another, a capability that Robinhood does not offer.
In short, Coinbase is a really good onramp for new crypto users, offering users many of the capabilities cryptocurrencies were created for in the first place.
Robinhood in 2022 introduced a feature that allows users to withdraw crypto to their own wallets, but the service still lacks much of the functionality offered by Coinbase and its peers.
Crypto capabilities winner: Coinbase.
Both apps are intuitive, fast, clean and easy to use, and that makes sense: Both companies earn a large portion of their revenue through transaction volume. The more people are buying and selling, the more money they make. So it's in their best interest to create a product that entices buying and selling, even in small amounts, and reduce every bit of friction that exists on the way to pressing the "buy" button.
The end result is a product that's excellent for beginners in the sense that the buy and sell process is stripped down to the basics; though some argue that it actually shouldn't be this easy for beginners to trade in risky, speculative assets like cryptocurrency.
The Advanced Trading features on Coinbase may involve more of a learning curve, so if you're not ready to wade into that, the basic Coinbase platform remains extremely easy to use, as long as you're OK paying those fees. With Robinhood, you'll never really come across anything that resembles an advanced crypto trading platform.
Ease of use winner: It's a draw. They're both extremely well-designed.
So which is better, Robinhood or Coinbase?
When it comes to cryptocurrencies, Coinbase is the clear winner here. While its fees can be confusing and high, the option to trade on Coinbase Advance once you have a little experience can bring those fees down. Robinhood's free trading is nice, but it doesn't make up for the lack of crypto capabilities and the short list of cryptocurrencies to invest in.
If you value trading stocks and crypto on the same service, or if you want to start with a small, more curated selection of digital assets, then Robinhood could be a better fit, given the free trades.
Some of this calculus involves choosing whether you want to work with a stock broker or a dedicated crypto provider. If you're willing to do some more comparison shopping in one of those categories, keep in mind that Robinhood and Coinbase both have a handful of formative competitors that might better suit your needs.
Fees 

0% - 3.99%

varies by type of transaction; other fees may apply

Promotion 

None

no promotion available at this time

Promotion 

Get $200 in crypto

when you sign up. Terms Apply.
Advertisement
Fees 

0% - 3.99%

varies by type of transaction; other fees may apply

Promotion 

Get $200 in crypto

when you sign up. Terms Apply.

Promotion 

None

no promotion available at this time

Promotion 

None

no promotion available at this time
Track your net worth and use our Nerdy tools to learn about how to save more for retirement.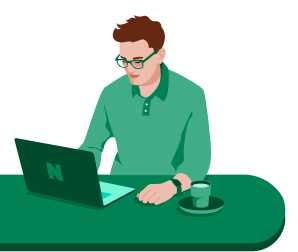 Get more smart money moves – straight to your inbox
Sign up and we'll send you Nerdy articles about the money topics that matter most to you along with other ways to help you get more from your money.