How to Write a Retirement Plan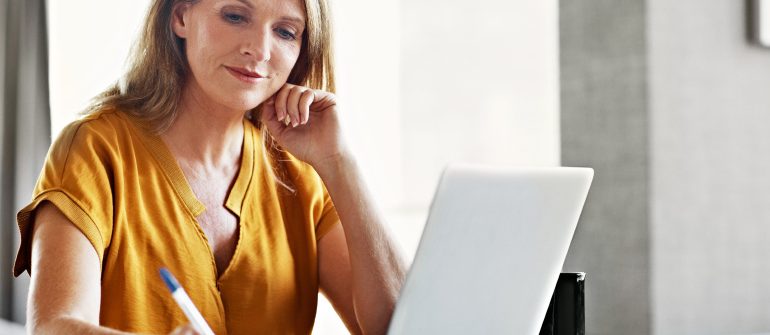 Many or all of the products featured here are from our partners who compensate us. This may influence which products we write about and where and how the product appears on a page. However, this does not influence our evaluations. Our opinions are our own. Here is a list of our partners and here's how we make money.
---
The investing information provided on this page is for educational purposes only. NerdWallet does not offer advisory or brokerage services, nor does it recommend or advise investors to buy or sell particular stocks, securities or other investments.
It likely won't shock you to hear that people who have a written retirement plan feel more prepared for retirement.
In fact, a recent report by LIMRA, a financial services and insurance association, found that 50% of people who have a written plan feel very prepared for their retirement, as opposed to 17% of those with no written plan.
What might surprise you, though, is how simple it is to get a plan in place that will propel you to save more and feel more confident about your future. This doesn't have to be a multipage document — though if that's your speed, have at it. For the rest of us, a few short notes akin to a to-do list can work nearly as well.
"Some of the research on this hints at the fact that as long as you write it down yourself, it's likely to change your behavior," says Timothy LaPean, founder of Thoughtful Financial Planning in Minneapolis. "If you agree to something, even just by writing it down, you're much more likely to do it."
So how do you go about getting a plan on paper? Here are things you need to consider, and the data to gather for each:
Get a handle on your current finances
If you're a budgeter, this will come easy to you. If you're not, it might be the push you need to start, whether that means creating a rough framework for your income and expenses by hand or using a budgeting app to log everything.
What you want to get out of this exercise is a reasonable idea of what you're earning and spending now, so you can loosely project your income needs and expenses in the future.
What to write down: Your current monthly expenses and income, which can then be turned into annual figures.
This is kind of a crapshoot. You're unlikely to nail how much you want or need to spend in retirement. But making an educated guess is better than nothing.
To do that, you need to think about how each of your current expenses might change. Do you plan to pay off your mortgage before retirement? Cross it out. Do you think you'll travel more? Add in some padding for that. One can presume you'll have wiped out your student loans by then, but you'll still need basics like electricity. Consider that you'll no longer be saving for retirement, so you can remove that from your budget, but your health care costs may be substantially higher.
Going through your current budget is often enough to gain a rough idea of your future needs. What you're looking for is whether your current spending will change, and by how much. But if that exercise leaves you boggled, you may want to use a rule of thumb instead: Many experts say it's safe to plan to replace 80% of your annual preretirement income in retirement.
What to write down: The amount of income you'll need each year in retirement, based either on your projected expenses or the 80% rule.
According to data from the Employee Benefit Research Institute, less than half of workers have attempted to calculate their retirement needs.
Here's one reason: It's daunting. You'll likely get a number that scares you — an amount that is more than you ever imagined having to your name. But having that number in mind makes it much easier to save.
A retirement calculator or a 401(k) calculator will do most of the heavy lifting. Because you now have a rough idea of how much income you'll need in retirement, you can quickly plug in some numbers to get an estimate of the nest egg you should aim to build.
One of those numbers will require an estimate of how long your money needs to last — in other words, how long you will live. Make your best guess based on family history and your health status, or use a life expectancy estimator.
What to write down: Your total retirement nest egg goal, which will likely be terrifying and in the millions.
Start working your way there
Here's where the magic happens, LaPean says. "This is what planning really is: taking an abstract fantasy and making it into a tangible reality," he says.
Now that you have an end goal, you can work backward and figure out how much you need to save on a yearly, monthly or even weekly basis, based on your estimated annual investment returns and time horizon. A compound interest calculator can help with this.
LaPean suggests focusing on those shorter milestones. "You want the long-term plan underpinning everything, but it's OK to be making progress rather than to have completely solved your goals," he says.
To do that, look at how much you can save right now, and then line up opportunities to boost your ability to save in the future. That may mean making the most of raises or bonuses. It may be paying off a car loan and then making the decision to divert that payment into an IRA going forward, or signing up to have your 401(k) contributions automatically increased each year.
What to write down: There's a good chance you're not saving enough now, so write down how much you need to save each month, then list the steps you plan to take to get to that number, even if they're several years away. Examples: "Pay off my car loan of $310 a month in May 2017, then put that same amount toward retirement each month" or "Pay off student loan in 2019 and put $450 a month toward retirement."
Finally, post your newly written plan where you can see it, if that's the kind of thing that keeps you motivated, and revisit it regularly, making tweaks as your financial life evolves over time.
---
Get more smart money moves – straight to your inbox
Sign up and we'll send you Nerdy articles about the money topics that matter most to you along with other ways to help you get more from your money.