Do Morningstar Ratings Help You Find the Best Mutual Funds?
Many or all of the products featured here are from our partners who compensate us. This may influence which products we write about and where and how the product appears on a page. However, this does not influence our evaluations. Our opinions are our own.
Morningstar's mutual fund ratings debuted in 1985 and quickly became a popular metric amongst investors, advisers and fund families.
Star ratings provide a simple method of comparison for investors, and advisers can easily use a five-star rating as a selling point. Mutual fund families with well-rated products were essentially provided a free method of advertisement.
But what actually goes into this magical star rating? And what exactly does it tell you about a given fund? Should investors be focusing on another metric?
According to studies conducted by Morningstar and Vanguard, all evidence demonstrates that by looking for funds with a lower expense ratio, you'll do better than by seeking out funds with a great Morningstar rating.
How have Morningstar ratings changed?
It's been nearly three decades since Morningstar created their star rating system and it's gone through several alterations since its inception.
The original rating was intended to introduce, "the concept of risk- and cost-adjusted return to the average investor." Funds were divided into a few basic categories and risk was evaluated by comparing each fund's performance to that of the 90 day Treasury Bill. "If a fund's return exceeded this benchmark each month, the fund was deemed to be riskless."
Clearly, this was not a perfect method of determining a fund's riskiness, so in 2002, Morningstar changed its treatment of risk in the rating calculation. Before the shift, funds with highly volatile returns but good overall performance would be well rated. Now, the rating system has a focus on a fund's "expected utility."
Expected utility theory has two main premises:
Investors are more concerned about potential loss than an unexpectedly good return

Investors are willing to sacrifice some of their expected return in exchange for a greater certainty of return
By focusing on the expected utility of mutual funds instead of just their performance, Morningstar tries to account for how an actual investor views the assets held in their portfolio.
Another issue that Morningstar faced was the consistent outperformance of certain fund types. For example, value funds consistently outperformed growth funds. Now Morningstar has over 100 specific categories and only evaluates performance in relation to comparable funds.  In addition, each share class of a fund is evaluated separately since they impose different fee systems (and therefore provide different returns).
While the star rating system is entirely quantitative, Morningstar recently created an analyst rating system for funds. Their in-house analysts score funds based on 5 aspects: the investment process, historical performance, fund manager, parent firm, and current price. Using these metrics, the analysts rate each fund as Gold, Silver, Bronze, Neutral, or Negative.
What makes a 5 star fund?
Star ratings are determined by a mutual fund's "Morningstar Risk Adjusted Return", which is calculated monthly using the fund's historical returns and volatility. Funds are then compared against others in their category, and scores are determined using the following scale:

Each fund is given a star rating for the trailing 3, 5 and 10 year periods. The overall rating is then determined by weighting these ratings in one of three ways:
If a fund is 3-5 years old, its overall star rating will be the 3 year rating.

If a fund is 5-10 years old, its overall rating will be 60% the 5 year rating and 40% the 3 year rating.

If a fund is over 10 years old, its overall rating will be 50% the 10 year rating, 30% the 5 year rating, and 20% the 3 year rating.
How popular are these ratings?
Do investors really look at Morningstar ratings before they choose a fund? That's hard to say. What we do know is that every mutual fund screener is designed to provide investors with the information necessary to choosing a mutual fund. And Morningstar ratings are one of the first pieces of information displayed in the fund screeners of top brokerage firms.
Fidelity, Etrade, TD Ameritrade, Scottrade and T. Rowe Price are just some of the firms that believe investors are likely to invest in mutual funds with high Morningstar ratings. In fact, even FINRA's mutual fund analyzer features the star ratings as one of the key pieces of information investors should know about.
Are star ratings the best way to choose a fund?
Morningstar's ratings have been criticized for various reasons (past performance doesn't guarantee future results, they don't take into account the effect of new fund managers, etc.). This isn't particularly surprising; every popular rating system will come under attack at some point.
However, Morningstar's published a study analyzing how expense ratios and star ratings predict fund success. The results demonstrate that mutual funds with low expense ratios are almost always likely to produce favorable returns, whereas mutual funds with 5 star ratings only produce market-beating returns a fraction of the time.
"In every single time period and data point tested, low-cost funds beat high-cost funds." What could be said of Morningstar's ratings? "In general, 5-star mutual funds beat 1-star funds... although there were exceptions."
Vanguard ran a separate study of Morningstar's ratings and found somewhat less favorable results. The study analyzed fund returns as compared to their relevant style benchmarks over the 3 year period following each fund's rating. As you can see below, the lowest rated funds actually generated the greatest excess returns, while the highest rated funds generated the least.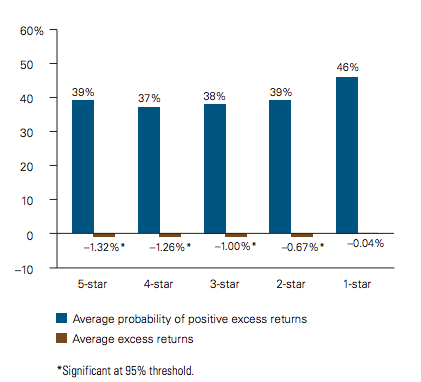 Vanguard's study also demonstrated that, "an investor had less than a 50–50 shot of picking a fund that would outperform regardless of its rating at the time of the selection."
Morningstar ratings serve a purpose: they easily let an investor get a sense of each fund's risk adjusted return. They also give you an idea of how well a fund performs relative to others in its category.
But frankly, the star rating system has its limitations, and investors should take note of other metrics - especially the fund's expense ratio. The idea that costs are important to a fund's performance is hardly new. In 1966, the economist William Sharpe stated, "all other things being equal, the smaller a fund's expense ratio, the better results obtained by its stock holders."
We want to hear from you and encourage a lively discussion among our users. Please help us keep our site clean and safe by following our
posting guidelines
, and avoid disclosing personal or sensitive information such as bank account or phone numbers. Any comments posted under NerdWallet's official account are not reviewed or endorsed by representatives of financial institutions affiliated with the reviewed products, unless explicitly stated otherwise.