How to Handle a Bad Mechanic
If you think a mechanic did a bad job or made a mistake, here's how you can request they fix it or give a refund.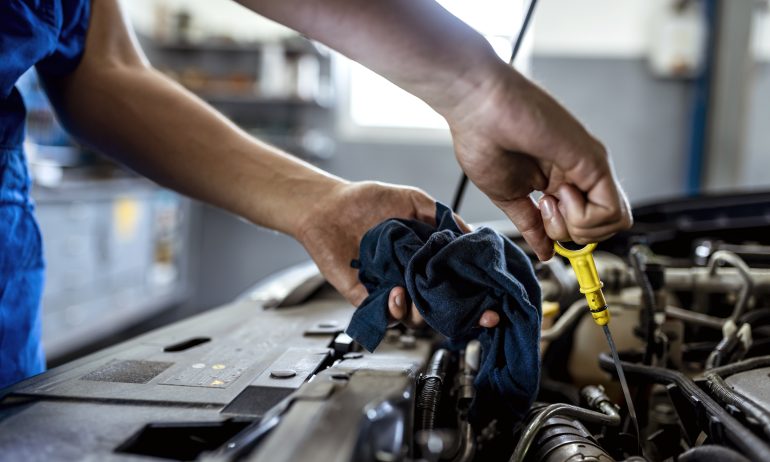 Many or all of the products featured here are from our partners who compensate us. This influences which products we write about and where and how the product appears on a page. However, this does not influence our evaluations. Our opinions are our own. Here is a list of our partners and here's how we make money.
Car trouble is frustrating on its own. Add a bad mechanic to the mix, and you've got the recipe for a major headache.
It is more likely that you have a bad repair than a bad mechanic. There is a difference between trial-and-error diagnosis of a problem and unnecessary work performed only for profit.
The good news is that most states have consumer protections in place to help you dispute issues with auto repairs. But the fastest way to resolve an issue is directly with the mechanic.
Here are the steps to handling a dispute with a mechanic and tips for making it a smoother process.
When you pay for work on your car, you should be able to request documentation of what work was performed and which parts were installed.
Make it a habit to get a full itemized receipt from mechanics when you have work performed on your car so that you know what you're paying for — and you have a record of what the mechanic says they did. Good documentation will list individual services, part numbers and labor. Each line item should have an individual price to explain how your total charge was calculated.
If any information on a receipt is not clear to you, ask the auto shop to explain the charge. Even if you aren't a car guru, you should leave the shop with an understanding of why particular work was done to your car, how it addressed the issue and why specific parts needed to be replaced.
Want to refinance your auto loan? See if you pre-qualify.
Just answer a few questions to get personalized results from our lending partners.
No mechanic is immune to the occasional mistake. If you think your mechanic made an error or hasn't performed the requested repair or maintenance properly, talk to them about it.
Explain why you think there is an issue, and be specific. For example, if a new issue popped up suddenly after the mechanic performed maintenance on your car, explain what the issue is and how it differs from the car's previous performance. If you took your car in for a repair and the vehicle is still having problems with the same system, make it clear that you don't think the issue was resolved.
Avoid being accusatory if you don't have solid evidence that something was done incorrectly. Instead, try to have a civil conversation, asking them to explain the work they did and address your concerns. Keeping the discussion calm will likely help you get more information about what might have gone wrong.
If the idea of talking to an argumentative mechanic makes you uncomfortable, ask a friend or family member to come along. Having someone else there might give you more confidence, and the mechanic might find it more difficult to argue with two people.
Make a case for a dispute
If the mechanic doesn't offer to fix their mistake for free or refund your money, it's time to consider how third parties can assist you. Pull together all of your information regarding the mechanic's work, including:
Any documentation of the work that was performed on the car.

Credit card statement if applicable.

Any written correspondence between you and the auto shop, including emails and text messages.

A list of dates of when you spoke with the auto shop and the names of employees you spoke to.
Include any additional information that you think is relevant to showing what work was performed and how you've tried to address the issue with the auto shop.
Talk with your credit card issuer about a chargeback
If you paid for the repair with a credit card, you have the option to request a chargeback. This is a service provided by credit card companies to protect you against fraudulent or unauthorized charges and allows you to dispute charges.
Your credit card issuer will want a detailed explanation of the situation and why you are disputing the charge. They are likely to ask for documentation to confirm that the dispute meets their criteria, so be prepared to answer questions and provide them with copies of information they need to process your claim.
Most credit card companies have a time limit for how quickly you must request a chargeback. Be sure to file a dispute claim within that time frame.
Research state protections for car owners
Car owners have certain legal protections regarding car repairs. If your credit card issuer is unable to assist you, a state agency might be able to support your pursuit of a refund.
Each state's consumer protection laws are different. For example, auto shops in South Carolina must clearly state on an estimate if parts are original equipment, aftermarket or used. And California residents have the right to request replaced parts be returned to them when work is completed.
The agency will likely need the same documentation you provided to your credit card issuer, so be prepared to put everything down in writing and submit documentation to support your claim.
Tips for disputing a mechanic's work
While you'll be understandably upset if you think your mechanic has taken you for a ride, following a few tips can make the process smoother for you.
Document everything. Get dates, names, every correspondence — and as much documentation from the mechanic as possible before you tell them you want to dispute their work. It might be more difficult to get the information you need if the auto shop knows you are going to use it against the mechanic.
Ask for clarification. Follow up if something is not clear in the paperwork. If you think information is missing from your estimate or receipt, ask if you can get a copy to complete your paperwork.
Be polite. It's tempting to communicate more aggressively when money is on the line, but keeping a calm tone and giving the auto shop the opportunity to discuss the issue might resolve the problem much sooner than having to go through your credit card issuer.
Know your rights. Call your state agency in charge of consumer protections to find out what laws are working in your favor. The agency should be able to point you to a resource to explain what protections are available for car owners who need to dispute auto repairs.
Get more smart money moves – straight to your inbox
Sign up and we'll send you Nerdy articles about the money topics that matter most to you along with other ways to help you get more from your money.