How to Make Your Car Last Longer
High demand and low inventory have increased new car costs. Save money by getting more miles out of your current car.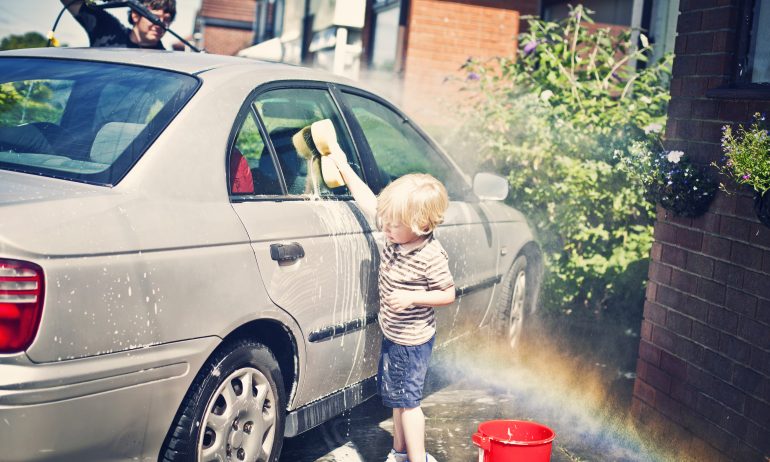 Many or all of the products featured here are from our partners who compensate us. This influences which products we write about and where and how the product appears on a page. However, this does not influence our evaluations. Our opinions are our own. Here is a list of our partners and here's how we make money.
Keeping your car running longer could be a financial life preserver during the coming years. That's because avoiding a new car means you can steer clear of a car payment and higher insurance premiums. And most cars are up to the task — according to Progressive, most cars hit the 200,000-mile mark, while good maintenance might squeeze up to 300,000 miles out of an engine.
But pushing your car to 100,000 miles and beyond requires a dedicated mindset. There's no magic trick to keep your car in perfect condition, so you'll need to stay on top of maintenance and take an interest in how it performs.
Here are some strategies to keep your car humming for a long, long time.
Buy a car that's built to last
One of the first things you can do to invest in your car's longevity is to buy a car that is known to last. Manufacturers including Toyota, Honda and GMC made the 2022 list of iSeeCars.com's longest-lasting car brands, but other brands that didn't make the top of the list advertise their models' reliability. Do your research on what type of car you need for your driving conditions and try to invest in one that is likely to last for you.
Treat your car like an investment
While you might like zipping and out of traffic, your car is paying the price every time you drive it like a race car. Here are few habits to avoid to help your car stay in its best shape:
Revving your engine can stress your engine, especially in cold weather when your car hasn't properly warmed up and lubricated your systems.

Accelerating too slowly can actually wear down your transmission. Try to find a happy medium when accelerating.

Braking hard and quickly will wear out your brake pads more quickly.

Driving at high speeds has the potential to wear down the smaller parts of your engine. Ideal speed for most cars is 40-60 mph.

Ignoring your parking brake can put extra stress on your transmission. Experts say to always use your parking brake when parking on an incline — and even when parking on flat terrain — to reduce stress on your transmission. Be sure to engage the parking brake before putting it into park.
Perform routine maintenance
Nothing can replace good old routine maintenance when it comes to making your car last longer. By sticking to your car's maintenance schedule outlined in your car's owner's manual, you're giving it the best shot at a long life with consistent performance. Here are a few common routine maintenance items that pop up for all cars, but be sure to read about your car's needs to understand when and how to best maintain it.
Change your oil. This isn't a negotiable item when it comes to a healthy car. Check your owner's manual for the recommended oil change interval, which is likely to be around every 5,000-7,500 miles with modern cars. Some newer vehicles will alert you when an oil change is needed so you don't forget. Regardless of mileage between appointments, you should have your oil changed at least twice a year.

Don't skip a new air filter. While it's unlikely you need to change your air filter with every oil change, you do need to replace it every 15,000-20,000 miles to keep dust and debris from getting into your engine and affecting its performance.

Show your tires some love. Tires wear down with every mile you drive, but they can also deteriorate over time regardless of how many miles they've driven. Check your tires regularly for signs of tread loss, uneven wear or cracking. And have them regularly rotated to help them wear more evenly, which can help your car drive more efficiently. When the time comes, don't skip replacing your tires to keep your car driving safely.
Keen on doing some maintenance yourself? You could save money on the labor costs of having a mechanic do it for you. You can learn how to do routine items, like changing your oil and replacing the windshield wipers. YouTube is a great resource for learning such skills.
Don't skip the big mileage items
Manufacturers often recommend having your entire system checked every so many thousand miles and call the maintenance something like a "60,000-mile service." These checkups vary in cost based on the make and model of your car and what needs to be done, and they can run as high as $800 depending on the manufacturer. But they can sometimes spot system degradation early.
But rather than blindly accepting the recommendations of a dealership service advisor, who often tacks on extra repair items, find out exactly what's required by reviewing your maintenance schedule.
Having a mileage service performed doesn't warranty your systems against later issues. So if your AC system is working well during the service but quits six months later, you'll be out the cost of the service plus the cost of fixing the AC system.
Keep up on fluids and wear items
Your car has a lot of moving parts, and keeping them lubricated is a significant part of a good maintenance plan. Oil keeps the engine from overheating and eventually seizing, while transmission fluid lubricates the inner parts of the transmission and keeps it cool. Other fluids play critical roles in your car's performance, including differential oil, engine coolant, power steering fluid and brake fluid. Letting these fluids run low can cause damage to your car's systems, so be sure to keep them topped off at all times.
Something as minor as a humming noise when you turn on the air conditioning or a slight rattle when you go over speed bumps can be a sign that something bigger is happening in your vehicle. If there's a new sight, sound or smell with your car that isn't common, have it checked out. This includes any warning lights, no matter how minor you think they are. By catching issues as early as possible, you better your chances of avoiding major issues later.
Protect it from harsh weather conditions
Certain climates can affect your car's exterior, and in some cases, its performance, so keeping it away from extreme hot and cold temperatures, harsh and constant sunlight, salty environments or roadways and other relentless conditions can help your engine run more smoothly and maintain the exterior for longer.
If you do live in any of these conditions or drive your car so that it is exposed to a lot of weather or chemicals that could affect the paint, wash your exterior regularly to remove any residue and to protect your paint.
Give your car a once-over
Even if you don't know a lot about how your car works, give it a once-over every now and then to look for physical signs of trouble. Check the tires for low pressure and potential wear. Test the blinkers, headlights and tail lights to ensure they're working properly. Take a look under the hood and check for hoses or rubber parts that have cracked, leaking fluid and corrosion on metal parts. Listen to how it sounds when it idles and when you drive it. By taking the time to really get familiar with your car, you're more likely to notice when something doesn't look right or if the car starts to drive differently.
Invest in your car's future
If you plan on driving your car for several more years, you'll want to enjoy the drive. So invest some time in keeping it clean and looking good, which will make you more likely to feel some attachment when a newer model passes you on the road.
Wash it regularly. This keeps the paint and body clean of dirt, bird poop, bug guts and other nasty things that accumulate every time you drive. This will help preserve the paint.
Clean out the interior. After all, this is where you spend most of the time when you drive. Vacuum the seats and floorboards, toss out any trash and wipe down surfaces to give yourself a more enjoyable experience.
Take care of little items that you don't think are worth fixing. A chipped or cracked windshield might not seem like something worth addressing if you can still see well enough to drive, but you'll be surprised how much a simple fix like a new windshield can improve a car's appearance.
Some insurance companies will replace a damaged windshield for much less than you might expect. Talk with your agent before scheduling the work to see if you can get a lower quote with coverage.
Consider refinancing. If you have two years or more of payments remaining, refinancing your car loan may be worth the effort. You could lower your payment or speed up the payoff. You can even lower your interest rate, which will save you money, so your car costs you less during its remaining years. You'll have to meet vehicle age and mileage requirements, but most refinancing lenders can give you an answer in a few minutes.
Want to refinance your auto loan? See if you pre-qualify.
Just answer a few questions to get personalized results from our lending partners.
Get more smart money moves – straight to your inbox
Sign up and we'll send you Nerdy articles about the money topics that matter most to you along with other ways to help you get more from your money.