RV Loan Calculator: Monthly Payments on Motorhomes, Campers and Caravans
This RV loan calculator shows estimated monthly loan payments so you can determine how they fit into your budget.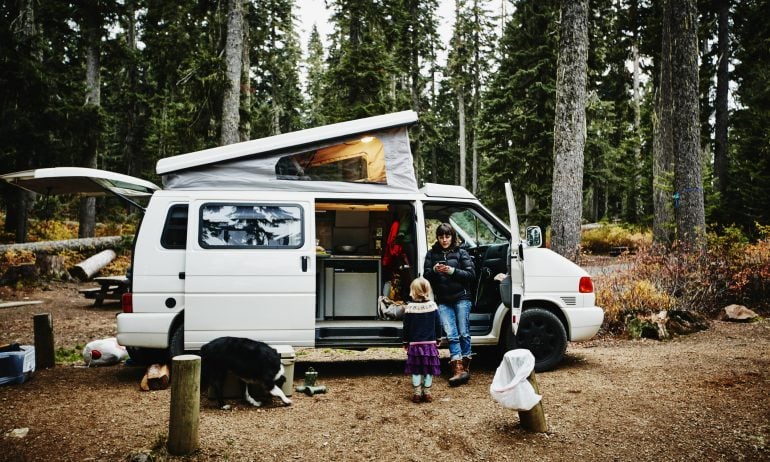 Many or all of the products featured here are from our partners who compensate us. This may influence which products we write about and where and how the product appears on a page. However, this does not influence our evaluations. Our opinions are our own. Here is a list of our partners and here's how we make money.
An RV loan calculator can show you what your monthly payments on an RV loan may be, as well as how much you'll pay in total interest.
Use this RV loan calculator to estimate the cost of financing a new motorhome, camper or caravan. Enter the loan amount, how long you need to repay the loan and what annual percentage rate you expect. If you're not sure what to enter in any category, check the section below the calculator for examples.
You can adjust the loan amount, term or rate to see different results in the calculator. Here's what to expect from an RV loan.
Loan amount: This is the amount you expect to borrow. Unsecured RV loans range from $1,000 to $100,000, which is the maximum amount you can enter into this calculator. Secured loans can be more than $300,000. Have an estimate of the RV's purchase price before you start shopping for a loan, so you know which lenders offer large enough loans.
Repayment term: This is how many years you'll need to repay the loan. Unsecured RV loan terms are usually two to seven years, while secured RV loan repayment terms can be up to 20 years. You can enter any repayment term into this calculator. You'll pay more total interest with a longer repayment term, while a shorter repayment term means you'll have higher monthly payments.
Annual percentage rate: The  is the interest rate you expect to get plus any fees. Your credit score and history, as well as your income and existing debts help determine rates on unsecured loans. With a secured loan, the RV's age and mileage also factor into your rate.
Here are average estimated APRs on unsecured , based on FICO score ranges:
Source: Average rates are based on aggregate, anonymized offer data from users who pre-qualified in NerdWallet's lender marketplace from Jan. 1, 2020, to Dec. 31, 2020. Rates are estimates only and not specific to any lender.
An RV loan can be secured by the RV you're purchasing or unsecured with no collateral.
Secured RV loans are more common at banks and credit unions. These loans can have a required or optional down payment, which would lower your loan amount. Because the RV is collateral for the loan, a lender can take it from you if you fail to make payments. Some banks and credit unions allow you to get preapproved to see a potential loan offer, which you can use to negotiate.
Unsecured RV loans are mostly found at online lenders. These loans don't require collateral or a down payment, but they may have higher rates than secured loans.
You can for an unsecured loan to see what rates, terms and loan amounts you may be approved for without affecting your credit score. NerdWallet lets you pre-qualify with multiple online lenders.
: See what rate you could qualify for on a personal loan, based on your credit score.
: Find out your debt-to-income ratio, which most lenders consider when you apply for a personal loan.
: Check estimated interest rates and payments for a personal loan, based on your credit score.