7 Reasons to Go to College
Why go to college? The data shows you'll earn more, have more support starting a business and more.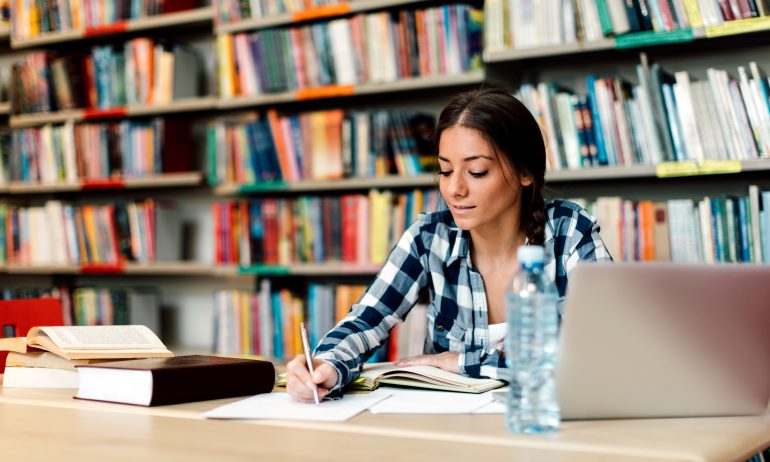 Many or all of the products featured here are from our partners who compensate us. This may influence which products we write about and where and how the product appears on a page. However, this does not influence our evaluations. Our opinions are our own. Here is a list of our partners and here's how we make money.
Enrolling in college is a significant decision considering the time commitment and expense, and the good news is that attaining a higher education offers many benefits.
Getting some level of education after high school — whether at a traditional four-year school or a community college, or through a career-specific certificate program — typically brings higher pay. And that payoff goes beyond salary, including advantages like social connections and employer-provided health insurance.
It's important to finish college if you start it, especially if you take on debt to pay for it. Those who drop out of college don't reap as many benefits and are four times as likely to default on their student loans compared with those who graduate, according to the Brookings Institution, a nonprofit research organization focused on public policy.
Consider these benefits if you're debating reasons to go to college.
1. Increased earning potential
It pays to get a higher education, whether it's a bachelor's degree or something beyond that.
The median weekly earnings for someone with a bachelor's degree were $1,305 per week, compared with $781 per week for those with only a high school degree, according to 2020 data from the U.S. Bureau of Labor Statistics. Someone with a master's degree earns even more, with an average of $1,545 per week.
An education also improves your job security, as you're less likely to be unemployed. In April 2020, the unemployment rate for those with a bachelor's degree was 5.5%, while it was 9% for those with just a high school diploma, according to the statistics bureau. The average unemployment rate when the data was collected was 7.1%.
3. Better chance of employer-provided health insurance
Getting a college degree means you're more likely to have employer-provided health insurance compared with those who don't, according to the College Board's Education Pays 2019 study. Among holders of bachelor's degrees, 64% had employer-provided health insurance, while 52% of those with just a high school diploma did.
In 2021, the average annual health care premium for single individuals was $7,739, according to the Kaiser Family Foundation, a nonprofit focused on health policy and health care.
4. Valuable skill set to gain
Going to college doesn't always mean getting a four-year, or bachelor's, degree. You can also obtain a certification or associate degree, equipping yourself with the skill set to become, for example, a dental assistant or welder. These certificates or degrees typically take two years or less to complete.
Those with an associate degree had median earnings of $938 per week, or around $150 more than someone with just a high school education, according to the statistics bureau.
5. Expanded career options
More and more jobs paying at least $35,000 require a college education, and getting a degree can mean expanding your job options. According to a 2018 study from the Georgetown University Center on Education and the Workforce, 80% of well-paying jobs require training after high school, including certifications or a bachelor's degree.
The study also found that, beginning in 2008, more well-paying jobs were going to workers with college degrees than those who lacked a degree.
6. Support if you launch a business
In recent years, more universities have launched academic incubators, or university-affiliated programs that provide support to student-run startups, including through mentorship or education, and in some cases, access to investors.
Academic incubators are offered by schools such as the University of Michigan, Emory University, the University at Buffalo, the University of Washington and many others.
7. Opportunity to expand your horizons
Even if you want to study subjects like philosophy and sociology — topics that are interesting but don't lead clearly to one particular occupation — college can still be worth it. A 2020 survey from the American Association of Colleges and Universities found that 92% of employers said it was either very important or somewhat important that college students be exposed to a "wide variety of academic topics and disciplines."
Spot your saving opportunities
See your spending breakdown to show your top spending trends and where you can cut back.