What's the Average Student Loan Debt for a Bachelor's Degree?
The average debt for a bachelor's degree among the class of 2020 was $28,400.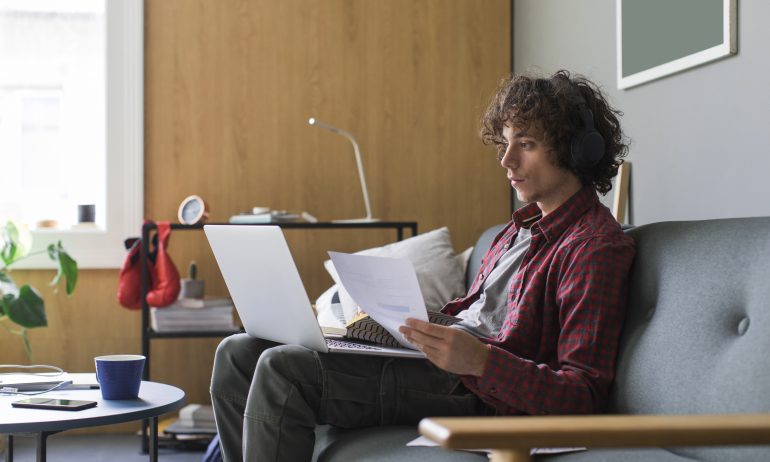 Many or all of the products featured here are from our partners who compensate us. This influences which products we write about and where and how the product appears on a page. However, this does not influence our evaluations. Our opinions are our own. Here is a list of our partners and here's how we make money.
The average loan debt for a bachelor's degree among the class of 2020 was $28,400, according to the most recent data available from College Board.
The amount of debt you take on for college will depend on a variety of factors. The most important factors to consider are where you attend and how much you can afford to pay out of pocket.
Loans are necessary for a majority of undergraduate students: About 55% of the class of 2020 graduated with student debt, College Board found.
Here's what else you need to know about typical student loan debt for a bachelor's degree:
How much debt will I need to take on during undergrad?
The amount you borrow for a bachelor's degree will largely depend on factors such as your ability to pay out-of-pocket, the type of school you attend and whether you're an in-state or out-of-state student.
Typically, public colleges will be cheaper than private ones, but you might get more financial aid at a private school that could make it cheaper to attend than a public one. According to College Board research, these were the average tuition and fees of colleges for full-time students in the 2022-2023 academic year:
Public four-year in-state: $10,950.

Public four-year out-of-state: $28,240.

Private nonprofit four-year: $39,400.
Here are additional factors that will affect your debt load:
Your ability to pay without loans. If you can get scholarships, grants, work-study or have income or savings from family, you can decrease the amount you borrow.

The school's location and your own living accommodations. Living off campus or at home might cheaper than paying for four years of room and board, depending where you attend school.
How much debt can, and should, I take on?
Before you consider borrowing, make sure to complete the Free Application for Federal Student Aid, or FAFSA, which is the key to unlocking free aid like grants, scholarships and work-study, as well as federal loans.
If you do need loans to close a payment gap, the sky isn't the limit. For an undergraduate degree, federal student loan borrowers can borrow up to the following amounts:
Dependent undergraduate students

$5,500 overall; $3,500 subsidized

$6,500 overall; $4,500 subsidized

$7,500 overall; $5,500 subsidized

$31,000 overall; $23,000 subsidized

Independent undergraduate students

$9,500 overall; $3,500 subsidized

$10,500 overall; $4,500 subsidized

$12,500 overall; $5,500 subsidized

$57,500 overall; $23,000 subsidized

Graduate and professional students (unsubsidized only)

$138,500, including undergraduate loans
Private student loan limits for undergraduate education will vary by lender, but generally you can't take on more than your school's total cost of attendance minus other financial aid.
Just because you can take on that much debt doesn't mean you should. In practice, aim for an amount that will ensure payments are manageable — ideally, monthly payments should be less than 10% of your projected after-tax monthly income for your first year out of school.
Say your salary out of college is $50,000 a year — roughly the average annual earnings for new bachelor's degree-holders, according to the National Association of Colleges and Employers. That means you shouldn't be paying more than about $279 a month toward student debt.
Average Student Loan Amounts by Debt Type
$19,928: Associate Degree Nursing (ADN)

$23,711: Bachelor of Science in Nursing (BSN)

$47,321: Master of Science in Nursing (MSN)
Spot your saving opportunities
See your spending breakdown to show your top spending trends and where you can cut back.