What's the Average Parent PLUS Loan Debt?
The average parent PLUS loan debt is $29,324.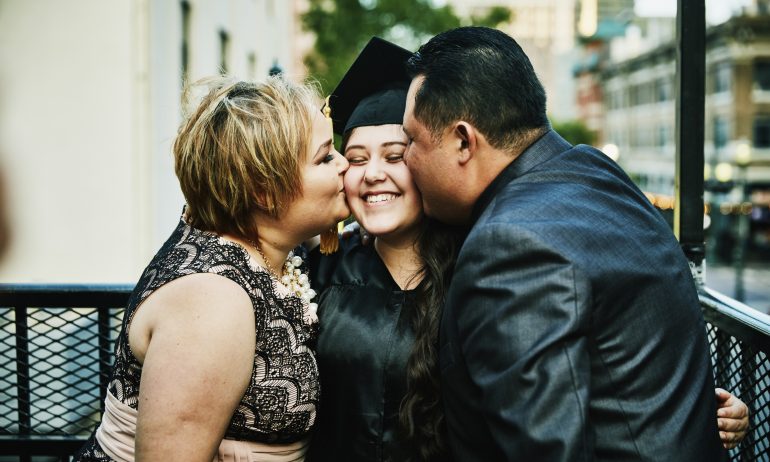 Many or all of the products featured here are from our partners who compensate us. This influences which products we write about and where and how the product appears on a page. However, this does not influence our evaluations. Our opinions are our own. Here is a list of our partners and here's how we make money.
The average outstanding parent PLUS loan debt is $29,324, according to federal loan data.
Parent PLUS loans are federal direct loans parents can use to pay for their dependent child's education. They're often used after students have exhausted their own federal student loan limits, but this is not always the case.
In order to qualify for PLUS loans, parents must not have adverse credit history — it's the only federal loan type that assesses creditworthiness. But it does not assess a parent's ability to repay the debt, which starts right after the loan is disbursed (parent PLUS borrowers do not have a grace period).
Unlike other federal direct loans, such as the ones students take on for undergraduate education, PLUS loans have higher limits — up to the cost of attendance minus other financial aid. They also carry higher interest rates: 7.54% for 2022-23 for PLUS loans versus 4.99% for federal direct undergraduate loans.
Here's what else you need to know about parent PLUS debt and taking on these loans.
Get pre-qualified in just 3 minutes with Credible
Check multiple student loan lenders to get accurate, pre-qualified rates with no impact to your credit score.
How much PLUS debt are parents taking on?
The majority of a student's undergraduate bill is paid by parents, with 43% of the cost being covered by parents' income and savings and 8% coming from money parents borrowed, according to a 2022 report by the private student lender Sallie Mae.
The amount parents borrow has grown: Parent PLUS loan debt increased 42% from 2007-08 to 2017-18, the Urban Institute found. This growth correlates with college cost increases: up 25% (adjusted for inflation) from 2007-08 to 2017-18, according to federal data. Over the same period, wages did not keep pace: Median household income increased only 3.6% from 2007 to 2017, according to data adjusted for inflation from the Federal Reserve Bank of St. Louis.
The total parent PLUS debt is $108.5 billion among 3.7 million borrowers, according to federal data as of the fourth quarter of 2022.
There's disparity among who is taking on PLUS loan debt: Low-income Black parents, for example, borrow PLUS loans at a higher rate than low-income white parents, according to New America, a public policy think tank that studies education. Children of low-income Black parents are also more likely to be enrolled at lower-cost four-year public institutions than at private and for-profit schools.
How much debt should you take on for your child?
Make sure your child submits the Free Application for Federal Student Aid, or FAFSA, before you consider taking on debt. It's the key to accessing federal, state and college grants, scholarships and work-study. Your child's financial aid award letter will also include federal student loans, like parent PLUS loans, which you and/or your child can choose to accept.
If there's a gap to fill in financial aid, then consider PLUS loans or private loans for parents. Private loans will also assess your creditworthiness and ability to repay debt, but you won't be able to access income-contingent repayment or opportunities for forgiveness. Your other option is to co-sign a private student loan in your child's name, but you'll still be legally responsible for the debt. Taking on any student debt will impact your credit history.
PLUS loans have fixed interest rates, which will stay the same through the life of the loan. Private loans for parents have either fixed rates or variable rates that will change over time.
Just because you can take on the entire cost of attendance, minus financial aid for your child, doesn't mean you should. If you must borrow, aim for an amount that will ensure payments are manageable — monthly payments less than 10% of your discretionary income. Use a student loan affordability calculator to figure out what monthly payments might look like.
Average Student Loan Amounts by Debt Type
$19,928: Associate Degree Nursing (ADN)

$23,711: Bachelor of Science in Nursing (BSN)

$47,321: Master of Science in Nursing (MSN)
Get pre-qualified in just 3 minutes with Credible
Check multiple student loan lenders to get accurate, pre-qualified rates with no impact to your credit score.
Spot your saving opportunities
See your spending breakdown to show your top spending trends and where you can cut back.