What Is the Average Nurse Salary?
Registered nurses make $80,000 on average, but nursing salaries vary by specialty, education and location.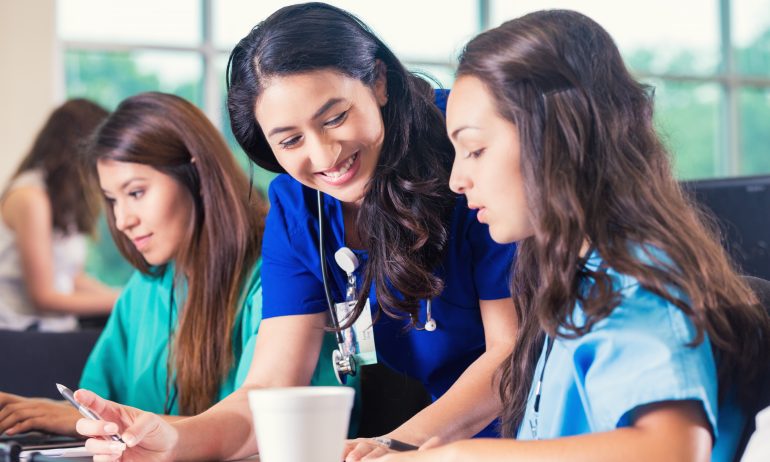 Many or all of the products featured here are from our partners who compensate us. This may influence which products we write about and where and how the product appears on a page. However, this does not influence our evaluations. Our opinions are our own. Here is a list of our partners and here's how we make money.
Registered nurses earn an average salary of $80,000 per year, according to a 2019 study by the online medical resource Medscape. Nurses who earn hourly wages instead of a salary make slightly less overall, averaging $78,000 annually.
But for all nurses, salaries vary greatly depending on their specific job. Here are the current median salaries — meaning half of nurses earn more than these amounts and half earn less — according to the Bureau of Labor Statistics.
Nursing assistants: $28,530 annual salary.

Licensed practical nurses: $46,240 annual salary.

Nurse anesthetists, nurse midwives and nurse practitioners: $113,930 annual salary.
Many additional factors can affect the average nurse salary, including the level of education and location. If you plan to take out nursing student loans or have already done so, you'll ideally earn enough so your debt isn't more than 10% of your after-tax take-home pay.
Nursing salaries by education level
The average salary for a nurse typically rises if you spend more years in nursing school. For example, you can become a nursing assistant in a matter of months, but you'll earn the least among nursing professionals on average. Alternatively, it may take close to a decade to become a nurse practitioner, but your average salary stretches to six figures.
While getting a master's degree should increase your earnings, the salary difference is narrower between registered nurses who earn a two-year associate degree (ADN) and those who earn a four-year bachelor's degree (BSN). Medscape found that the average ADN RN and BSN RN salaries differ by just $5,000: $75,000 for ADNs and $80,000 for BSNs.
The jump is substantially larger if you go from being a licensed practical nurse, or LPN, to an RN. The average LPN salary of $53,000 is $22,000 less than the average salary for an ADN RN.
Nursing salaries by location
The average nurse salary can range from $70,000 to $96,000 depending on where a registered nurse lives, according to Medscape. You'll earn the most in states in the west, such as California, Hawaii and Oregon. Nurses in southern states, including Alabama, Kentucky and Mississippi, make the least.
Median salary data from the U.S. Department of Labor supports these findings for other nursing professions. For example, if you plan to be a nursing assistant in California, you can expect a median salary of $33,070; in Alabama, that number drops to $23,290. Nurse practitioners in those two locations have median salaries of $126,890 and $95,010, respectively.
Paying student loans on a nurse's salary
Graduate nursing degrees increase your earning power but add to your student debt. MSNs finish their programs with almost twice as much nursing student debt as BSNs ($47,321 vs,$23,711), according to an analysis of Department of Education data.
If your nurse's salary doesn't cover your debt: Opt for an income-driven repayment plan. Income-driven plans calculate your payment amount based on your family size and discretionary income. These plans extend your repayment term to 20 or 25 years and forgive any remaining debt after that point.

If you earn enough to make your payments: Look for opportunities to pay off your loans faster, including refinancing any high-interest graduate loans from nursing school. To refinance, you'll need a credit score in the high 600s and a strong debt-to-income ratio, or a co-signer who meets these qualifications.
Spot your saving opportunities
See your spending breakdown to show your top spending trends and where you can cut back.