How Many Years Is Nursing School?
You may spend a few months or many years in nursing school depending on the job you want.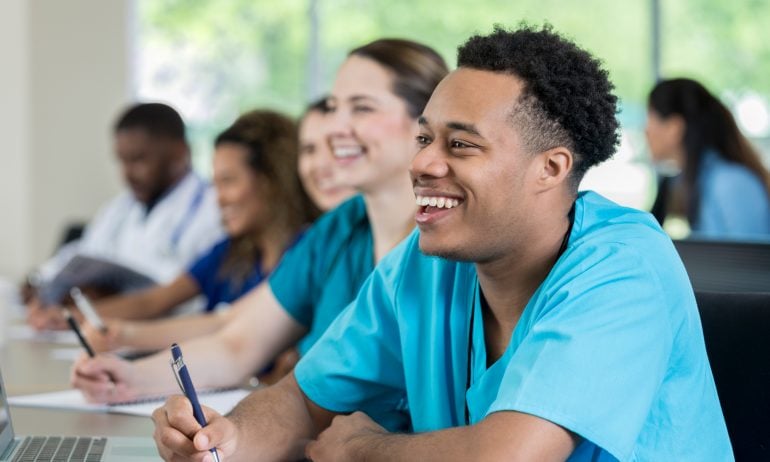 Many or all of the products featured here are from our partners who compensate us. This may influence which products we write about and where and how the product appears on a page. However, this does not influence our evaluations. Our opinions are our own. Here is a list of our partners and here's how we make money.
How many years you'll spend in nursing school depends on what type of education you need to get the job you want:
Some programs condense the number of years of nursing school to save you time and money. For example, bridge programs allow registered nurses with an associate degree to earn a bachelor's degree without spending an additional four years in nursing school.
Entry-level nursing jobs require the least amount of time in school. Nurse assistant programs are the quickest path to a career in nursing, with certificate programs typically lasting less than a few months.
Nurse assistant duties are limited to basic services, like checking patient vital signs. Licensed practical nurses (LPNs) — sometimes called licensed vocational nurses (LVNs) — may be able do more advanced tasks, such as running routine tests or maintaining patient records.
Taking on those additional duties requires passing the NCLEX-PN exam and spending extra time in nursing school. LPN certificate and degree programs typically last about one year.
Registered nurses (RNs) are a step above LPNs and can handle tasks that LPNs may not be allowed to, like distributing medication. You can become an RN in two ways:
While getting an ADN requires less time in nursing school, some employers may prefer or require nurses with a BSN degree. You'll also need a BSN if you wish to pursue a master's in nursing.
Differences in nursing salaries between ADNs and RNs are minimal. All RNs must pass the NCLEX-RN exam.
If you have a bachelor's degree — but not a BSN — and want to become a registered nurse, accelerated BSN programs are available. These typically last less than two years.
Advanced practice registered nurses, or APRNs, can include nurse midwives, nurse anesthetists, nurse practitioners and nurse educators.
The number of years an APRN spends in nursing school will depend on what kind of degree your speciality requires:
Many schools offer part-time graduate nursing programs. If you work while pursuing an advanced degree, you could easily extend your number of years spent in nursing school to double digits.
The biggest benefit to spending more time in school is a better : LPNs have a median salary of $46,240, but that number for a nurse with an MSN — such as a nurse anesthetist — is $113,930 per year, according to the Bureau of Labor Statistics.
But more time in school also likely means more .
Nurses in graduate programs finish school with an average debt of $47,321, according to an analysis of Department of Education data. That's on top of any undergraduate debt you have.
No matter how long you plan to spend in nursing school, take the following steps to manage any potential debt: