CommonBond vs. SoFi: Which Is Better for Refinancing Student Loans?
If CommonBond and SoFi offer you the same refinance rate, choose the loan that best fits your repayment needs.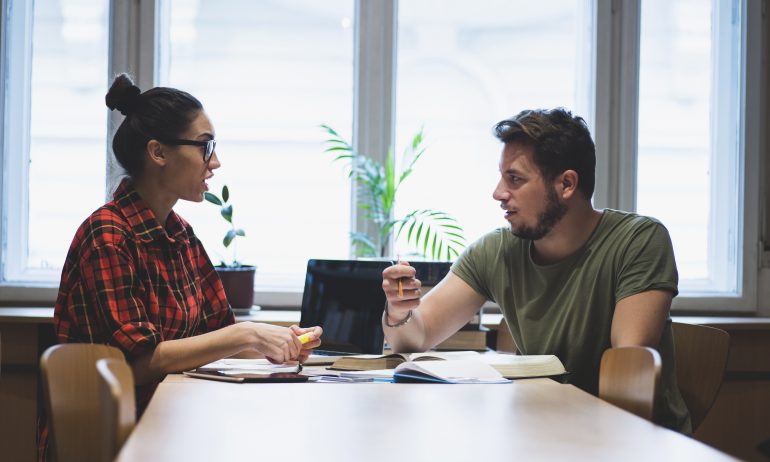 Many or all of the products featured here are from our partners who compensate us. This may influence which products we write about and where and how the product appears on a page. However, this does not influence our evaluations. Our opinions are our own. Here is a list of our partners and here's how we make money.
If you're shopping for a student loan refinance lender, CommonBond and SoFi are strong options. NerdWallet gives both five stars and rates their refinancing loans among the best overall.
The right choice is the one that saves you the most money.
But if you're debating CommonBond vs. SoFi because their interest rates are similar, compare features like eligibility criteria and options to avoid default to help decide which is better for you.
CommonBond vs. SoFi refinancing at a glance
| | |
| --- | --- |
| | |
| | Check Rate |
| | |
| | |
| | |
CommonBond vs. SoFi key features
Neither SoFi nor CommonBond is fully transparent about its specific financial requirements. But SoFi at least refinances loans for borrowers in a wider range of situations.
For example, you won't be able to refinance with CommonBond if:
You don't hold at least a bachelor's degree.

You have more than $500,000 to refinance.

You want to refinance during a medical or dental residency.
NerdWallet recommends prequalifying with multiple lenders before you apply. That way, you'll know if you're likely to be approved and at what rate without affecting your credit.
Options for struggling borrowers
You'll need to be in good financial shape to be eligible to refinance student loans. But if your situation changes, lender support can be crucial.
If you can't afford payments, CommonBond will let you postpone them for up to 24 months via forbearance. That's twice the industry standard of 12 months, which SoFi offers.
CommonBond has also offered unlimited natural disaster forbearance due to the ongoing pandemic. Most lenders, including SoFi, have offered 90 days as private student loan relief.
Refinancing at a lower rate is a great way to pay off student loans fast. You can speed things up even more by increasing your monthly payment amount.
SoFi and CommonBond both help with this by letting you automate greater-than-minimum payments. But SoFi also allows biweekly payments via autopay, while CommonBond doesn't.
Another strategy to get rid of loans is to put found money toward them, like from a raise or other financial windfall. With SoFi, you can earn up to $10,000 by referring individuals to the lender's financial products, which include student loans, personal loans and investment accounts. CommonBond offers $200 for each student loan referral.
SoFi and CommonBond have the same set of repayment terms: 5, 7, 10, 15 or 20 years. If you want a custom length — for example, 8 or 12 years — to pay off your loans quicker, compare SoFi vs. Earnest.
Many student loan borrowers qualify to refinance on their own. But adding a co-signer to your application may be necessary if you recently graduated or want to get the best rate possible.
If you need a co-signer, CommonBond has the edge over SoFi. With CommonBond, you can release your co-signer after making 36 on-time payments. SoFi does not offer co-signer release, meaning you'd need to refinance again without your co-signer to let them off the hook.
CommonBond will also discharge the loan if your co-signer dies or becomes totally and permanently disabled, which is unique among refinancing lenders.
If you're looking for more than a new student loan, SoFi provides additional services.
SoFi is similar to a traditional financial institution, offering a range of money management accounts and lending products with discounted rates for its members. If you take out a loan from SoFi, you can also work with a certified financial planner or career coach and attend in-person events.
CommonBond has unique extras, but they're largely focused on education and student loans.
Most notably, CommonBond partners with the international nonprofit Pencils of Promise to fund a child's education whenever the company makes a loan. Its SmartSave service can also automatically deposit monthly savings from your refinancing loan into an account with high-yield savings.
CommonBond vs. SoFi: The bottom line
CommonBond is best if you want consumer-friendly features, like options if you fall behind on payments. But if you can't qualify with CommonBond — for example, you want to refinance with an associate degree — SoFi is a great alternative that offers fast payoff and many member benefits.
CommonBond and SoFi are also good choices depending on your specific refinancing goals. Compare their products to other lenders in the following instances to get the best deal possible:
Spot your saving opportunities
See your spending breakdown to show your top spending trends and where you can cut back.