Have a Car on Campus Or Not? It'll Cost You Either Way
Having a car on campus means budgeting for a parking pass, insurance and gas.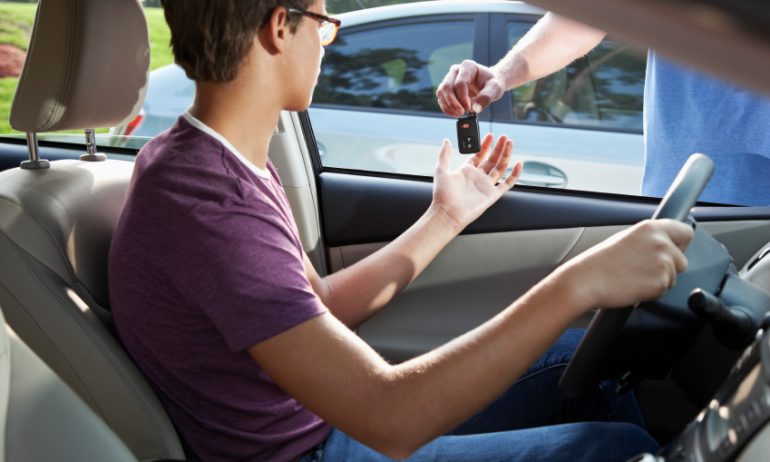 Many or all of the products featured here are from our partners who compensate us. This may influence which products we write about and where and how the product appears on a page. However, this does not influence our evaluations. Our opinions are our own. Here is a list of our partners and here's how we make money.
Before you head off to college, you may be considering having a car on campus. It would make it convenient to get to your off-campus job or internship, and it would be nice to have for those late-night Taco Bell and fro-yo runs. » MORE: College survival guide for your money
Of course, you'll have to pay for parking, insurance and gas if you have a car. And without one, you'll need to budget for the alternatives: buses, trains, cabs and ridesharing apps.
So before you decide whether to buy a campus parking pass or leave your car at home, compare the costs of each option.
The costs of having a car on campus
First things first: Check with your school's transportation office for details about the campus parking policies. Some schools, including Syracuse University and the University of Miami, don't allow freshmen to bring cars.
If you get the go-ahead to bring a vehicle, here are some costs to prepare yourself for:
Parking fees: Many colleges require students to have a pass in order to park on campus. The passes can cost hundreds of dollars per semester, depending on your school and the location of your designated lot. On top of that, there can be replacement fees if you lose your pass, plus parking tickets, which you're bound to get at least once.
Insurance: Generally, if you're bringing your car to a school more than 100 miles from home, you need to notify your insurer. And if you're bringing your car to an out-of-state school, you may need to adjust your insurance policy because auto insurance requirements vary by state. Depending on where you're heading, the price of your policy could go up or down. You could end up saving money by switching to a new insurer, so compare car insurance quotes to make sure you're getting the best deal.

Gas: Your gas costs will depend on how much you use your car. To offset them a bit, ask your friends to pitch in a few bucks if you find that you're becoming the go-to driver in the group.
The costs of not having a car on campus
Leaving your car at home is not without its costs. Here are some expenses to expect:
Public transportation passes, cab fares and ridesharing apps: If a bus or subway is a convenient way to get around your campus or college town, look into prices for a monthly or annual pass. You may get lucky — students at the University of Michigan, for example, can ride city buses for free. And for a safe ride home after a night out, call a cab or book an Uber. If you plan to rely on this option regularly, budget for it; ridesharing apps especially can get pricey during peak hours.
Insurance: Even if you don't bring a car to college, your parents will need to keep insurance on it. They may be able to get a discount on the policy since you won't be driving regularly. Ask your insurer whether it offers a "student-away-at-school" discount. Companies including Liberty Mutual, State Farm and Travelers do.

Transportation home: Depending on how far you live from campus, you'll need to figure out a way to get home for weekend visits and holiday breaks. Whether that's chipping in $20 bucks for gas to catch a ride with a friend or booking a plane ticket, don't forget to account for this cost when you're doing the math.
Take 10 minutes to sit down, open your phone's calculator app and do a rough calculation of what it would cost you to bring your car to college or leave it at home. There's no wrong answer, as long as you make an informed decision.
This article was written by NerdWallet and was originally published by USA Today College.
Spot your saving opportunities
See your spending breakdown to show your top spending trends and where you can cut back.