Navient Student Loan Cancellation: What Borrowers Need to Know
Cancellation affects those with private debt originated between 2002 and 2010 that defaulted and were charged off.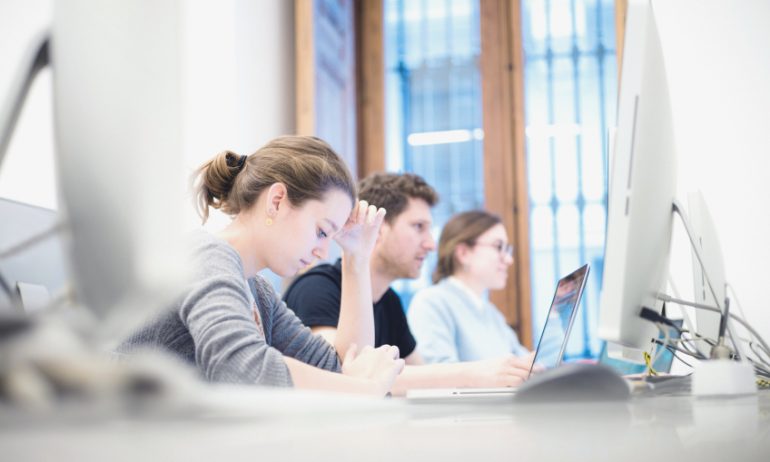 Many or all of the products featured here are from our partners who compensate us. This may influence which products we write about and where and how the product appears on a page. However, this does not influence our evaluations. Our opinions are our own. Here is a list of our partners and here's how we make money.
Navient Corp., once a major servicer of private and federal student loans, will deliver $1.7 billion in debt cancellation to approximately 66,000 private loan borrowers as part of a settlement with 39 state attorneys general.
In addition, 350,000 federal student loan borrowers will receive about $260 each dispersed from a total of $95 million.
The settlement, announced Jan. 13, 2022, comes after five years of litigation with states. A similar lawsuit filed by the Consumer Financial Protection Bureau is ongoing.
Navient was, at one time, the largest student loan servicer after Sallie Mae, its parent company, shifted its portfolio there in 2014. Navient ended its federal student loan servicing contract after December 2021 and its portfolio was transferred to Aidvantage. Navient continues to service privately held FFEL program debt and provide private student loans.
Here's what you need to know about the settlement with the state attorneys general and the ongoing lawsuit with the Consumer Financial Protection Bureau.
How will I know if my private Navient loans are cancelled?
Navient will notify all borrowers who are affected after the agreements receive final court approvals, according to the company.
The cancellation affects borrowers with private student loans originated by Sallie Mae between 2002 and 2010 that have defaulted and were charged off. The settlement will cancel the remaining balances, totaling about $1.7 billion, for borrowers who attended for-profit colleges with very low graduation rates. The lawsuit alleged that Navient knew most borrowers could not repay the loans but wanted to secure preferred-lender status with the schools.
Private loan borrowers will receive notification of their cancelled loans by July 2022, including any refunds of payments made on the cancelled loans after June 30, 2021.
The cancellation will be automatic, and borrowers do not need to do anything to have their qualifying debts wiped away.
Federal student loan borrowers will not receive debt cancellation as a result of the settlement.
How will I receive restitution for my federal student loans?
The $260 restitution addresses federal student loan borrowers whose loans were previously serviced by Navient and whose loans were placed in certain types of long-term forbearances.
Borrowers receiving restitution will receive a postcard in the mail from the settlement administrator later this spring, according to Navient. Update your studentaid.gov account with your current address to receive the postcard notification.
What is the Navient lawsuit?
The settlement with 39 states is separate from the ongoing litigation stemming from a suit filed by the CFPB in January 2017, but the arguments are largely the same.
Among other things, the CFPB alleges that since at least January 2010, Navient has:
Steered struggling borrowers toward multiple forbearances instead of income-driven repayment plans, and

Provided unclear information about how to re-enroll in income-driven repayment plans and how to qualify for a co-signer release.
The settlement was led by Pennsylvania, Washington, Illinois, Massachusetts and California, and was joined by attorneys general in Arizona, Arkansas, Colorado, Connecticut, the District of Columbia, Delaware, Florida, Georgia, Hawaii, Indiana, Iowa, Kansas, Kentucky, Louisiana, Maine, Maryland, Michigan, Minnesota, Missouri, Nebraska, Nevada, New Jersey, New Mexico, New York, North Carolina, Ohio, Oregon, Rhode Island, South Carolina, Tennessee, Vermont, Virginia, West Virginia, Vermont and Wisconsin.
In September 2019, the lawsuit uncovered an internal memo that shed light on Navient's strategy for collecting loan payments. It was written in 2010 by a senior director at Navient's former parent company, Sallie Mae. On the topic of forbearance, the memo indicated, "Our battle cry remains 'forbear them, forbear them, make them relinquish the ball.' Said another way, we are very liberal with the use of forbearance once it is determined that a borrower cannot pay cash or utilize other entitlement programs."
The CFPB, like the state attorneys general suits, argue Navient steered federal student loan borrowers away from income-driven repayment plans and toward forbearance — a temporary pause in payments. Forbearance can be used in multiple situations, such as job loss or any other decrease in income. However, forbearance can increase the overall debt borrowers owe because interest continues to build and is added to the principal when repayment begins again.
Income-driven repayment, on the other hand, would have allowed borrowers experiencing financial difficulty to continue making payments set at a portion of their discretionary income. Payments change as income changes, but the continuous payment record helps count toward the 20 or 25 years needed to qualify for forgiveness of the remaining balance. Payments skipped in forbearance don't. In addition, income-driven plans help limit the amount of interest accrued and keep it from being added to the loan principal.
Spot your saving opportunities
See your spending breakdown to show your top spending trends and where you can cut back.