Navient Lawsuit: What Student Loan Borrowers Need to Know
File complaints if necessary, check your credit report, and learn about repayment options.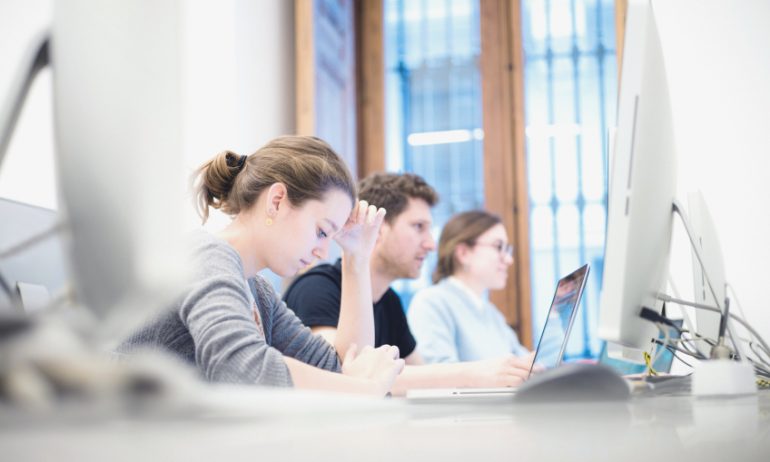 Many or all of the products featured here are from our partners who compensate us. This may influence which products we write about and where and how the product appears on a page. However, this does not influence our evaluations. Our opinions are our own. Here is a list of our partners and here's how we make money.
Navient Corp., a major servicer of private and federal student loans, is facing six lawsuits alleging that it harmed student loan borrowers throughout the repayment process. The suits are still pending and could take years to conclude.
Navient is expected to end its federal student loan servicing contract after December 2021.
In the meantime, here are answers to common borrower questions:
What is the Navient lawsuit?
The U.S. Consumer Financial Protection Bureau and the Illinois and Washington attorneys general sued Navient in January 2017. Pennsylvania's attorney general filed a suit in October 2017. The California and Mississippi attorneys general filed suits in June and July 2018, respectively.
Among other things, the CFPB alleges that since at least January 2010, Navient has:
Steered struggling borrowers toward multiple forbearances instead of income-driven repayment plans, and

Provided unclear information about how to re-enroll in income-driven repayment plans and how to qualify for a co-signer release.
The CFPB is asking Navient to compensate the borrowers the agency says were harmed. Navient believes the CFPB's claims are "unfounded," and says the suits are based on new servicing standards that are being applied retroactively, according to an October 2017 fact sheet.
What new practices is Navient using going forward?
Navient says it will "enhance" its call center practices to better serve federal student loan borrowers who are potentially eligible for relief under the Public Service Loan Forgiveness program by identifying them and providing them with information.
These new measures are part of a June 2020 settlement with the American Federation of Teachers. The union alleged Navient's practices led public service workers to be denied loan forgiveness or miss out on the best possible payment plan.
The settlement also includes a contribution of $1.75 million to a to-be-named nonprofit organization that will provide education and student loan counseling to public service workers, according to a June 19, 2020 news release.
Under the new agreement, Navient will train its customer service representatives to recognize words and phrases that indicate a borrower might be eligible for PSLF or another loan repayment plan.
"The agreement is a good illustration of how borrowers and servicers can work together for the benefit of both parties," said Randi Weingarten, president of the American Federation of Teachers, in the release. "It acknowledges that PSLF is a vital program for many graduates who forgo larger salaries in the corporate sector to serve the public instead."
Navient is expected to self-report on its compliance with these new practices, but it's not clear to whom.
Is Navient student loan forgiveness real?
There's no such thing as a "Navient student loan forgiveness" program, and it's unlikely that Navient borrowers will get the compensation the CFPB is requesting anytime soon.
Navient borrowers with federal student loans may be eligible for one of the federal student loan forgiveness programs, such as Public Service Loan Forgiveness or forgiveness through an income-driven repayment plan. However, forgiveness through these programs takes diligence and it isn't immediate. It takes at least 10 years of making on-time payments to qualify for PSLF, for instance.
Is Navient my student loan servicer?
Your student loan servicer is the company you make payments to each month. It's not always the same company that lent you money in the first place.
Here's how to tell which company services your student loans:
For federal loans: Log on to the Federal Student Aid website using your FSA ID. Click on the blue numbers in the loan table to see more details about each loan, including your "Current ED servicer." It may be Navient, or it could be another company such as FedLoan Servicing, Great Lakes Higher Education or Nelnet.

For private loans: If there's no record of your student loans in the Federal Student Aid system, the loans are private. Log on to your online loan account, if you have one, or check your last loan statement. The company powering the account or sending the statement is your loan servicer.

Not sure whether your loans are federal, private, or a mix of both? Navient services both federal and private loans. Check your credit report to see all of your education debts, including federal and private student loans.
How can I switch student loan servicers?
It is possible to switch student loan servicers through federal student loan consolidation or private student loan refinancing. But you shouldn't consolidate or refinance solely to switch servicers, because there are potential risks associated with each, says Adam Minsky, a Boston-based lawyer specializing in student loans. Also, there's no guarantee you'll be better off with a different servicer.
"The other servicers aren't exactly rainbows and sunshine," Minsky says.
Consider refinancing only if you can comfortably afford your expenses, student loan payments and other debts, and you have good credit. Once you refinance federal student loans, they'll no longer be eligible for income-driven repayment plans or forgiveness programs.
What else can I do to protect myself?
Even if you can't change servicers, there are several things you can do to voice your concerns and protect yourself as a borrower: File complaints, check your credit report for errors, learn about your repayment options, and watch out for companies that charge fees for student loan help.
Spot your saving opportunities
See your spending breakdown to show your top spending trends and where you can cut back.