How to Pay for an MBA: Business School Funding Options
Free money is the best way to pay for an MBA, but you'll likely need additional funding for business school costs.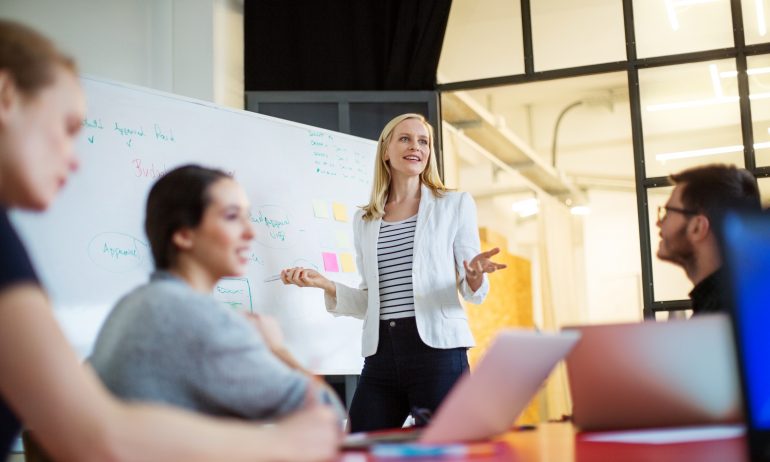 Many or all of the products featured here are from our partners who compensate us. This may influence which products we write about and where and how the product appears on a page. However, this does not influence our evaluations. Our opinions are our own.
The best way to pay for an MBA is with money you don't have to borrow, like fellowships and help from your employer. Ideally, you'll also have money put aside for business school if you've worked for a few years, or you can use some of your salary if you're getting an MBA part time.
But free aid, savings and wages might not cover the roughly $66,000, on average, cost of an MBA. And the bill is closer to $200,000 if you attend a top-tier program, according to Poets & Quants, a website that covers graduate business schools.
To fill business school tuition gaps, you can turn to MBA student loans. Here's what to do before you borrow.
1. Find MBA fellowships, scholarships and grants
Fellowships, scholarships and grants are aid you don't have to repay. Most fellowships and grants are awarded by business schools themselves, though private MBA scholarships from businesses or associations do exist.
Unlike undergraduate scholarships, which may be based on your financial need, MBA fellowships and grants are usually awarded on merit alone. You may qualify based on criteria like your undergraduate GPA, GMAT score or any professional accomplishments you have.
"

"MBA fellowships and grants are usually awarded on merit alone.""
A business school may automatically offer this aid upon your admittance — MIT Sloan School of Management at the Massachusetts Institute of Technology in Cambridge, Massachusetts, awards over 60 fellowships in this fashion, for example. In other schools, you may have to apply separately. Contact your business school's financial aid office for details.
2. Use employer aid for business school
Money your employer provides or you earn by working can help you pay for an MBA. If you already have a job, reach out to human resources to see what education benefits the company offers, as well as its rules for that assistance.
Most students start MBA programs in their late 20s, after they have started their careers. That time working likely convinced you that getting an MBA would be worth it for your future. It also hopefully was when you saved some of your salary to cover the cost of the degree.
"

"If you haven't been saving specifically for business school, don't touch other savings — like for an emergency or retirement — to cover MBA expenses.""
An ideal budget puts at least 20% of your money toward debt repayment and savings goals, such as paying for an MBA. If you haven't been saving specifically for business school, don't touch other savings — like for an emergency or retirement — to cover MBA expenses. Opt for student loans instead.
4. Take out business school student loans
After exhausting the other options, MBA students can cover any remaining tuition gap with federal or private student loans.
If you plan to work for a nonprofit or aren't sure about your career path, take out federal loans first. In these situations, federal loans offer unique benefits like income-driven repayment and Public Service Loan Forgiveness. You can receive federal loans by completing the Free Application for Federal Student Aid, or FAFSA.
If you're already employed or won't need federal loan benefits, shop around for a private business school loan. These could costs students who have good credit, or a co-signer with good credit, less when it comes time to repay their MBA loans. Here's why:
Federal interest rates and fees are higher for grad students. Unsubsidized federal loans come with higher interest rates for graduate students (4.30%) than undergrads (2.75%). Interest rates on federal graduate PLUS loans are 5.30%. Unsubsidized loans come with an origination fee of roughly 1%, but that fee is four times higher for PLUS loans. Most private lenders don't charge origination fees.

Your work history is likely an advantage. All federal loan borrowers receive the same interest rates. Private loans determine rates based on your financial situation. If you've worked for a few years before getting an MBA and have built up your credit, you may qualify for a lower interest rate than federal student loans offer. You could also save more by opting for a variable rate, if you plan to pay loans off fast or are confident you could afford payments if that rate rises.

All graduate student loans accrue interest. Graduate students aren't eligible for federal subsidized loans. The government pays the interest on subsidized loans at certain points, like when you're enrolled in school at least half-time. Because only unsubsidized loans are available for graduate students, you won't receive the potential interest savings from federal loans that undergrads do.
Use a student loan calculator to determine how much loans will cost you to pay for an MBA. For comparison, business school graduates owe roughly $66,000 in MBA student debt, including undergraduate loans, according to the National Center for Education Statistics.
If you decide federal loans make sense for you now, but your plans change in the future, you can refinance MBA loans after school to potentially save money.
Find ways to save with NerdWallet
Really get to know your money and find cash you can put aside and grow.