What Is Student Loan Refinancing, Really?
Refinancing is a way to decrease the amount of interest you pay on your student loans.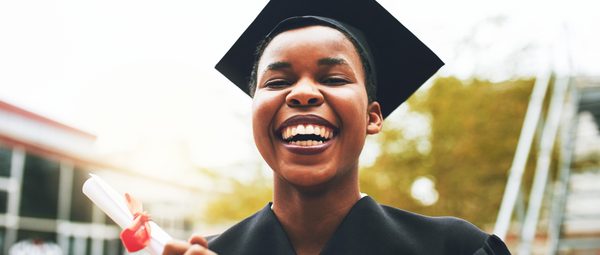 Many or all of the products featured here are from our partners who compensate us. This may influence which products we write about and where and how the product appears on a page. However, this does not influence our evaluations. Our opinions are our own. Here is a list of our partners and here's how we make money.
In a nutshell, student loan refinancing is when a private lender pays off your existing loans and gives you a new loan with new terms. It costs nothing to , and you can save a lot over time by lowering your interest rate.
Let's say you have $40,000 in private student loans with an 8% interest rate. That means you're paying $485.31 every month for the next decade.
After applying with a private lender that offers student loan refinancing, you're approved for a lower interest rate — say 5%. That would reduce the monthly payments on your $40,000 loan to $424.26.
This would ultimately save you a total of $7,326 in interest. Now imagine putting that money toward something you actually want, like a car.
Not everyone — and many borrowers shouldn't. Refinance companies use certain criteria to evaluate your eligibility. At a minimum, you need good credit (in the high 600s or above) and a stable income. If you're lacking either, you'll need a co-signer who qualifies.
Also, you shouldn't pursue refinancing if it will end up increasing the length of time it will take to pay off your loans. If you're already halfway into paying off a 10-year loan and refinancing would only add more time to your loan term, it's less likely to benefit you in the long run even if your monthly payment is lower.
If you , you'll lose repayment options, like income-driven repayment, and opportunities for loan forgiveness. doesn't have the same drawbacks.
It can make sense to . That will maximize your potential savings. If you've started working and have built up your credit, see what kind of rate you can qualify for.
If you previously refinanced your loans, you can  to lock down an even lower rate.
Here are a few more things to keep in mind before you apply:
There are a few caveats if you refinance federal (versus private) loans. Payments on federally held student loans are paused interest-free until Dec. 31 as part of due to the coronavirus. You will give up this benefit by refinancing your federal loans.
Compare offers from multiple lenders. Get interest rates from different companies to identify the lowest one. Generally speaking, the better your credit score, the better the rate will be.
There's no catch. Refinancing isn't a scam; there are no hidden fees. We've even compiled the across multiple categories, along with the pros and cons.